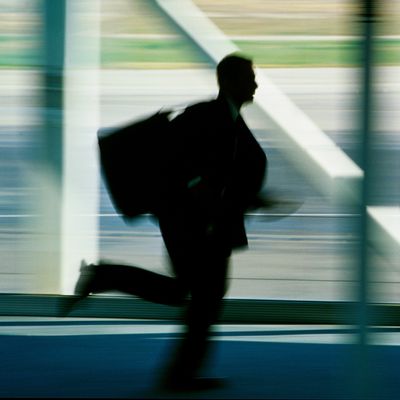 Photo: Laurence Monneret/Getty Images
If there's one thing that '90s movies taught me, it's that airports were first and foremost places for grand romantic gestures, spaces where you went to proclaim your love to someone you've recently had a falling-out with. You had to do this at a dead run, and catch the person just as they were about to board the plane, otherwise it didn't count. Occasionally, flights took off, but that was very much secondary to the romantic stuff.
But no more. According to People, police in Singapore arrested a 27-year-old man last month for buying a plane ticket just so he could walk his wife to the gate and say good-bye to her.
In a Facebook post titled, "DON'T MISUSE YOUR BOARDING PASS," the Singapore Police Force wrote, "The Police would like to remind all passengers that the transit areas of Changi Airport are gazetted as Protected Places." They went on, "Those who misuse their boarding pass to enter into the transit areas, with no intention to proceed to their next destinations, are liable for an offence under the Infrastructure Protection Act. The offender may be prosecuted in Court and shall be liable on conviction to a fine not exceeding $20,000 or to imprisonment for a term not exceeding 2 years or to both."
So much for the grand romantic gestures of yore, then. I do have to say, if I were the wife in this scenario, I would be very touched by my husband wanting to walk me all the way to the gate, but I would also be like, "Hey, babe, maybe instead of coming to sit with me while I read magazines and eat overpriced airport chips, we could use that money to save for a trip we can both go on? Or just get me some nice billboards?"