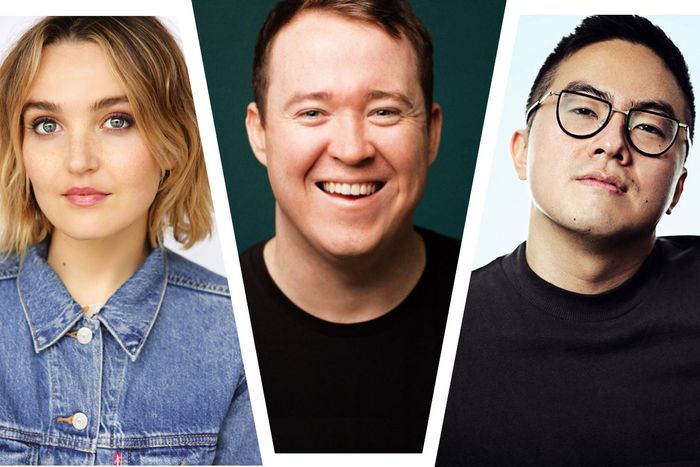 SNL'
s three newest cast members, from left, Chloe Fineman, Shane Gillis, and Bowen Yang.
Photo: Courtesy of Saturday Night Live
The 45th season of Saturday Night Live is set to premiere later this month, and while the cast will no longer feature Leslie Jones, it will feature two new faces, and a third who will be making a jump from the writing staff. The show just announced the three new featured players for the upcoming season are stand-up Shane Gillis, improviser Chloe Fineman, and SNL writer (and former Vulture contributor!) Bowen Yang.
First, let's start off with the SNLer: Bowen Yang racked up an impressive list of hit sketches during his first year as a writer on the show, including the "Cheques" sketch with host Sandra Oh (co-written with Julio Torres) and the "GP Yass" sketch with host Steve Carell (co-written with James Anderson). He also appeared as Kim Jong-un in the "Kremlin Meeting" sketch alongside Sandra Oh:
In addition to his work at SNL, Yang co-hosts the Las Culturistas podcast with Matt Rogers, but on Twitter he's perhaps best known for being the best damn lip-sync impersonator ever.
New York–based stand-up Shane Gillis, meanwhile, was named a New Face at 2019's Just For Laughs festival, as well as an "Up-Next" Comic at Comedy Central's 2019 Clusterfest festival. He's a regular on Big Jay Oakerson and Dan Soder's Sirius XM show, The Bonfire. Check out some clips below:
Finally, Groundlings alum Chloe Fineman has appeared on shows like Search Party, Jane the Virgin, Mozart in the Jungle, and Grown-ish and was named a New Face at Just For Laughs in 2018. She's very, very good at celebrity impersonations, including Melania Trump and Marianne Williamson:
Season 45 of SNL debuts on September 28 with host Woody Harrelson and musical guest Billie Eilish.