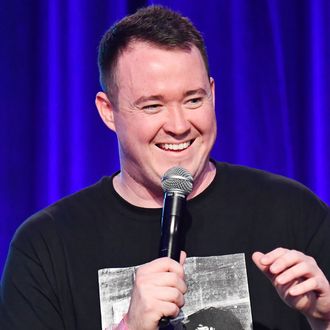 Shane Gillis.
Photo: Jeff Kravitz/FilmMagic for Clusterfest
Earlier today, Saturday Night Live announced three new cast members for the upcoming 45th season: improviser Chloe Fineman, stand-up Shane Gillis, and SNL writer Bowen Yang. Later in the day, however, a clip from Gillis's podcast, Matt and Shane's Secret Podcast, was surfaced on Twitter by freelance writer and comedy reporter Seth Simons. In it, Gillis and co-host Matt McCusker make a series of racist comments about Chinese people and use racist, mocking accents. Early in the first clip, Gillis says, while referring to Chinatown, "Why do the fucking ch*nks live there?" In another clip from the same episode, Gillis jokes about being annoyed by Asian people trying to learn English, adding, "Nice racism. Good racism."
In the below clip from another episode, around the 12:00 mark, Gillis and McCusker chat about comedians who adopt a more confessional style, like Judd Apatow and Chris Gethard, and mock them using homophobic slurs, calling them "white f*ggot comics" and "fucking gayer than ISIS." Earlier in the clip, around 2:20, the co-hosts rank how funny comedians are by race, gender, and sexual orientation. "White chicks are literally the bottom," Gillis says. "Ali Wong is making it so Asian chicks are funnier than white chicks."
The clips shared on Twitter are from a podcast episode released in September 2018, so unlike other Twitter-comedian controversies involving Trevor Noah and Melissa Villaseñor, which were over (mostly) old tweets, the resurfaced comments are all fairly new. Also unlike Noah and Villaseñor, Gillis seems to have anticipated that his past remarks would come back to haunt him, because all of the past episodes of Matt and Shane's Secret Podcast have been scrubbed from its YouTube channel.
It all raises the question: Did Saturday Night Live vet its new cast members? It's 2019, so at this point, there's really no excuse for this kind of slip-up. (Representatives for the show did not respond to a request for comment.) And while Gillis clearly put some effort into scraping his history from the internet beforehand, there's an entire subreddit dedicated to his podcast that's filled with homophobic slurs, even against current SNL writers, and it's very easy to find on Google. Beyond that, sources in the Philadelphia comedy scene — where Gillis lived and performed from 2014 through last year — tell Vulture they were surprised to see the SNL casting news today given Gillis's material. "Good Good Comedy Theatre stopped working with him within the past few years because of racist, homophobic, and sexist things he's said on and offstage," said Kate Banford, co-owner of the comedy theater. Another source added, "Just want to say as a comedian who came up in Philly comedy at the time Shane was blowing up, [it] was extremely discouraging! As a queer female-bodied comedian, a man using the language he did and got so much recognition for was really disheartening."
Perhaps the most disheartening thing to come out of these resurfaced clips of Gillis's homophobic and racist remarks, particularly against Asians, is how it stains what's otherwise been a celebratory day for comedy fans excited to see Bowen Yang rise from SNL writer to cast member, considering both gay men and Asians have had next to no onscreen representation on the long-running NBC series. Unfortunately, Gillis's apparent tendency to deliver racism and homophobia instead of jokes stole the spotlight.
Update, 10:55 p.m.: Gillis posted a statement about his remarks on Twitter tonight. "I'm a comedian who pushes boundaries. I sometimes miss. If you go through my 10 years of comedy, most of it bad, you're going to find a lot of bad misses," he wrote. "I'm happy to apologize to anyone who's actually offended by anything I've said. My intention is never to hurt anyone but I am trying to be the best comedian I can be and sometimes that requires risks."