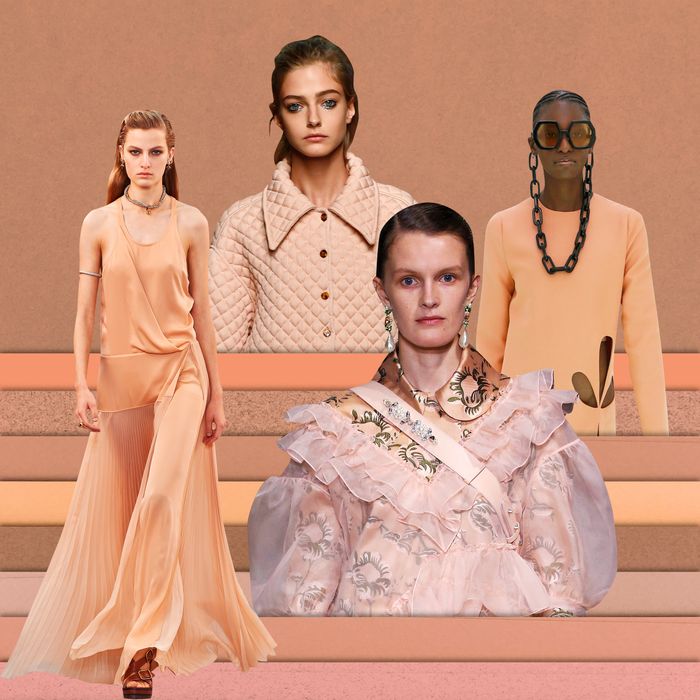 Photo-Illustration: by Stevie Remsberg; Photos: Getty
Remember when an egg broke the world record for having more likes on Instagram than Kylie Jenner? And then immediately pivoted to spon con? That happened in January — so ancient history in Instagram years — but the egg is still there, sending "good vibes only" to its 7.9 million followers.
I never forgot about @world_record_egg. There's something so soothing about its perfect oval shape, smooth exterior, and fleshy tone. I want to hold it in the palm of my hand and tell it that, like millions of others, I too, am still #EGGGANG.
Fashion hasn't forgotten about the egg, either, it seems. During New York Fashion Week, eggs played a prominent role in the Puppets and Puppets show, with models walking on egg cartons, in addition to wearing bulbous, egg-shaped silhouettes. In addition to egg-shaped gowns, the color of eggs — the shells of organic brown eggs, specifically — has been incorporated into a number of collections, from Gucci to Fendi. None were as brilliant, though, as the Masked Singer wearing an egg hat on top of its egg-shaped head. Designers, take note.
Below, a sampling of egg-inspired looks from the spring 2020 collections.