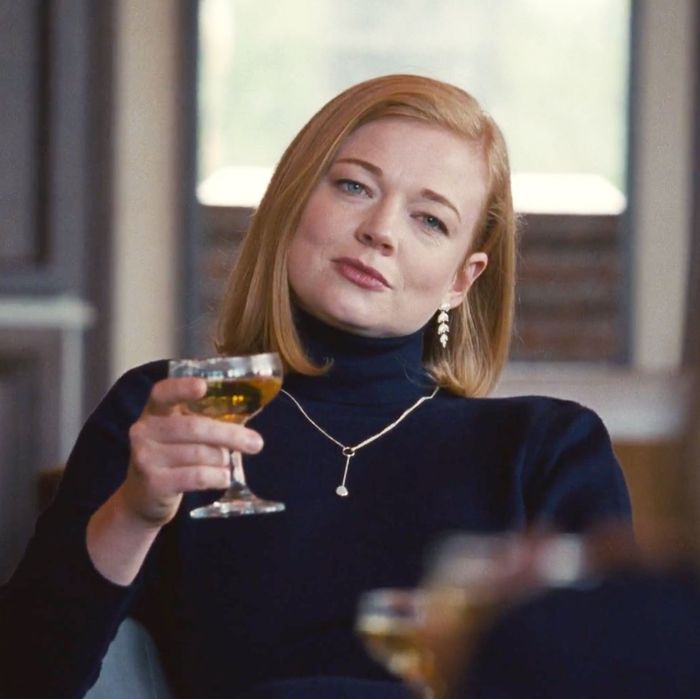 Siobhan "Shiv" Roy in a scene from Season 2 Episode 8 of
Succession
.
Photo: HBO
When you're applying for a new job and your dad is your perspective boss, every single day is an interview. Such is life for Siobhan "Shiv" Roy of HBO's Succession. Shiv was promised the keys to her family's kingdom, and has since made an effort to dress the part. Lucky for her, the rest of her family has a lot of money and zero taste, so as long as she can avoid sabotage and a mortifying desire to rap about her father, she's the most-obvious choice.
In a former life as a political adviser to a progressive candidate, Shiv wore a lot of liberal-leaning ponchos. Now, she's got a new haircut and a more masculine uniform, which includes high-waisted wool pants so sharp, they could run their own company. And, like every formidable and duplicitous leader in history, Shiv has started wearing a lot of turtlenecks. So far, they've played a supporting role, neatly framing her blunt bob and blue-eyed death stares. (As costume designer Michelle Matland told the Cut, they're meant to focus the viewer's attention on her glorious boss pants.) But on Sunday night's episode, Shiv's backless turt stole the show, fucking us, to quote Shiv herself, from 100 different directions at 1,000 miles per hour. This turt is so powerful, so robust, it's the self-appointed president and CEO of Turtlenecktown. And also just nominated itself for a Golden Globe.
In the beginning of episode 8 ("Dundee"), Shiv wears a matching blue vest over her backless turt, so no one suspects what's underneath. (It's also possible she's wearing a different turt.) It's got shoulder pads, a belted waist, and also appears to be a dress? The versatility! Shiv tries to reason with her siblings, telling them that Rhea Jarrell, who stabbed her in the back and stole what was promised to her, is bad for business. But they see right through her, and her vest. It's clear from this look that Shiv has something up her sleeve.
This episode is war. Not only is Shiv on a mission to step on Rhea, who is on a mission to take over the company, but Marcia is also lobbing bombs in her direction. ("Are you regularly tested for sexually transmitted diseases?") Meanwhile, Logan's brother uses his grandson, Cousin Greg, as a pawn to get under his skin, which leads us to "Grexit." The only one who's not deeply up to something is Kendall, who is back to shamelessly rapping and walking around with a stupid grin on his face. He just can't help himself, can he?
In the Roy family, you're either manipulating others or the one being manipulated, and Shiv's turtleneck is the physical embodiment of her motives. It's unthreatening and professional in the front, and dangerously seductive in the back. It will pimp out your husband and throw him to the wolves. It will pour you a glass of Champagne and make you wonder if it's poisoned. Most importantly, though, it allows Shiv to dress for the job she wants, believably turn it down when she realizes it's a bad play, and then walk away unscathed. Where can we get one??