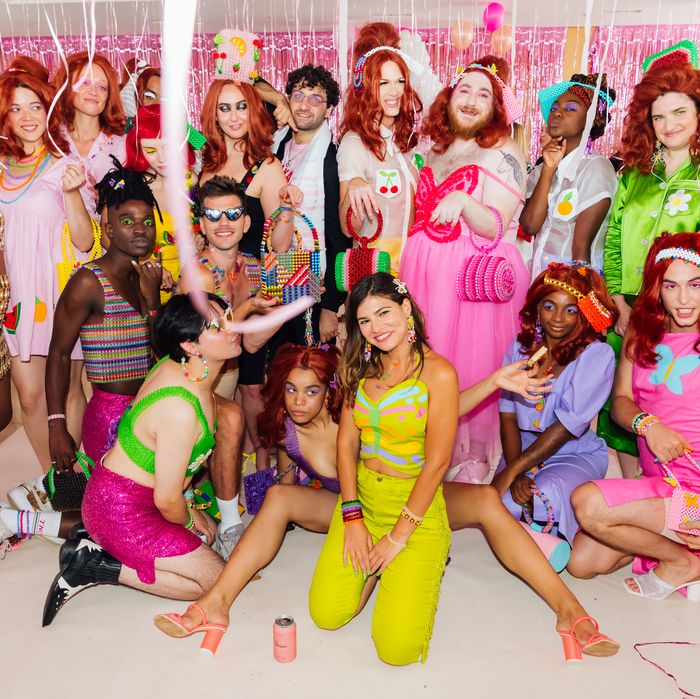 The cast of Susan Alexandra's fall 2020 show.
Photo: Jennifer Isicoff/BFA
Susan Alexandra is farklempt. It's Saturday afternoon on the second day of New York Fashion Week, and in just a few minutes, hundreds of people will arrive to her fashion-themed bat mitzvah, or rather, her bat-mitzvah themed fashion show on the 17th floor of the Public Hotel. The pink balloon tunnel is inflated. The all-lesbian Klezmer band, the Klezbos, is warming up. The only thing left to do is sew the lady of the hour into her butterfly-shaped rainbow tank top, which is currently falling off her body. "I'm overcome," she explained. "My outfit doesn't fit!"
Based on this information alone, you'd think Alexandra was a 13-year-old Jewess on her way to becoming a woman. But in reality, her name is Susan Korn, and she's a 34-year-old from Columbus, Ohio. A bubbly, positive yente by nature (with a degree in fashion marketing), she founded her own hand-painted jewelry line in 2014 after moving to New York, having what she describes as a "breakdown" on the subway, and picking up crafting. Three years later, while walking her dog in Chinatown, she stumbled upon a tiny storefront filled with intricate beaded figurines, and instinctively asked the shop's owner, Lisa Deng, to fashion her a bag shaped like a watermelon. When she shared the final product on her Instagram, she received more feedback than any jewelry she'd ever posted. It was a hit. She and Deng went into business, and have now sold thousands of colorful, childlike beaded accessories for $300-something a pop to adult customers around the world, including Gigi Hadid. Suri Cruise, an actual child, owns two. A full team of local employees make each piece by hand, and they're stocked at retailers like Saks and Bergdorf Goodman.
In February, Susan Alexandra hosted its New York Fashion Week debut at Baz Bagel on the Lower East Side. But this season, Korn wanted to mark the growth of her brand, which is now dabbling in ready-to-wear. "The clothes I'm making now are what I wish I would've worn to a bat mitzvah," she said. "This is a do-over." The irony, of course, being that Korn is an adult woman who still wants to dress like the ideal version of her teenage self. Clearly, she's not alone. Fashion has always fetishized youth, but today's designers like Simon Porte Jacquemus — and even television shows like Pen15 — are looking to preserve a shiny, candy-colored sense of nostalgia with bags that look like toys, or at least tchotchkes.
"Your mom said your actual bat mitzvah was bigger than this," Korn's friend, who wore a beaded bra and neon orange eye shadow, interjected backstage. Korn shook her head — the show was bigger, maybe because Korn was the one planning it this time.
"Mom, is this like my first bat mitzvah?" Korn's mother, who is the daughter of a Holocaust survivor, suddenly emerged.
"Your first bat mitzvah was more over-the-top," she yelled from across the room. "The theme was passion for fashion!"
It's true. The theme was "passion for fashion." Party favors included T-shirts with Korn's initials in the shape of the Calvin Klein "cK" logo. Each table was named after a different designer she idolized, from Donna Karan to Isaac Mizrahi. Her bat mitzvah video was even spliced with scenes from Mizrahi's documentary, Unzipped. "It was very avant-garde," Korn said with a laugh.
This time around, Korn threw herself her "dream" bat mitzvah. She DM'ed the comedians, writers, and artists she idolized on Instagram and Twitter, asking them to model in the show. New Yorker writer Naomi Fry agreed to wear a beaded bag on her head for three hours in the name of passion, fashion, and Jewish culture. Jazmine Hughes of the Times was approached by her "best friend's sperm donor's boyfriend," Todd Heim, a.k.a. Steak Diane, who designs Susan Alexandra's ready-to-wear. ("I'm incredible at the Horah," Hughes said.) Hairdresser Masami Hosono, who invented those Instagram bangs, wore a wig. Benny Drama donned a pink butterfly dress. It was all the mishegoss of your social media feed, come to life and set to the soundtrack of the "Electric Slide." Even Caroline Calloway was there.
"I'm in heaven," said comedian Catherine Cohen as she sipped from a can of Babe rosé. "I've always wanted to have a bag on my head. Ever since I was a little girl, I was like, I hope I can move to New York one day and have a bag on my head."
"This is the most adorable thing I've ever done in my entire life," said the drag queen and self-identified shiksa Crystal Mesh, who wore an emoji-esque cherry print from head to toe and carried a watermelon-shaped bag. "I'm a walking picnic."
Activist and community organizer Adam Eli played Rabbi for the afternoon, inviting guests to hug their neighbor and give them a friendly "Mazel!" before kicking things off. "Susan comes from a long line of creative Jewish women," he said, invoking Ruth Bader Ginsberg's name as well, and everyone cheered. Of course, there was a traditional Horah dance, and Korn was lifted by her friends on a chair high above their heads.
A Torah portion was scrapped, but Korn still remembers her first. "It was about a woman who goes off into the unknown to create a new life for herself," she said. "My mom always reminds me that that's my destiny."