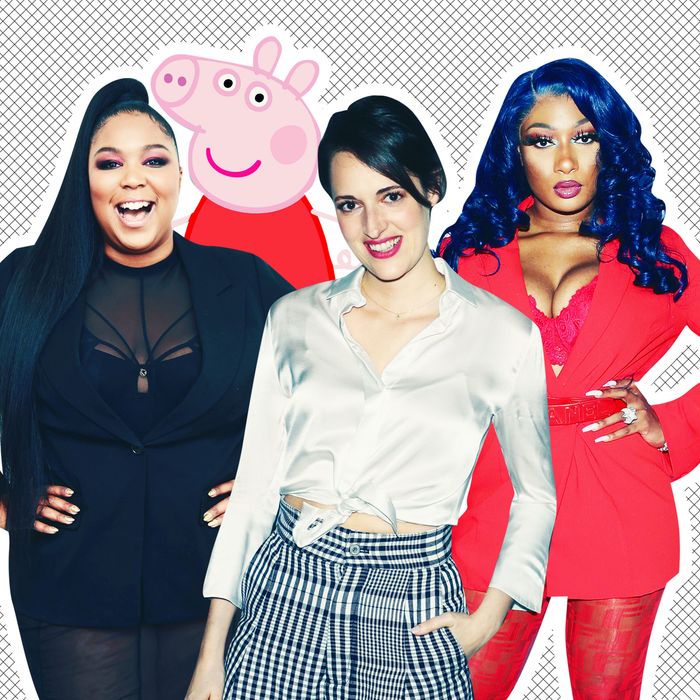 Photo: Getty Images, Entertainment One
Back in May, Megan Thee Stallion told us that it was a Hot Girl Summer, and she was right. But the rapper heralded another season too, one that towers gloriously above the rest, that always ends up at the back of group pictures, and that occasionally struggles to buy jeans that don't look like flood pants. Yes, friends – it was a Tall Girl Summer.
There was Megan, whose moniker comes from the fact that she's 5'10". There was Lizzo, also 5'10", who made all of us, tall and short and average, feel good as hell. In the spring, Brienne of Tarth, 6'3", was knighted and then became a blogger. Phoebe Waller-Bridge, 5'10", made us all unbearably horny for hot, slightly shorter priests. Nicole Kidman, 5'11", got her first puppy. And of course, there was the tallest girl of all, Peppa Pig, who, some claimed, clocks in at a statuesque 7'1". Even eggs were bigger, and by extension, taller than before.
Clearly reading the energy of the season, Netflix last week dropped a trailer for Tall Girl, a rom-com about a 6'1" teen, Jodi, who exists in a universe where Tall Girl Summer didn't happen and is therefore bullied for being the tallest girl in her high school. "Let's face it, Jodi — you're the tall girl," an average-sized bully sneers at one point in a tone that suggests that's a real thing people say. "When you're a tall girl, it's the only thing that people see," Jordi says sadly.
Like so many rom-com heroines before her, Jodi eventually self-actualizes by taking her ponytail out and wearing her hair loose. But if only she existed on this timeline and could see all the tall girls around her, stretching magnificently up toward the sky like sunflowers. Does Elizabeth Debicki (6'3") exist in Jodi's timeline? Does Tilda Swinton (5'11")?
Although Labor Day marks the unofficial end of the season, Tall Girl Summer isn't technically over yet. There are still a few weeks to embrace one's tallness, regardless of your height — to literally or figuratively look down on those around you, to go to concerts and be like, "Ahh, sorry, can you see?," to wrap your legs into in a blood-constricting bow in airplane seats. Eventually, the weather will cool, the leaves will turn, and the tall girls will cocoon themselves in sweaters and jackets, hunched over against the cold. But for now, enjoy the last tall days of summer. It's probably preferable to a bowl-cut summer.