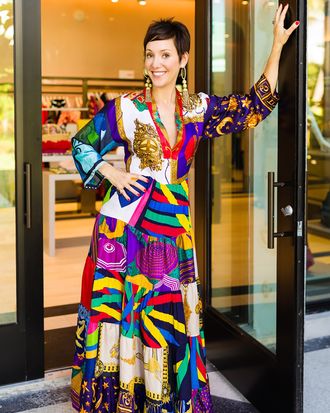 Photo: Chris Salata/Capehart Photography/ Courtesy of Beth Buccini
Beth Buccini's outlook on fashion — and, by extension, the outlook of her boutique Kirna Zabête — is relentlessly optimistic. The store stocks brands like Gucci and Saint Laurent as well as relative newcomers like Sandy Liang and Off-White, but Buccini's talent is finding the brightest pieces from every brand to make her own cheerful edit. Bring on the sequins, feathers, and prints! It's an approach that's worked — Kirna Zabête's Soho store celebrated its 20th anniversary during Fashion Week. We spoke with Buccini about not watching TV, loving the color red, and her pink living room.
How do you thank someone for a gift? A handwritten note on Mrs. John L. Strong personalized stationery.
What would you never wear? Dad sneakers.
What's your dream vacation? The answer is always Capri, with my entire family.
What's a good book on your coffee table right now? Beige Is Not a Color by Carlos Mota.
Last show you binge-watched? I barely watch TV. This is not meant to be a smug statement. I wish I did — it's just too hard to find the time in this phase of my life. I only tend to watch on planes, so the last shows I watched were The Marvelous Mrs. Maisel and Veep.
The secret to hosting a good party? Planning everything in advance and being a relaxed hostess. Plus making and drinking a signature cocktail.
What is a trend that you like right now? Sequins and feathers.
One you don't understand? Oversized men's suiting.
Favorite museum/gallery? Always The Met.
Shoes you wear most often? Anything Gianvito Rossi.
Can you share three photos of yourself that define your style, and a brief explanation of why?
Douglas Friedman shot me and my four children for Harper's Bazaar and I love this photo of all of us. He pretty much captured our warm and fuzzy yet chaotic reality with the boys playing sports in the kitchen and girls on their phones and with the dog — except I am usually not in Gucci pj's. However, I'm a big fan of a comfy, matchy-matchy look!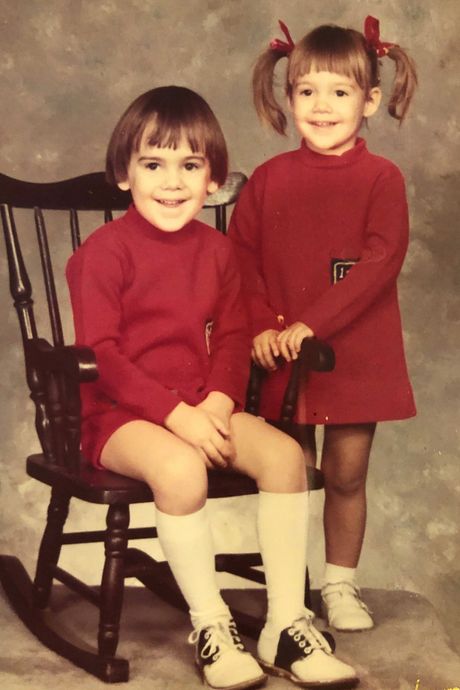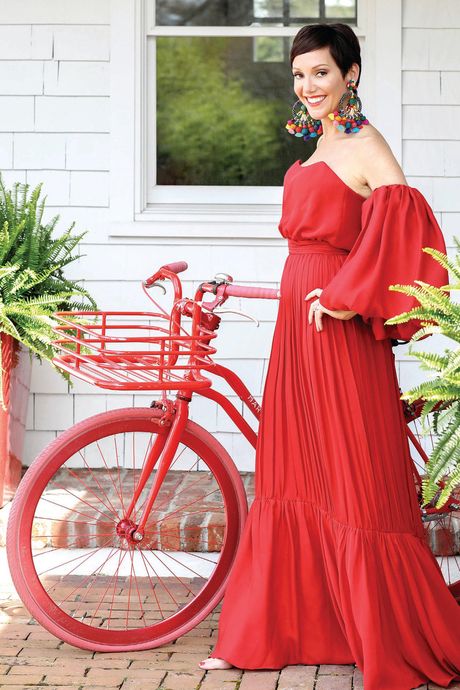 For as long as I can remember, I've loved the color red. We even now internally refer to anything red as #KZred. It obviously started early with my mother dressing me and my brother in matching red looks.
What's your favorite…
Pajamas? La Ligne
Candle? Kirna Zabête by Luxuriate and Tadine by Cire Trudon
Scent? In the winter, Cuir Fauve by Keiko Mecheri. In the summer, Cozumel by Laboratorio Olfattivo.
Restaurant? JG Melon and Sant Ambroeus.
Socks? Falke cool kick ankle socks.
T-shirt? Still trying to find it, so I may have to design it.
What's your favorite place in your office/home/studio?
I absolutely love our crazy patterned pink living room at home that Steven Gambrel designed. It is equally joyful to both sit in here alone for a little peace and inspiration and to entertain our friends and family.
Shop the Story
If you buy something through our links, New York may earn an affiliate commission.