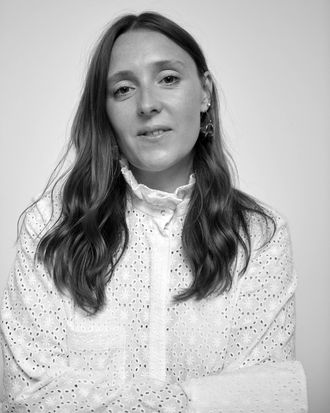 Photo: Courtesy of Amy Powney
Amy Powney has been at Mother of Pearl, a British brand known for classic pieces, for over a decade. But when she became the creative director, she knew she wanted to make the company sustainable — to be an example of how to turn a contemporary brand into an ethical one. And during her tenure, she has successfully put ecofriendliness at the heart of the brand without sacrificing style. Gwenyth Paltrow is a fan, which isn't surprising considering that Mother of Pearl specializes in classic pieces with fun details (pearls on almost everything). We spoke with Amy about tiny bags and having a sense of humor about fashion.
How do you thank someone for a gift? Another gift.
What would you never wear? Leather trousers for many reasons.
What's your dream vacation? Berber Lodge, Morocco.
 
What's a good book on your coffee table right now? I currently have a first edition copy of Bruce Davidson's Subway on my table that I bought for my husband for his birthday.
Last show you binge-watched? Big Little Lies.
Secret to hosting a good party? Relaxed environment, great food, great music, and my favorite people.
What is a trend that you like right now? Sustainability, but hopefully it will become a cool classic that doesn't fade.
One you don't understand? Bags so tiny you can't fit anything in. Just use your pockets instead.
Favorite museum/gallery? The Barbican in London.
Shoes you wear most often?A fancy flat. I have a pair from Mother of Pearl which are black mules with a pearl strap. I am a casual dresser so I like a fun shoe. Once a man came up to me in the street and told me my shoes were so ugly he needed a painkiller to look at them, I laughed so much I made him say it again to camera for my Instagram.
Can you share three photos that define your style, and a brief explanation of why?
Oversize sleeves are my go-to, as I like to wear causal silhouettes and big sleeves give them a lift.
Roxy (the dog) is my favorite accessory ever.
This is my go-to summer outfit: an easy, throw-on summer dress that isn't boring.
What's your favorite… 
Pajamas? My old white shirts
Candle? Very simple beeswax ones
Scent? No 29 Le Labo
Restaurant? Perilla in Newington Green, London
Socks? Men's silk ribbed socks
T-shirt? Mother of Pearl 'Charlie Tee'
What's your favorite place in your home/office/studio?
Today my work view is from my dining room table at home, where I am currently designing my next collection.
Shop the Story
If you buy something through our links, New York may earn an affiliate commission.