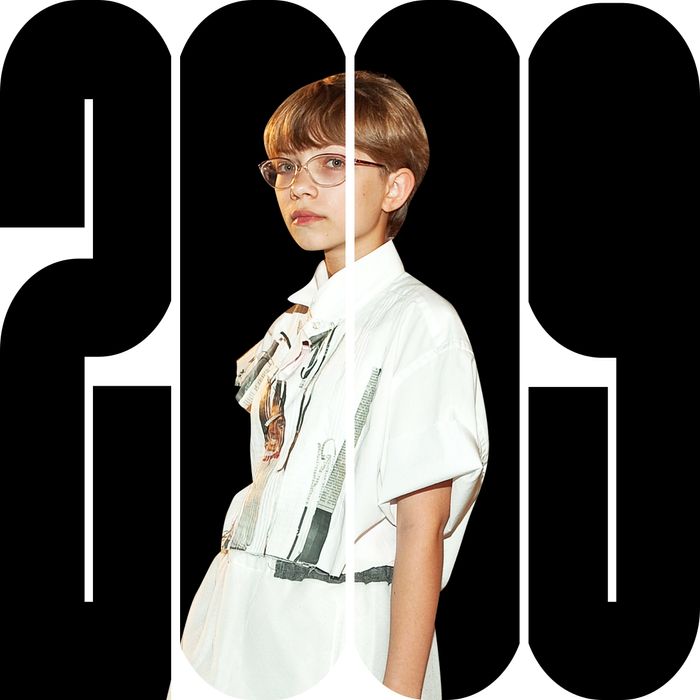 Photo-Illustration: by Stevie Remsberg; Photo: Getty
I went to my first Fashion Week in September 2009 on behalf of Pop magazine. Dasha Zhukova had asked me to be on its cover—she was its new editor-in-chief—and they flew me to New York to attend the launch party and write about the shows. (My dad came too.) Before that, I had been going to middle school in Oak Park, Illinois, and writing a fashion blog for over a year. I had thousands of daily readers, but these invites felt otherworldly to me and everyone I knew.
When the Cut asked me to annotate a blog post from that season, I chose this one for the title alone: "unless you follow derek blasberg on twitter and already read about my every move and outfit detail." According to my diary, Derek — then a fashion journalist and man-about-town — was tweeting about me all week without saying hi. This was my way of saying, I see you, Derek, and probably a reaction to being looked at, more generally. Until Fashion Week, I had not understood what it meant to be in the public eye.
No longer shielded by my computer screen, I found myself face-to-face with hundreds of people: fashion people, famous people, people who decide who gets to be famous and what the world will soon consider beautiful. There's a hierarchy at Fashion Week, but once you're through the door, you technically have access to anyone, and they have access to you. Anna Wintour was right there. (I was too scared.) Cathy Horyn was right there. (I was too scared.) Grace Coddington was right there, and when I did introduce myself, she said, "I hear you're the competition!" (I was too scared to know that this was a compliment.)
In my diary from that time, I freaked out at how nice my heroes were and how aggressive other people could be. Cindy Sherman said she loved my self-portraits, Hamish Bowles said he was "simply addicted" to my writing, and Tim Blanks called me "the Tavster." Other interactions are less heartwarming: "Then a lady from Cosmofuckingpolitan wanted an interview and I said no and they got angry but whatever"; "a guy at Rag & Bone looked me dead in the eyes and said, 'Is that a boy or a girl?'" It was confusing to parse these extremes, to wonder who was the authority on my self-worth, and to try and remember that it was me.
Between events, my dad and I ate at greasy spoons and discussed the way my story was snowballing in headlines, from "Tween Blogger Attends Fashion Week" to "Tween Blogger Sits Front Row at Fashion Week" to "Fashion Establishment Mad That Bloggers Are Sitting Front Row," and then, finally, "All Legacy Media Likely to Be Replaced by Blogs Someday Soon." (The joke was on all of us; Instagram launched the following year.) It felt very clear to me that the people at Fashion Week were not necessarily the people who read my blog, and that if you share something that receives enough hype or attention, it will eventually travel all the way to an audience it's not really meant for, who won't like it all that much.
Whenever I get middle-school-style insecure about some kind of high-pressure social situation now, as an adult, I remind myself that I've already endured the anxiety-dream version: navigating famously icy professional spaces at the age when you're your least confident. Only now can I appreciate how potentially disastrous it could have been, and how welcoming people actually were. According to my diary, I cried at the LaGuardia terminal waiting to fly home, and asked my dad if I could buy a Harper's Bazaar in order to "bring a piece of Fashion Week home with me." I take it, then, that it was worth cherishing.
Here is a document from that time. Click on the small red numbers for my annotations.
unless you follow derek blasberg on twitter and already read about my every move and outfit detail
GUYS, guys. Can we talk about Charles Anastase? NO, NO WE CANNOT, because I will go nuts if I don't finish NY reviews first.
So, uh, I'm in North Dakota right now? And kind of forgot about it? Coming back from NY was weird and I didn't want to travel AGAIN but we're in the middle of nowhere and it's very lovely and mind-clearing. We went to the Badlands yesterday and it was really beautiful. Still though, I'm excited to come home and not have to do anything but normal homework and stuff. I'm excited to clean my room, which is weird.
But anyways, outfits from Fashion Week …
I wore this last Saturday? I think? Or five years ago? Or something? Really I just wanted to wear the skirt because it was a gift from the awesome Christian Siriano and his show was Saturday but taxis hate Laia and me and traffic is icky and we couldn't even go. Fail. But from the skirt on it was pretty much just supposed to be old lady/Marc Jacobs-y? Sure, yeah sure. That sounds good when it's 6 AM. (when I started writing this yesterday)
• Headpiece made out of a Baggu holder and old guitar strap.
• Miu Miu top, gift
• Button-down, hand-me-down (every time I told people "hand-me-down" they seemed to be very amused)
• Christian Siriano skirt
• We Love Colors tights (awesome Weardrobe conference sponsors … and I still have that to write about too)
• Pearls n pearlz, gifts.
• American Apparel pink mesh dress tied around waist
• Thrifted belt
• Shoes found in our basement (which is gross until I remember they are velvet and I love them).
This one is from Saturday night at the Alexander Wang & Katie Grand party. Alex is like this little imp that I want to put in a box and build a little house. If you think this is creepy you would be incorrect.
• Dress is from Beacon's Closet, which was one of the stops at the Weardrobe conference. The selection was kind of like any other vintage store (minus a pair of teacup/Galliano-ish shoes I snatched up) but more expensive and angrier staff? I like what we all got though.
• Lots and lots of random necklaces …
• The purse was a gift from Hayden Harnett and it's my new favorite thing.
• Vintage hat, gift.
Wow this is very quickly becoming a "look, more famous people" post, ack! This was Sunday at Y-3 (WHICH WAS SO AMAZING AND I HAVE THE MOST AMAZING STORY FROM IT) with Geordan and Leigh from The Misshapes.
• The shirt is from the shoot for Pop. In its prime it was covered with newspaper shreds, made the day after Michael Jackson died, but as Sunday wore on it slowly fell apart (like Michael, as Laia pointed out. HEY NOW, metaphors n fashun!). Also, when you wear shirts with glued-on newspaper in the future, keep in mind that taking a nap in it is not a good idea.
• The skirt is from the Barney's Warehouse Sale I went to on the last day of the Weardrobe conference with my dad and Laia. It was a very scary day, especially since it was the last day of the sale, but I got out alive and with what I think was the only Comme des Garcons clothing they had left (there were Tao shoes, but they were too big for me and too triple-digited on the price tag.) It is like a sleeping bag and I looove the way it hangs.
• Narsty thrifted desert boots.
Yeah team! Elizabeth and Laia and me at Patrick Ervell (which was really really good and will get a further review…like, eventually.) Sunday night we all got pizza with Steve and the genius behind Should Be on the Nanny and ADF and Kat. Polio gave all of us nicknames, such as: Febreze van Noten, Duhlaia (Laia), Extravaganza Schouler, Brodarte, and Sugar Ray Kawakubo (guess whooooo.)
This was from Monday for Zero + Maria Cornejo, Chris Benz, Thakoon, Patrick Ervell and Marc Jacobs. It is SO ANNOYING to merely mention these when there is so much I want to say about all of them.
• Luella jacket that was 75% off and calling my name. Long time readers know I have tried to reenact its runway look too many times, it was kind of FATE.
• Cheongsam, gift.
• Rodarte tights, gift.
• Epic teacup/Galliano shoes I was talking about from Beacon's closet. They deserve a better picture later. Porcelain doll stuffed upside down in pocket, gift from when I was like 5. (The whole outfit was kind of REGAL, the doll made it sort of funny? I crack myself up, at least.)
Tuesday's outfit will go in another post, all this TYPING and BRAIN USING is making me tired. Tuesday night's involved an unfolded chinese carton on the head, though. Maybe I'll wear it to school one of these days in the hopes of decapitating…someone. Hyuk.
I went to New York Fashion Week every season for a couple more years, as long as some brand or magazine was footing the bill. Once I started high school, I stopped blogging about fashion, started the teen online magazine Rookie, and at 18, moved to New York to do theater. I'm not invited to as many shows now as I was back then, but I always try to go to Creatures of the Wind/CDLM and Rodarte, labels by friends I've now had for a decade. Every now and then, another fashion person tells me about the time they spent a whole party getting life advice from my dad. At Dasha's birthday party this summer, Derek Blasberg and I were trying to figure out when we did first meet, and to my great surprise, he mentioned the email address I'd used back in the day — tavitoons@yahoo.com — with all the swagger of an actual name drop. I was in shock — impressed and sent way back in time.
"How do you — why do you —"
He winked and said, "Welcome home."
The designer. He would've just shown in London as I was writing this, and I loved all the draping and tulle.
I do not miss this chatty, hyperbolic blogging voice! I think this was probably partly how I talked, partly like the sassy narrators of books I loved, and mostly lifted from other blogs I read. Nowadays, this tone feels inescapable to me; it is the voice of clickbait, subway ads, and food delivery apps that text you to be like, "GUYS. Remember pizza? I can. And? I CAN'T EVEN." Chilling.
For the Rodarte for Target ad campaign shoot. They hired me to make behind-the-scenes videos and post them on my blog, and host a cardigan giveaway. Aminatou Sow more recently informed me that she had been one of the recipients!
I think what I meant was that I had a lot to process.
We met on Twitter!
Garcia-Furtado, of the blog geometricsleep, now of GARAGE magazine. We met online, are still close friends, and I was a bridesmaid in her wedding this summer.
Do not miss "fail," "epic fail," etc.
I meant kooky and maximalist.
Again, I was really into Isabella Blow, Anna Piaggi, and "making" "headpieces" out of stuff in our home. Baggu still makes great bags!
Terrifying that I can't remember who from!
This makes me realize that "hand-me-down" is a phrase exclusively referring to clothes circulated among children.
Weardrobe was a website where you uploaded outfit photos and tagged where you got everything, and then you could see how other people wore those same clothing items. They hosted a blogger meetup in New York that I had gone to before Fashion Week started and it was like fashion nerd camp — a lot of vintage shopping and DIYs, and I believe we saw The September Issue in theaters.
What does this mean? I think that he was charming, high-energy, and svelte?
OMG! I guess going to Beacon's has been this way forever, as beautifully captured in Broad City season 2 episode 8!
A nice woman who read my blog had just sent me a huge box of vintage clothes. She was one of many nice vintage guardian angel blog readers.
I was deeply self-conscious about looking like a social climber. I was a citizen of the internet, and on the internet we judged people in photos like these.
I can't remember if I ever shared this or not, but it was about meeting Yohji Yamamoto. I said I was a writer and he said, "Do you want to write when you get older?" and I said yes and he said "Big dream." Then we took a photo together and he said "good luck" with a little fist pump.
Woof.
I had napped on a pile of Rodarte dresses in their studio that day.
I think this is the best outfit here, even though it doesn't photograph well.
Spiridakis Olson, who I am also still friends with and who now works at Kate Spade. She was the first person to write about my blog for print, in a piece for T Magazine about teen fashion bloggers.
I cannot believe how much of this post is referencing other stuff I had yet to write down.
Real name: Chrissy Rhee.
Andrew DeFrancesco.
Clements. These are Elizabeth's friends whose blogs I also read. Coda: In 2016 I had a small cameo in Kat and ADF's movie Goldbricks in Bloom, and when Rookie folded last year, Laia, Steve, and Chrissy came to karaoke with me.
From Steve's now-defunct blog title.
This is the best part of the post; well done, Steve.
Again, really struck by how disorderly my content was and how frazzled I seemed to be. Let me remind you that it took a lot more time to upload photos to a computer and then to a blog than it does to share some quick BTS shots on TikTok or Twitch while Bird-ing all over VidCon, etc. etc.
This is now in my parents' closet among lots of clothes they wish I would put in a storage unit.
This was cultural appropriation!
From the Rodarte sisters themselves. More fear of name-dropping or social-climbing-seeming.
Chinese FOOD carton?
Again, with the head pieces…the misanthropy…