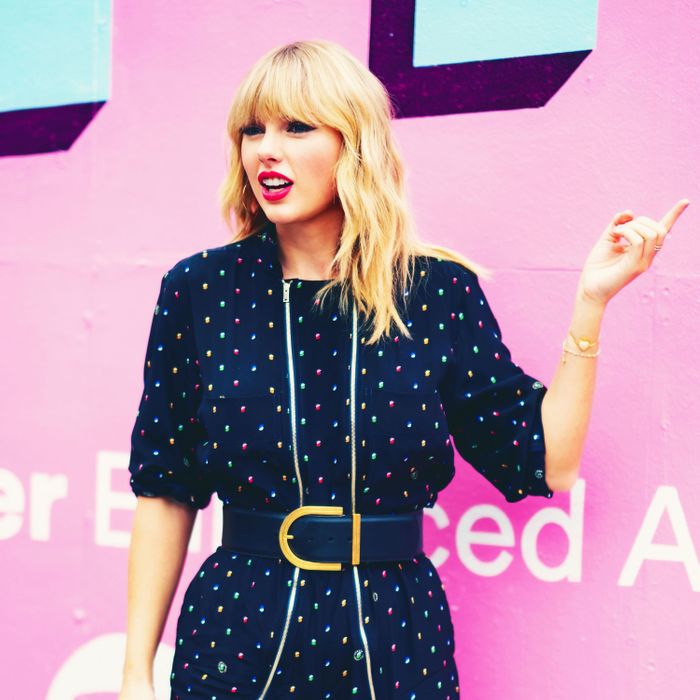 Remember back in 2016 when Taylor Swift was anointed an "Aryan goddess" by neo-Nazis and various other members of the alt-right?
Taylor doesn't. In a new interview with Rolling Stone, the pop star offered a cagey explanation for why she missed the boat on that one, claiming she "didn't hear about that until after it had happened."
"At this point, I, for a very long time, I didn't have the internet on my phone, and my team and my family were really worried about me because I was not in a good place," she told the magazine. "There was a lot of stuff that they just dealt with without telling me about it. Which is the only time that's ever happened in my career … There was a time when I just had to throw my hands up and say, 'Guys, I can't. I can't do this. I need you to just take over for me and I'm just going to disappear.'"
While the genesis of the Taylor-Nazi conspiracy is unclear, the rumors are thought to have festered on various alt-right message boards like 4chan, and were later codified by right-wing news outlets, which ran such headlines as "Aryan Goddess Taylor Swift: Nazi Avatar of the White European People." One now-defunct Facebook group was called "Taylor Swift for Fascist Europe"
For the record, Swift has no affiliation with alt-right groups and decried white supremacy as "disgusting" and "repulsive" in the interview. That the alt-right projected their ideology onto her was a delusion of their own making, and boiled down to her being white and blond, imagined lyrical signaling in her music, and the brief moments of backlash Swift has faced for using racist tropes in some of her videos.
That said, her tenure as a fantasy figurehead for white supremacy wasn't belied by her political ambivalence. As Breitbart commentator Milo Yiannopoulos wrote in a 2016 post, "Taylor Swift Is an Alt-Right Pop Icon," Swift was a perfect avatar for white supremacy: she is white, American, and, crucially, "isn't very forthcoming about her political or religious views, so fans are kept guessing as to where she really stands."
Swift faced heat for staying mum in 2016, a move which led to further speculation about her political leanings, with many fans and critics interpreting her silence as a tacit endorsement of Donald Trump. And while it may be true that Swift didn't have internet on her phone and missed all of this, her explanation is coy and three years late. After all, Swift's political clout was proven when, in 2018, she endorsed two Democrats and urged young people to vote, leading to 65,000 registrations in a single 24-hour period.
Swift, who has recently emerged as something of a liberal poster child, told Rolling Stone she regrets her failure to be more specific about her political leanings back then. But it's all a bit too little too late. Her choice to "disappear" then was irresponsible, and her insistence that she was blissfully unaware of the fallout rings false.