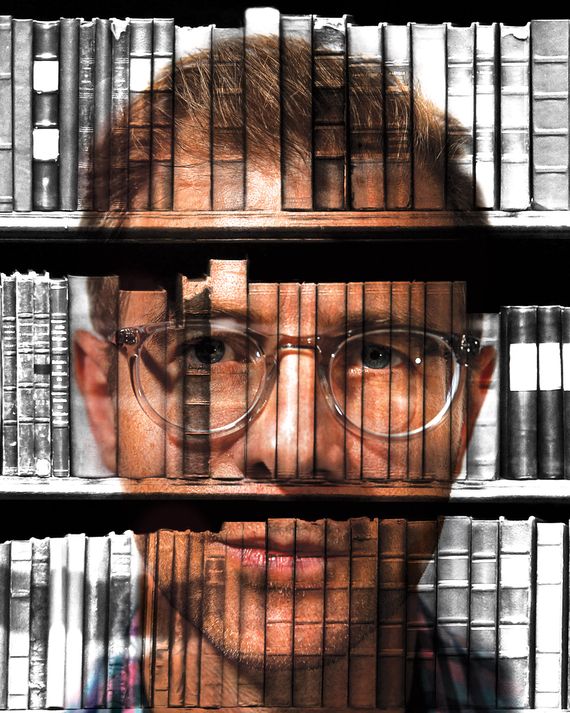 Photo: Marvin Orellana/New York Magazine (Wine); Luoman/Getty Images (books)
The CEO and founder of the specialty bookseller Juniper Books is surrounded by faux-academic felt pennants that read "BOOK NERD," "BE HUMBLE," and "DO HARD THINGS" when I meet him at New York Now, the home-and-gift trade show held at the Javits Center. It's no mistake that the coffee-table tome he recently co-authored with Elizabeth Lane — which opens with the Joan Didion quote "We tell ourselves stories in order to live" — is titled For the Love of Books: Designing and Curating a Home Library and not, say, For the Love of Reading. Thatcher Wine has made a small fortune marketing books as objects that can be collected and displayed in order to tell a story about you, as long as you can afford a $450 leather-bound edition of "The Chronicles of Narnia."
Founded in 2001, Juniper Books might be the company to credit (or to blame) for your friend's color-coded bookshelves or your sister's pages-out, spines-in bookcase arrangement. Juniper offers books by Jane Austen, Ernest Hemingway, Mark Twain, and other AP English authors you could find for less than $10 at the Strand or on Amazon. Instead, Juniper sells the classics in expensive hardcover editions dressed in decorative paper jackets that range from handsome to twee — the kind of gift that appeals to people who feel edgy carrying a tote emblazoned with the John Waters quote "If you go home with somebody and they don't have books, don't fuck 'em." The prices start at $20 for a Gryffindor red-and-yellow Harry Potter and the Cursed Child jacket (book not included) and go up to $2,995 for a complete set of leather-bound Harry Potter books. While Wine won't disclose exact numbers, he does say annual sales are in the "low seven figures," 16 out of his 18 years in business have been profitable, and, over those 18 years, he has sold more than a million books. As the publishing world struggles, Wine has tapped into a new frontier of growth: books you don't actually read.
Wine was born to entrepreneurs; his parents, Barry and Susan Wine, owned the 1980s midtown restaurant the Quilted Giraffe, known for its gold-leaf-garnished caviar crêpes called "beggar's purses." He entered the book world after his tech start-up, Feedback Direct, failed in 2001. Inspired by a third-generation-bookseller friend who bought and sold used books online, Wine attended estate sales and bookstore liquidations to buy books (in one case, 25,000 from a store closeout in Connecticut), which he then sold on eBay and AbeBooks. In 2005, Wine says, someone who knew his family came to him with a request: "He said, 'Hey, I just built this house in South Carolina, our architect designed all these bookshelves in it, and we're about to move in and we don't have any books. Can you help us put together a book collection and make it look like it's ours?" Wine wondered if others were in need of a similar "turnkey solution" for their libraries — people who wanted books but didn't know (or necessarily care) which ones.
Indeed others were: The South Carolina house sparked what would become the custom-curation branch of Juniper Books, which has worked on more than 3,000 projects and generates about half of the company's revenue. "You hire people to remodel your house and pick out every single detail, or whatever experts for other parts of your life, coaching and things like that," Wine tells me. "Nobody really did that for books. I think there was an assumption that you're supposed to pick out your own books." Common requests include the "100, 200, 500 books everybody should have in their home," he says, as well as neutral jackets. "Lately, I think there's been a good run on navy blue and grays mixed together." A custom curation can cost anywhere from $350 to six figures, but Wine says the average job is $2,500, which will get you about "eight or ten feet of books, so 80 to 100 books."
In 2010, Wine started making custom book jackets, and six years later he was granted U.S. Patent No. 9,349,308 for "dynamic application of a design across multiple product packages" — in other words, for printing one photograph or painting across multiple spines so they compose a single image on the shelf, like a photo of a skier going off a snowy ledge. Wine, who does not hold the rights to any of the books his company publishes, compares the process of giving them new jackets to "an iPhone cover or Pimp My Ride." He buys books from their publishers, removes the jackets, and slips on his own. There was "occasionally a little bit of confusion" from publishers and authors when they first saw his versions of their books, Wine says, but they've come around, and some, like Tor Books, are eager to collaborate.
Seventy percent of Wine's custom curations have been done for private residences, and he has supplied books for the homes of Jessica Chastain, Shonda Rhimes, Oprah Winfrey, and Gwyneth Paltrow, who is a childhood friend. (Wine once sent Paltrow a copy of her book My Father's Daughter wrapped in a custom jacket based on a photo of her and her father taken at the Quilted Giraffe. "I sent it to her as a gift, then she put us on Goop, and we've been on there almost every year since," Wine says.) Commercial projects make up the other 30 percent of the custom-curation business. Juniper Books can be found in Kiehl's, the NoMad Hotel Library, the Four Seasons Residences Austin, the luxury high-rise 95 Wall Street, and, for a few years, the Chase Sapphire Lounge at the Sundance Film Festival, where the bank's logo was printed across the spines of 12 books. "It wasn't meant to be a reading library," Wine says of the Chase job. "It was just meant to be a neat way to introduce a brand in a slightly more subtle way."
Book-decoration projects like Wine's are often subject to backlash. A tweet or an Instagram post featuring color-coded books can elicit a heated response from those who consider themselves serious readers or who might see these arrangements as gimmicky at best and an insult to the intellect at worst. I ask Wine what he thought about the time Apartment Therapy Instagrammed a pages-out, spines-in bookcase and received hundreds of outraged comments, including one charging "blasphemy" and asking, "why has our lord god forsaken us?"
Wine answers with the insistent optimism of a "disruptor." "I think what people realized with the rise of e-books was that, hey, any printed books that are in the world are a good thing, whether you're reading them or not," he says. "If there's a potential to read them and there's sort of a gravitas of having them, through osmosis that seeps into your identity." The introduction of For the Love of Books — which includes many lines from a TED Talk that Wine delivered in 2016, battered copy of The Catcher in the Rye in hand — assures readers that "something almost alchemical happens" when we add books to our homes and that, by doing so, "we combine the author and their story with who we are and our story." As for the pages-out books? "For some people, that's how they want to have books in their home, and that's okay," he says. "Maybe their kids one day turn a book around and they're like, Oh, that's Tom Sawyer, I'm going to read that. I've heard of that. I don't think any of us should really make judgments about books in the world." One wonders if the kids might have met Tom Sawyer earlier had the spine been facing out.
*This article appears in the September 2, 2019, issue of New YorkMagazine. Subscribe Now!