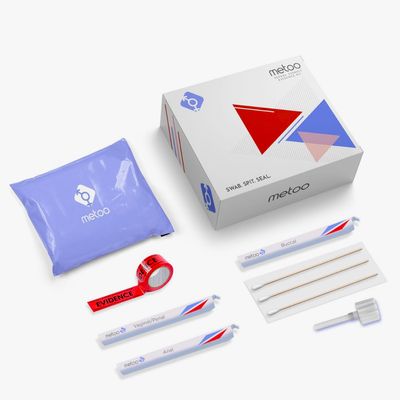 It should perhaps come as no surprise that in the post-Theranos (and mid-Tia) world, someone, somewhere would attempt to "disrupt" the rape kit. The MeToo company, a start-up based in Brooklyn and created by Madison Campbell, has created — in theory — the first at-home, self-managed forensic exam, intended to be used by survivors of sexual assault. Campbell calls her product the "MeToo kit," and its slogan adopts the ethos and language of its namesake movement: "Your experience. Your kit. Your story. Your life. Your choice."
But many in the sexual-assault advocacy and legal professional communities have voiced concerns about the MeToo kit's viability in the criminal justice system. At the end of August, Michigan Attorney General Dana Nessel sent the company a cease-and-desist letter, accusing it of violating several sections of Michigan's Consumer Protection Act. Nessel stated, "This company is shamelessly trying to take financial advantage of the 'Me Too' movement by luring victims into thinking that an at-home-do-it-yourself sexual assault kit will stand up in court … Career prosecutors know that evidence collected in this way would not provide the necessary chain of custody." This week, New York attorney general Letitia James joined Nessel's call for Campbell to cease and desist, stating her concern that the MeToo kits would "deter individuals from seeking professional care."
Ebony Tucker, advocacy director of the National Alliance to End Sexual Violence, echoes the attorney generals' concerns. "When evidence is taken as part of a forensic exam in a rape case, there has to be a very clear order of who came into contact with the evidence: who had access to touch it, see it, know where it was," she says. These measures are taken in order to ensure evidence isn't tampered with, and to prevent that claim from being made in court. Done at home, by oneself, there would be countless opportunities to contaminate evidence — and any defense attorney would know that.
Campbell has thus far rejected these concerns, calling Nessel's original remarks "deeply disappointing" and "downright shameful." In response to James's cease-and-desist, Campbell also told BuzzFeed News that she would "never stop fighting."
While the MeToo kit's FAQ states that they have "a multi-step plan so that the kit retains chain of custody," no such plan is provided. (Campbell didn't respond to my request for more detail.) The page also states that "there is no guarantee that any of the evidence collected as a result of the use of this product will be admissible in court." This, too, is something they claim to be working on. As it stands, though, what the MeToo kit offers is a couple swabs, a spit receptacle, and a box in which to place one's clothing — all in Glossier-ish packaging. "This is little more than an ancestry DNA kit," says Tucker.
The kit's focus on DNA collection also displays an ignorance of the typical trajectory of most sexual assault cases. "In a lot of sexual assault cases, the defendant isn't saying they didn't have sex with the victim — they're saying the sex they had was consensual," says Tucker. "[The kit] gives the impression that if you can analyze forensic evidence, all rape cases will be solved."
It's clear from the MeToo kit's FAQ page that the company lacks in basic sexual-assault awareness. Suggesting that customers buy the kit prior to being assaulted, the company confusingly draws a comparison between rape kits and fire alarms, explaining that you buy a fire alarm not for the 364 days you "don't have a fire," but the one day you do. "We trust this to be a deterrent for sexual assault," it continues.
It should go without saying that keeping a Q-tip and a plastic tube in a box in one's home does not ensure that one won't be sexually assaulted, just as keeping an earthquake kit does not prevent earthquakes. Saying it does might, however, be a good way to get more people to buy your product.
Though they claim their kit empowers victims of sexual violence, the "MeToo" company also discourages them from receiving the care they need and deserve, says Ilse Knecht, director of policy and advocacy at the Joyful Heart Foundation. "When we think about what the forensic medical examination is, the forensic piece is one part of it," says Knecht. "The other big issue is the medical piece, and survivors often need medical treatment for potential serious health concerns, such as HIV, STIs, and internal injuries. Some sexual assaults also include strangulation. Those signs can only really be determined in a medical facility." If survivors were to elect to perform an at-home kit themselves, thinking it equivalent to a hospital forensic exam, they might unwittingly deny themselves other needed medical treatment.
According to the advocates I spoke to, the ideal for survivors of sexual assault is to receive a timely, trauma-informed forensic medical exam by a trained forensic examiner, called SANEs (sexual assault nurse examiner) or SAFEs (sexual assault forensic examiner). Those in the advocacy community recognize that access to SANEs/SAFEs isn't always what it should be. "There are trauma hospitals in this country that do not have trained sexual assault examiners," says Knecht. "How is that possible?" In some parts of the country, getting access to a trained examiner might mean traveling dozens or hundreds of miles — a journey many can't afford to make. But the "solution" supposedly offered by the MeToo kit is woefully incomplete, and quite possibly dangerous.
"Doing this would let the system off the hook," says Knecht. "We owe it to survivors to make sure we're building a framework, or safety net, to ensure that their medical care and evidence collection is going to be done in an appropriate setting, and in a way that makes them feel empowered, at no cost to the survivor, by the way."
The price of the MeToo kit has yet to be revealed, though, per the site, it will be "pocket-friendly." The preorder page is "coming soon" — clicking "Get the kit" will prompt the site's visitors to join the wait list. The site's FAQ page states the company's "current strategy is B2B sales" but that they anticipate a future "consumer campaign on a crowdfunding platform, in conjunction with sales in pharmacies."
This post has been updated.