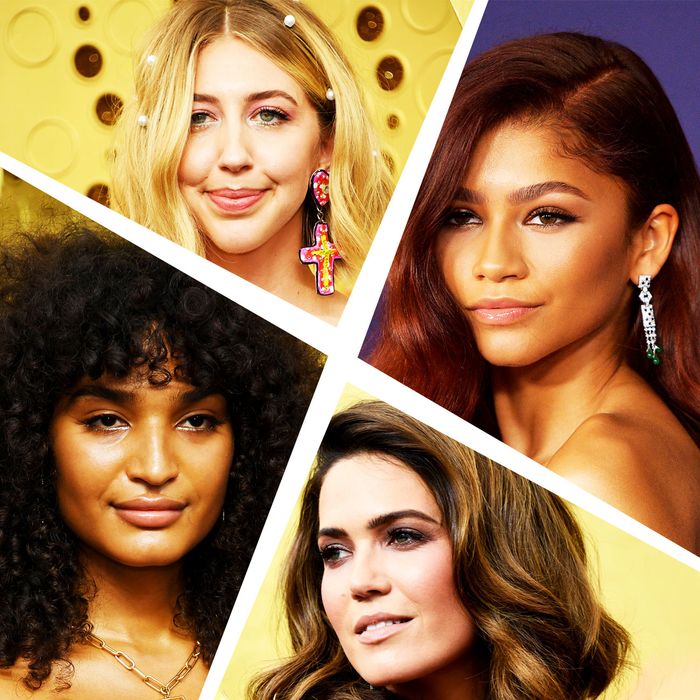 Today marks the last day of summer, and the first red carpet of awards season. We're talking, of course, about the Emmy Awards, affectionately known as Television's Biggest Night. L.A.'s Microsoft Theater was packed with everyone who's anyone from the billions of television shows that are at our disposal, but a baker's dozen of individuals in particular truly stood out in the hair and makeup department. Here, the best makeup looks and hairstyles from the 71st Primetime Emmy Awards.
Best Center Part
The purple carpet was chock full of center parts, like we knew it would be, but Game of Thrones star Emilia Clarke's emerged the sharpest.
Best Stuff Stuck in Hair
Heidi Gardner's pretty pearls were a welcome departure from the usual trends, especially since we've reached peak hair clip.
Best Reminder to Watch Euphoria If You Still Haven't
It had to be done, and Eris Baker of This Is Us did it extremely well.
Best Pumpkin-Spice Hair
Brittany Snow is here to remind everyone to get ready for fall, y'all.
Best Hat Hair
The key to pulling of hat hair is to follow Billy Porter's lead and pair it with a textured silver manicure.
Best Inner-Eye Highlight
Padma Lakshmi serves as a very good reminder that you can (and probably should) highlight the inner corners of your eyes with a shimmery shadow, because magical things will happen.
Best Curly Bangs
We would like to nominate Indya Moore's set of curly bangs for Best Supporting Actress — looks like Natasha Lyonne has some serious competition.
Blondest Blonde
This Malfoy-level white blonde on Michelle Williams is both blinding and impressive.
Best Glowy Glow
In not at all surprising news, Zendaya showed up emanating the ethereal glow of someone who drinks the right amount of water and sleeps the right amount of sleep.
Best Tendrils
Brows make a pretty good frame for the face, but two throwback tendrils are an excellent backup as well, as Laverne Cox proved.
Best Ode to TV Dinosaurs
Kelly Osbourne's hair was a little Dino Flintstone, a little Barney, and a lot bright. And it went surprisingly well with the purple carpet she was working.
Best Monochrome Moment
Sophie Turner matched her shimmery pink eyes to her pink cheeks to her pinkish lips to her pink dress, and they all lived happily ever after, probably.
Bounciest Hair
I'll have what Mandy Moore's blowout is having.