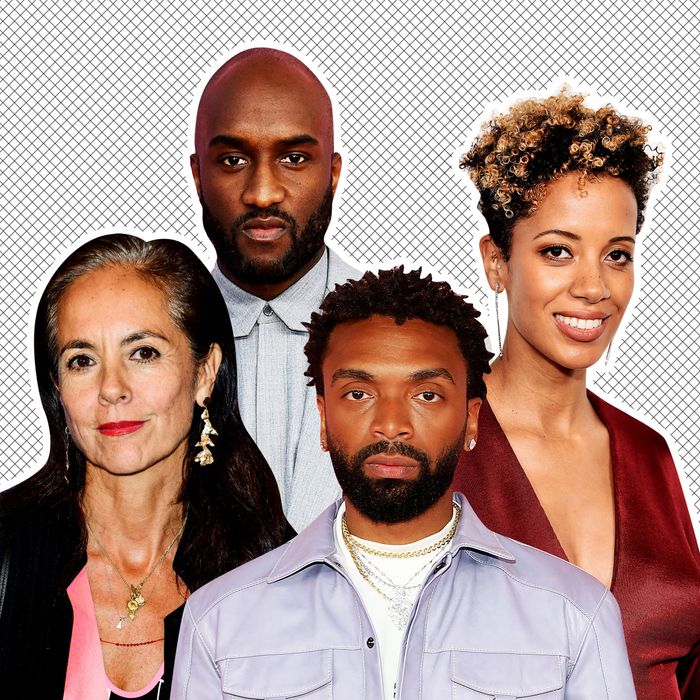 Maria Cornejo, Virgil Abloh, Kerby Jean-Raymond, and Carly Cushnie.
Photo: Getty Images
It seems like the CFDA has read the room. After a month of backlash to having Kara Ross, hostess of the Trump fundraiser that shook Equinox members across the nation, on the board of the CFDA, and about two years of anxiety about Harvey Weinstein's ex-wife Georgina Chapman's board seat, they've become emeritus board members. Mimi So and Marcus Wainwright have also vacated their seats to become emeritus members. In their place? Well, that's the exciting part. Four designers of color will be filling the board seats: Maria Cornejo, Carly Cushnie, Virgil Abloh, and Kerby Jean-Raymond. Tom Ford, the chairman on the CFDA, confirmed the changes last week.
Ford told WWD that he was "rearranging the board so that it is more diverse in age and more diverse in every way … Lots of people voiced a concern that the board, and the CFDA, was not diverse enough." That's true. Before the four new appointees took their seats, only five board members were people of color. With Mimi So's exit, there are now eight. So, the diversity of the CFDA has almost doubled in the past week.
WWD reported that Ford informed the four exiting members of their "status change" last month, and they responded "positively." Ford and CFDA CEO Steven Kolb had met to decide who should leave and who should take their places. "We talked about how many slots we need to free up to make it more diverse, and what sort of diversity was missing," Ford said. "If we wanted to bring these people in, where is there an overlap of voice, meaning people with the same types of collections or of the same age? So that's how that was decided."
Ford says Ross's exit has "nothing to do with her political views or her [husband's] fundraiser for Trump." Apparently, it was planned months ago. "As you know, there were so many calls for people within the industry for us to remove her from the board, which is totally wrong. It is not democratic, it is not what this country is about. To have done that would have been the same kind of censorship that our current administration tries to do with the press — tries to manipulate, in a sense, real freedom of speech. We never do that, and that is not at all what this was."
Well, at least four designers who champion innovation, diversity, and sustainability have a seat at the table now.