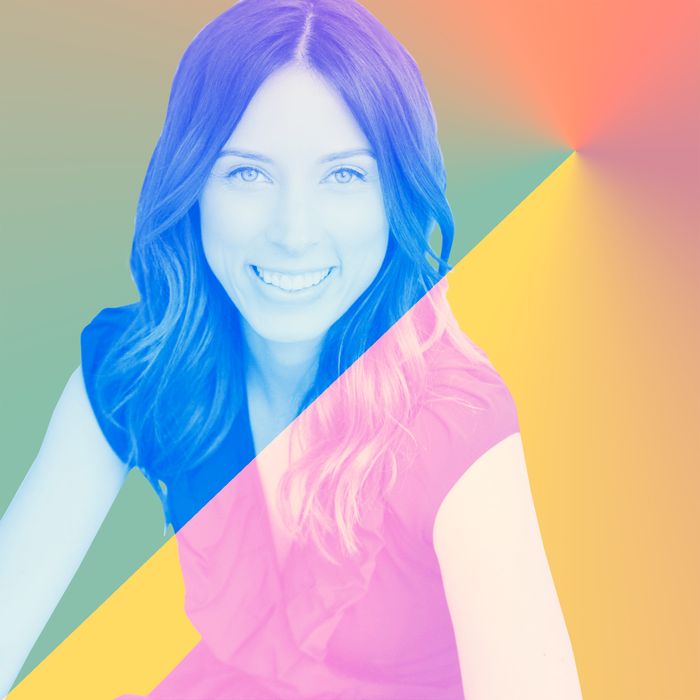 Photo: Courtesy of Olive & June
"Outside of New York City, nails are always in season," says Sarah Gibson Tuttle, founder of Olive & June. "I'd say, throughout the vast majority of the country, even in L.A., nails are always in."
Cynics could argue, of course, that that's what the founder of a nail brand would say, but her three thriving L.A.-based nail salons, along with an ever-expanding line of polishes, nail art, and tools, seem to back that statement up. She credits her success to daily crowdsourcing.
"I'm on DM constantly telling people how to do their nails, but our shades are also fully vetted by our community," says Gibson Tuttle. "As long as there's a majority vote, we'll release the shade. I do what our community says."
Gibson Tuttle's entire career has been about making clients happy, although it began in the financial sector. The Colgate University graduate's first job was in JPMorgan's International Equity department, liaising between its traders and clients.
"There was a lot of hustle, a lot of taking care of clients," she remembers. "It totally fit my personality. In my opinion, if you're a client service person, you can do any client-service job. It's a mind-set. You either have that kind of mentality, or you don't."
After ten years, she started to feel the entrepreneurial gene she inherited from both of her parents, although the category itself was a blank. Intrigued by the notion of talent management, she flew to the West Coast for dozens of interviews, and nearly as many blowouts at Drybar, as well as manicures and pedicures, her favorite treatments.
"It's always pedicure season in L.A., so I couldn't understand why the salons weren't more elevated," she remembers. "I thought, I should do the Drybar for nails."
She took her great-grandmother and grandmother's names, respectively, and opened her first location in 2013 on Canon Drive. Pasadena and Santa Monica followed, then, in March, a collection of pale neutral polishes, along with the Poppy, a cute, squat, rubbery attachment designed to make the DIY manicure easier for the non-ambidextrous.
"Women buy all these products, but only do their own nails three times a year. We thought, how do we empower them to paint their nails? That's where the idea of the Poppy came from, because when your nails are painted, you feel amazing."
Gibson Tuttle spoke with the Cut about her first polish obsession, her dream client, and how Khloé Kardashian influenced her beauty routine.
What's your definition of beauty? Beauty is my favorite form of self-expression. It can be a tonal ombré, my green eyeliner, a favorite hair accessory. Beauty is so much more than a product in your hand. It is what that product does to make you feel good about yourself.
What do you think when you hear the term "clean beauty"? I love "clean beauty" conceptually but dislike that it can be confusing. There isn't really a standard or clear definition of what "clean beauty" means across the industry. It changes for every product category, or even every company. At Olive & June we are hyperfocused on educating our community and ourselves to make sure we are making the best choices when it comes to our products, tools, and services. We want cleaner nail products in this world to up the industry game. Consumers deserve to know the truth and not just be marketed at.
Where, if anywhere, in your beauty (or life) routine are you not quite that "clean," "green," or "sustainable"? I only drink fresh almond milk but I also get Botox. I believe in balance. I love Skittles too!
What is the opposite of "beautiful"? Judgement.
What is your morning skin-care routine? I wash my face and use Dr. Nigma Hydrating and Plumping Serum No 1 and Control Correctives sunscreen. Always, always sunscreen. And as I learned from Khloé Kardashian, include your neck and chest, too!
What's the last beauty product you use every night? Olive & June Cuticle Serum. It's non-greasy (it won't get on your sheets!) and hydrates the skin around your nails as well as your cuticles. Your mani will look like you just got it done.
What aspect of your beauty routine tends to be neglected? I often use facial wipes (Ursa Major are my fave) instead of washing my face. I get lazy after a long day.
What, if anything, is usually on your lips? Anything and everything Kosas or Sara Happ.
What shade, if any, is usually on your toes and/or hands? I'm currently obsessed with tonal ombré manis and have Olive & June polish in SE, HD, GH, and BI across my nails. Loving CDJ on my toes all year round. That shade goes with everything.
What makeup item would you never skip? Eyeliner! I recently met Violette (hello, makeup goals) and she had the most gorgeous, colorful eyeliner, which inspired me to get more playful with color.
Bath or shower? Bath, with Goop Martini Bath Salts.
Dream client you have yet to get at Olive & June? Michelle Obama.
What was your first beauty-product obsession? Chanel nail polish in Vamp. My friend wore it, but my father never let me wear nail polish. I used to sneak it when he was away on work trips.
Sunglasses of choice: Gentle Monster sunglasses every single day. They were the best non-work-related find on my work trips to our manufacturing partner in Seoul.
How do you like your living room? Whatever Wall for Apricots designs makes me feel at home.
What do you splurge on? Rachel Comey and sneakers.
What do you scrimp on? Gas.
What are the first three things you do when you get home from work? Hug my little one, change into a sweatsuit, and take off my makeup.
What is your own personal definition of misery? Picking the wrong mani color.
What is your own personal definition of glee? Picking a mani color for someone that they love.
Are you a knee-jerk reactor to bad news (like an annoying email), or can you step back and take a breath? I used to react but have learned to take a breath and think it through. It's been a great skill to hone because almost every problem can be solved.
What would the name of your autobiography be? Olive Me.
Who would star as you in the film adaptation? My friends would all say Scarlett Johannssen or Emily Blunt.
Favorite smell? Whatever Oribe hair products are scented with.
What do you think Pantone's color of 2020 should be, and why? A light teal-y green to match my eyeliner.
What are you usually sipping from during the day? Either Starbucks Guava White Iced Tea or a Good Mylk Matcha Latte.
What calms you down? Hanging with my besties or some reality TV.
Comfort food: Barbara's Cheese Puffs.
What food would you never eat? Beets.
What do you foresee as the top beauty trends for 2020? Manis will continue to be more fun — art is coming back, even in New York! More skin treatments versus topicals, as women want to see results immediately. More playful makeup that feels halfway between every day and runway.
What are the big nail trends you're seeing right now? People are also saying creamy greens are big for fall, but for right this minute, different takes on the French mani (like thicker or at an angle) and what we call the Tonal Ombre (a.k.a., the Skittles mani). We did the Cotton Candy mani, which is four different shades of pink and white. It's been so popular, next week we're actually launching ombré Nail Art kits based on the trend.
What product in your domain is misunderstood and should be a best seller? Our K.I.T. KIT is incredible. There's a misconception out there that regular salon manis are all you need, but making your nails part of your beauty routine is really where you'll see the big difference. The K.I.T Kit has everything it takes to maintain a fresh mani in between paint jobs, including daily cuticle serum and a top-coat touch-up every few days. Chipping is no one's friend.
If you won the Power Ball tomorrow, what are the first five things you would do? (After, of course, donating the majority of it to your top charities …) After launching a fund for all of the kids of our employees to go to the college of their choice or fund their own businesses, I would: Take a long vacation with my family, bribe my brother and his wife to move their family to L.A., give everyone at Olive & June a raise, hire a chef so that I would actually eat healthy (RIP Skittles), and buy an Anita Ko diamond tennis bracelet.
Not to get too philosophical, but … what do you want? I want to wake up in a world where self-care isn't a buzzword, it's the norm. My dream is that people find the things that make them feel like their best selves and make it a regular part of their lives. If Olive & June can be a part of that, then mission accomplished.