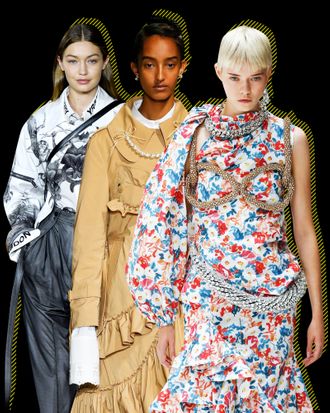 Left to right: Burberry, Simone Rocha, JW Anderson.
Photo: Getty Images
There was full summer sunshine in London when I arrived — not to stoop to cliché, but it was about as un-London a day as one could hope for. And for 24 hours, everything glittered like a JW Anderson bra, which is to say, like a bit of oversize jewelry you wear outside your clothes if you're brave enough. At his spring 2020 show at Yeomanry House, Jonathan Anderson reenvisioned the bra as a kind of necklace for your chest, a Möbius strip of sparkle, turning a small, tucked-away underthing into a maximum, unmissable overthing. Go on, then! he seemed to say. Why not?
"Go on, then!" could be the tagline for all of London Fashion Week if it's in the market for a new one. There's a brio here that fashion weeks in the other cities — New York, Milan, Paris — don't always share. The designers of London Fashion Week aren't afraid to dig in.
Admittedly, that can make London a mixed bag; sometimes labels go all in and miss. That has lately befallen Burberry. A year ago, Riccardo Tisci took over Britain's biggest heritage brand, and at his show on Monday he went big: Inside a big West London theater, guests were ushered onto bleachers facing a big, mirrored box that slowly levitated as the show began, to reveal a big … something? The something was a set of pneumatic tubes that looked sort of like a blown-up pipe-fitting Victrola, and it was there to blast out the soundtrack as the models marched around it. They were the big models: Gigi, Bella, Kendall, Freja, even Agyness — as in Deyn, who was once a Burberry discovery but was then dispensed with, the rumor ran, because her overnight fame and sudden omnipresence had rendered her too big for the brand. Now she'd been welcomed back into the fold for the first time in years. Aggy might've been big, but Burbs is bigger.
For his third collection at Burberry, Tisci pulled together the disparate parts of his repertoire. Last season, there were separate rooms for, essentially, Posh and Street. (My words, not his — I was seated in Posh; Street had cage fencing.) Now the two have been brought together in both staging and design. Unfortunately, that ended up weighing down what might have been elegant pieces with pockets, zips, and elasticated pulls — the aim was lordly, but the effect was rather labo(u)red. Where was the ease? At least the hats, megabrimmed caps trailing scrims of crystal mesh, were fun. They weren't subtle, but you could imagine them being photographed six ways from Sunday.
Maybe subtlety isn't the point (Go on, then!). Maybe the picture is. I woke up early on Monday morning to see the first runway show by Supriya Lele, a rising talent I've been following for a while. Her collection was focused and sexy — everything trailed loose ties and strings. Clambering into the car afterward with my car mate, the stylist Patti Wilson, who has worked with everyone from David LaChapelle to Billie Eilish, I worried that those loose ends would be instantly caught in the subway doors. "Oh, I don't think they're for the subway," she said seriously.
And there wasn't anything subtle about the handful of shows that were the week's standouts. Molly Goddard's was one, with her layers of crenellated tulle skirts and dresses so big they brushed the audience as the models went by. I saw them in her showroom (I flew in too late for the show), and even on their hangers they seemed to puff up with life.
Simone Rocha's was another: She lured everyone to top of the world, or at least one of the highest elevations in London, the concert venue Alexandra Palace, Ally Pally to the Brits. Rocha likes a spectral kind of femininity — all those peekaboo-ing girly frocks — but showed them pragmatically layered over tomboyish trousers and clomping brogues, making them fit for a broader swath of humanity than many other collections this week and modeling them on a broader swath of humanity, too. A rumor went around right after the show that Margaret Atwood had been in it — Simone casts a wide enough net that you could believe it possible — but no, though the great Lesley Manville (Phantom Thread's Cyril Woodcock) had been.
And then there was JW Anderson. Those bra-encrusted dresses. Subtle? You couldn't miss 'em. I leave it to the ladies to decide if they'll buy and wear them. But his bravado — he spoke backstage about exaggeration, "kind of a bit Antoinette," as in Marie — was winning. He plays with clothes in an appealing, almost naïve manner, asking why a suit can't be blown up so that it floats around the body like a chandelier, or why a dress shouldn't have a sleeve that swoops like a cape. He takes familiar things and makes you look at them afresh. It's an approach he shares with Liz Magor, the Canadian artist whose work decorated the runway. Magor collects ephemera (kids' toys, junk) and enshrines it in vitrines. It's the mundane made magical. "There was something I liked about this idea of how do we take the things we no longer want and reposition them?" Anderson said. "What we make today can actually last for a long time — if we do not become bored of it."