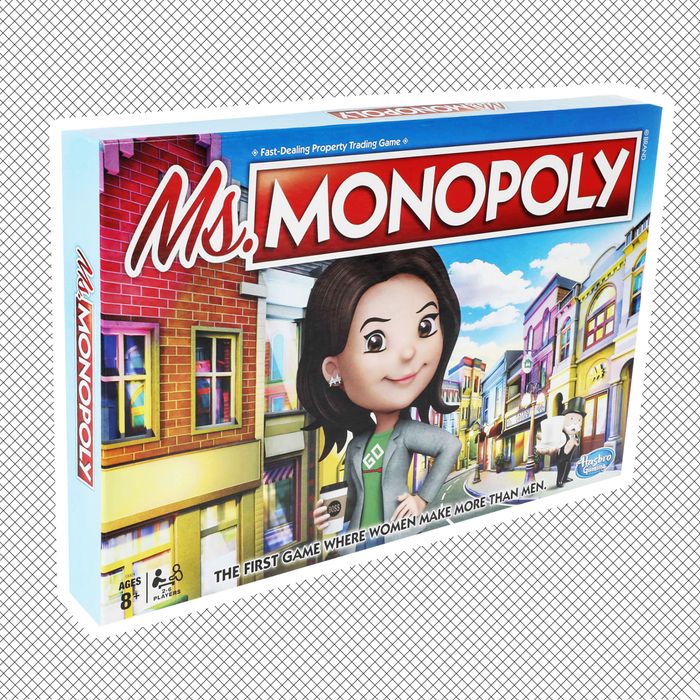 You know when you're playing Monopoly on family game night, and you're having a good time, but you can't help feeling oppressed by Rich Uncle Pennybags and his imperialist white-supremacist capitalist patriarchy? Isn't it annoying when the game keeps committing micro-aggressions against you, like telling you to "advance token to the nearest Railroad and pay owner twice the rental to which he/she is otherwise entitled," or repeatedly sending you to jail without due process?
Good news: Hasbro has heard your complaints, and now they have created a board-game that even feminists can enjoy. The game's mascot is "Ms. Monopoly," and she is the Monopoly Man's niece and a "self-made investment guru," seemingly in the vein of Emily Weiss or Sophia Amoruso. Slay, queen.
The game is touted as a "celebration of women entrepreneurs and inventors." In it, female players are given more money to start and collect more money when they pass "Go." Instead of landing on various real-estate properties, each square depicts an invention made by women, ranging from "stem-cell isolation" to "modern shapewear."
In this new millennial feminist utopia, the railroad squares have been replaced by "ride-share" squares. And the oppressive thimble and iron pieces: gone! Based on zooming in on the photos on Walmart's website — where the game is available next week — the pieces include a weight, a journal, a top-hat, a plane, a watch, and a wineglass. Some other ideas for game-pieces we would like to propose:
-IUD
-Handmaid's Tale bonnet
-Jade roller
-House plant
-Grain bowl
-Juul pod
-Platform Tevas
-Keychain from The Wing
-Orange wine
-Tiny bottle of Vintner's Daughter serum with a single usable drop of oil
Finally, an excuse to become a gamer.