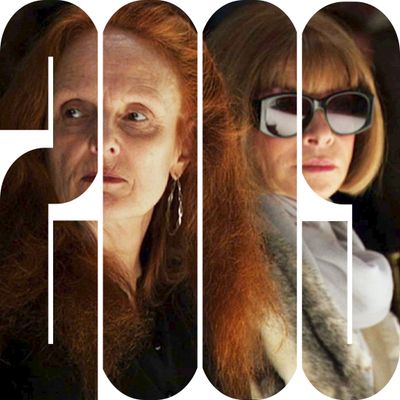 Photo-Illustration: by Stevie Remsberg; Photo: Shutterstock
The fashion documentary The September Issue, which went behind the scenes at Anna Wintour's Vogue, premiered ten years ago, on September 11, 2009. At the time, it was a rare treat, offering an intimate, humanizing portrait of the "ice queen" at the magazine's helm (only a few years after Wintour had been mythologized in The Devil Wears Prada), plus a glimpse at how some of the world's most glamorous sausage gets made.
The documentary was filmed in 2007, the year Sienna Miller appeared on Vogue's cover in a feathery Marchesa gown. Fashion was about to go through some major changes, and the film arguably captured the magazine's last gasp of unchecked over-the-top-ness, preserving it in amber and then displaying it two years later to a postrecession audience. It was convincing: Wintour was still "the most powerful woman in America," Vogue was the "Bible," and employees like Grace Coddington were nothing short of "genius." There were horses and Town Cars and more than one fake papal entourage. People said mean things to other people's faces in strange, unidentifiable accents. Thakoon was the designer du jour, and photographers like Mario Testino were the opposite of blacklisted. At the time, fashion seemed to exist on its own planet, and watching the documentary as a wide-eyed 17-year-old, I wanted nothing more than to be launched into its orbit.
Fashion never stays the same for long, but rewatching The September Issue ten years later, I couldn't help but laugh. Like, a lot. So much that my roommate came in and asked what I was watching. Of course this world was never going to last. How could it? But it's thrilling to be reminded of a time when people actually believed it might — whether owing to blind optimism or a sense of entitlement. Below, ten ridiculous scenes that we'll never forget.
1. Anna Wintour Double-Fisting Cell Phones
In the film's opening scene, we see Anna Wintour heading to the office in a Town Car. In her left hand, she holds her BlackBerry, and in her right, she's got a Motorola flip phone. While reading an email from Tom Ford on the BlackBerry, she speaks into the phone to someone named Sophie — presumably an assistant — asking her to "send the email on" to someone named Jay. Slowly, it dawns on us: She called her assistant to ask her to forward an email. This is what multitasking looked like in 2009.
2. André Leon Talley's Hungry Eyes
"It's been Bleak Street over here in America," says Vogue editor André Leon Talley in reference to the most recent New York Fashion Week runways. "It's a famine of beauty," he continues. "It's a famine of beauty … A famine of beauty, honey! My eyes are stah-ving." He repeats himself until designer Vera Wang gives him a high five, thereby creating the movie's catchphrase.
3. Stefano Pilati Arguing That Navy Is Totally Different From Black
One of the most painful scenes in the documentary happens when Anna Wintour meets with Yves Saint Laurent designer Stefano Pilati, who left the brand in late 2012. He greets her by kissing her hand, like she really is the pope, and proceeds to show her his very dark upcoming collection. (Wintour often previews collections to make sure they're on track.) Wintour, who notoriously hates the color black, interrupts after only a few looks: "So you're not really feeling for color, Stefano." Pilati tries blaming his mood, becoming increasingly desperate: "There's blue navy! There's an emerald green!" In his defense, emerald green is definitely a color, but I wouldn't say that to Anna.
4. Sally Singer Thinking Really Hard About Jackets
In a breakfast meeting, Anna Wintour and the Vogue team share a list of upcoming trends with retail CEOs and buyers. Wintour calls upon features director Sally Singer, who declares with great confidence that the "key item" for fall is going to be … the jacket. The suits nods, and Wintour backs her up: "We're going to be putting a huge, huge push onto a wardrobe of jackets for the fall issues," she says, pounding the table. Later in the film, Singer is still haunted by the idea of jackets. "I think the jacket is the new coat," she says, putting her head in her hands.
5. Edward Enninful Failing to Properly Color-Block
Edward Enninful, then a contributing editor, is tasked with a color-blocking shoot for the September issue but cannot seem to figure out what the heck that means, at least in the eyes of his boss. "There's always one shoot that's a disaster," Coddington says in a premonition. And this is it. "I wanna kill myself!," Enninful squeals after a run-through in which Wintour nixes nearly everything on his rack. He stress-sips from a gigantic Styrofoam cup of Jamba Juice — truly a sign of the times — and Grace consoles him. "You've got to be tougher," she says. "Or else you'll lose." Clearly, he learned from his mistakes, because he's now the editor-in-chief of British Vogue.
6. Those Poor Goddamn Rodartes
Anna is "really concerned" about how much black there is in the issue, so another look bites the dust, this one by the Mulleavy sisters, the then-up-and-coming designers behind the brand Rodarte. "Those poor goddamn Rodartes!," fashion editor Grace Coddington tells a guy who doesn't look like he knows who those poor goddamn Rodartes are in the first place.
7. Bee Shaffer Dragging Her Mom's Life Work
"I really don't want to work in fashion," declares Anna Wintour's daughter, Bee Shaffer, who was around 22 at the time. "It's a really weird industry to me. I don't want to put it down, but I would never wanna take it too seriously. Some of the people in there act like fashion is life. It's really amusing, and you can make fun of them, but for that to be your career … It's just … There are other things out there, I think." Ouch.
8. André Leon Talley's Luxurious Tennis Getup
As Talley tells it, Ms. Wintour "inaugurated him into health by intervention," which is a nice way of saying she told him he needed to lose weight and sent him off to a diet-and-fitness center. Now, he plays tennis. "I wouldn't come to the tennis court in just a pair of shorts and a tennis shirt," he says. God no! Talley goes to Damon Dash for his sweats and Ralph Lauren for his polos. His "tennis watch" is a diamond-covered Piaget from the '60s. Plus, all his gear, including a hat, a towel, and a water-bottle suitcase, is monogrammed Louis Vuitton. "It's all a part of being who I am," he explains. "I have to get up and approach life with my own aesthetics."
9. Anna Looking Bored As Hell in a Pitch Meeting
This scene takes place about three-quarters of the way through the documentary, following a poignant moment when Wintour lists the important things her siblings do for a living, adding that they are "amused" by her role at Vogue. Sad piano music plays over the most excruciating pitch meeting ever. A young beauty editor suggests a story about "advancements in eyes." Anna's own eyes look nearly closed.
10. Anna Fat-Shaming the Cameraman
In a brilliant, meta, last-minute move, Grace Coddington decides to include Bob the cameraman, who's been filming her this whole time, in the (reworked) color-blocking shoot. It makes for a great, forward-thinking image, but Anna Wintour's only take is that Bob needs to work out. Coddington gasps when she hears this, but Bob, who's perhaps sipped too much of the Kool-Aid at this point, agrees with Wintour. "Personally, I think it's better that you're not like skinny skinny," Coddington argues. "To me, it makes the point that you're real people and not models. Everybody isn't perfect in this world. I mean, it's enough that the models are perfect. You don't need to go to the gym."