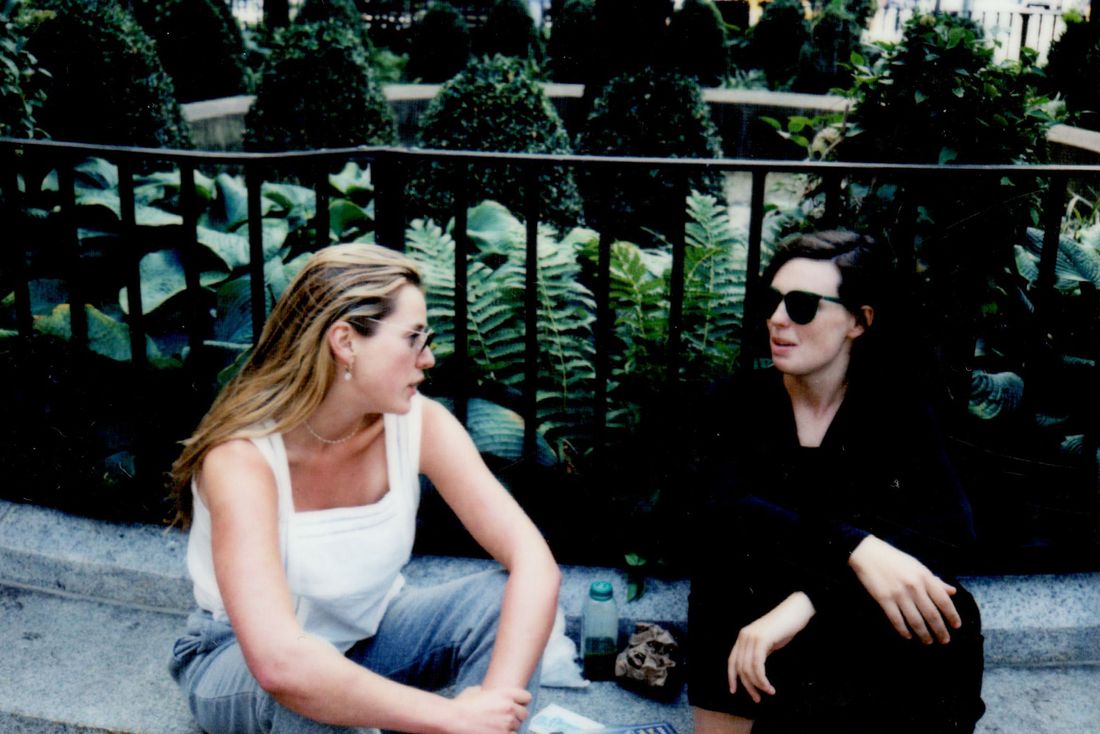 The author (right) with Caroline Calloway
Photo: Courtesy of Natalie Beach
When I was a sophomore in college, I took a creative-nonfiction workshop and met a girl who was everything I wasn't. The point of the class was to learn to write your own story, but from the moment we met, I focused instead on helping her tell her own, first in notes after workshop, then later editing her Instagram captions and co-writing a book proposal she sold for hundreds of thousands of dollars. It seems obvious now, the way the story would end, but when I first met Caroline Calloway, all I saw was the beginning of something extraordinary.
Today Caroline is a 27-year-old Instagram influencer with almost 800,000 followers. A self-described "writer, art historian, and teacher," she first became internet famous for diaristic captions chronicling her misadventures as an American undergrad at Cambridge University and was later known for the mysterious dissolution of her big book deal. After that, Caroline fell out of the public eye for a year but returned this past January on a tour to promote her "Creativity Workshop," which was billed as a tutorial to "architect a life that feels really full and genuine and rich and beautiful" but ended up being compared to a one-woman Fyre Fest. She charged participants $165 a head and sold the tickets before booking venues, made promises she couldn't deliver on (orchid crowns, "cooked" salad), and, true to form, posted the whole fiasco in real time. It seemed like the entire internet saw a pallet of 1,200 Mason jars delivered to her studio apartment and her pleas for ticket buyers in Philadelphia to just take the train to New York. She became a symbol of, as journalist Kayleigh Donaldson put it, "The Empty Mason Jar of the Influencer Economy," which prompted Caroline to begin selling T-shirts that read "Stop Hate Following Me, Kayleigh."
More recently, her Instagram has been filled with emotional posts about this very article, which she knew was coming. For almost a week she's been posting constantly — how much she misses our friendship, how hurt and ashamed she is about whatever she thinks I'll say here, how relieved she is that I broke the trust in our relationship so she can now write about me, too. It's been surreal watching this unfold from my desk job in Los Angeles, but I'm not surprised she's taken an essay of mine that didn't exist yet and turned it into a narrative for herself. Caroline was the most confident girl I'd ever known. We were both 20-year-old NYU students when we met, Caroline arriving late to the first day of class, wearing a designer dress, not knowing who Lorrie Moore was but claiming she could recite the poems of Catullus in Latin. She turned in personal essays about heartbreak and boarding school, had silk eyelashes, and wore cashmere sweaters without a bra. She seemed like an adult, someone who had just gone ahead and constructed a life of independence. I, meanwhile, was a virgin with a meek ponytail, living in a railroad apartment that was sinking into the Gowanus Canal.
Caroline first took an interest in me after I wrote an essay about growing up in New Haven. Yale was an obsession of hers; she'd been rejected and never got over it. The fact that I was a Yale townie won me an invitation to her West Village apartment, a studio painted Tiffany's turquoise and filled with fresh orchids and hardcovers. "This is my Yale box," she told me, sitting me on her white loveseat and showing me a shoe box of Handsome Dan and Beinecke-library memorabilia. It was that same day, as we split a joint, that Caroline informed me I was beautiful, which no one outside my family had ever said. Soon I began going to Caroline's after every class, then just any chance I could. To my other friends, I described her as someone you couldn't count on to remember a birthday but the one I'd call if I needed a black-market kidney. What I meant was that she was someone to write about, and that was what I wanted most of all. "You're a sharp writer," our professor told me — he would soon be played by Jesse Eisenberg in a movie, and Caroline and I were both a little obsessed — "but what you're limited by right now is where you've walked through yourself — you're limited by your itinerary." Caroline had no such limits. Her life was a cycle of adventures and minor crises. We dashed in and out of as many clubs as we could in a night, attended a Wet Hot American Summer–themed party at a secret society, and went to Cyrano de Bergerac on Broadway, which Caroline wept through as if it were a religious experience. We'd go out to eat all the time, and soon I was broke but didn't care. I was now part of her life, a conspirator and confidante. At the Minetta Tavern, I told her that her fantasy of going out with our professor was dangerous and predictable. "It's like a movie," I said between bites of lettuce wraps. "This is Act I. Soon he'll invite you over to his bachelor pad, fuck you, and in five months you'll read all about it in The New Yorker."
"Go on," she said. "What happens to me next?"
For the next two hours, I ad-libbed the movie of her life, and she bought me pesto minestrone soup and pork belly.
"You're a genius," she said, and I had no reason to question her.
That December, for her 21st birthday, I gave Caroline a gift: three dinner plates stamped with the Yale crest that my mom had found outside a campus building. I took a Sharpie and wrote "Fuck It" on their backs. When Caroline unwrapped them, she broke into tears. Real tears. I paused. Was this really that excellent of a gift? Had she never received something stupid and personal before? Which is why I was surprised when later that winter she nonchalantly informed me that the Yale plates had been stolen out of her apartment. "What do you mean they were stolen?" I remember asking. "They're worthless, and you live in an apartment filled with Apple products and antique furniture." She told me that it wasn't just the plates and insisted that her Exeter ring had been stolen too. It just didn't make sense. Who would steal a bunch of used plates scrawled with permanent marker? It was the first time I felt sure she was lying to me. But I didn't call her on it. What was I going to do, torch everything we had over a gag gift? And if she was lying about the stolen plates, then maybe she was lying about the extent of our friendship or me being a beautiful genius. Even a few weeks later, when I saw her once again wearing her Exeter ring, I didn't say anything. It was easier to listen to her talk as we strolled through the West Village, past the Waverly Inn, where she made me promise we'd go together when we officially made it. 
A year after Caroline and I met, the world was introduced to Caroline Calloway the influencer. That spring, at the end of my semester abroad in London, Caroline flew out to travel to Sicily with me. When she arrived, she told me she was getting more active on this new platform called Instagram. Apparently she had posted a color wheel of macarons that had landed on the "favorites page," and now she had 50,000 followers, mostly teen girls who wanted a life like hers. Caroline had always been obsessive and confident, but Instagram focused those qualities like sunlight through a magnifying glass.
Her account was called #Adventuregrams. "You can have an adventure anywhere, if you're curious," she told me as I took pictures of her balancing on a stone wall. "That's what the brand is about. It doesn't matter where you live or how much money you have. You could be a teen from Nebraska and by following me you can feel like you're here." But I was the one who was actually there, standing right next to her, and already I was beginning to feel invisible. When we left our room in the morning, she packed several outfits so she could pose for days' worth of photos in one afternoon. I meanwhile was deputized as the photographer, instructed to find her best angles and keep my shadow out of the frame. When Caroline was satisfied we got the shot, we'd hurry back to the hotel to connect to the Wi-Fi, brainstorming the caption together. After she posted the photo, she would hold her phone in her palm and watch as the comments rolled in, responding to each one. She was building a second version of herself in front of me, and how could I compete with that? I should have been having the time of my life in paradise, but Caroline had a way of making me feel small, as if I had folded myself up like a travel toothbrush so she could take me along for the trip.
For a long time, though, the way I remembered this vacation was through the photos she posted. The sea glass and cave exploring, the pizza we ate at what Caroline mistranslated as "The Fountain of Female Shame." And then there was the single best picture ever taken of me: At the summit of the volcano, steam billows behind me and I'm adjusting my sunglasses (which belonged to Caroline). I never felt better than when viewed through Caroline's eyes. But a year later, I came across the journal I'd kept on the trip and realized how bitter I'd been. "I found myself wishing something bad would happen … a humiliation, like the one I feel always," I had written. "There has to be a price for getting everything you want. For never being embarrassed." It read like a tantrum: "I am beginning to feel like a child or an unpaid intern," I wrote, "both of which I had been recently and never wanted to be again."
The trip had  bigger problems, though. As we tried to make our way out of Italy, we missed three non-refundable flights because of bad wind. I was now officially broke and didn't know how I'd afford to get home. Caroline saved the day. She spoke the language, pretty-cried in front of airport staff, and sat cross-legged on the floor of the Milan airport with her parents' credit cards fanned in front of her. "I don't know how I'm going to be able to pay you back," I said. "These flights cost more than my rent." She waved off my concerns and we parted ways, me back to my parents' house in New Haven, Caroline on to her next adventure in Venice.
I was the one who offered to spend the summer editing Caroline's Instagram posts to pay her back. I was making $10 an hour working at a recycling center–prop shop in Gowanus, and my new roommate, a male model, had bought a pet bunny but had stopped paying rent. I was barely holding my life together. Working off the $800 or so I owed Caroline was the only plan I had. Besides, there was something I liked about being bound closer to her, forced to stay in her life through our arrangement.
For the three months I helped develop #Adventuregrams, Caroline in Northern Italy, me in South Brooklyn. We ran up our families' phone bills but kept gaining followers. Our captions were mostly chirpy travelogues — "Hand-made spaghetti tossed with black truffle butter and Atlantic squid ink … It's how Venetian aristocrats do munchies." "That jolt of disorientation when you wake up in a place you've never been before … And you see a sword." Watching the likes accumulate, I began to believe that what we were making mattered to my career (for the first time I was being paid to write) and to our readers around the world. It was 2013, and the internet felt like the future of writing, at least for girls. The boys from our classes were churning out different versions of Fear and Loathing in Bushwick, but I believed Caroline and I were busting open the form of nonfiction. Instagram is memoir in real time. It's memoir without the act of remembering. It's collapsing the distance between writer and reader and critic, which is why it's true feminist storytelling, I'd argue to Caroline, trying to convince her that a white girl learning to believe in herself could be the height of radicalism (convenient, as I too was a white girl learning to believe in herself).
Our arrangement came to an end as the summer did. I returned to NYU for my final semester, and Caroline flew to Cambridge University to restart her first. (She always claimed she couldn't bear to go through life with an NYU-alumni email address.) That fall, things in the Gowanus apartment deteriorated. My roommate still wasn't paying the rent, his rabbit ate black paint left on the floor and dropped dead, we got bed bugs, and our landlord wanted us out. Caroline's West Village studio was sitting unoccupied, so I asked if I could sublet for a few months for a reduced rate in exchange for working on captions. Caroline agreed. But a week before I was supposed to move in, she called with a change of plans, something about the value of gold having dropped and her family being low on money. Now she had to rent the apartment on Airbnb and needed me as the super — greet the guests, clean the bedding. She would pay me $200 a week, which, she assured me, would be more than enough to rent some other place.
My first day on the job, I let myself in to the studio I'd thought I'd be living in to tidy up before the guests arrived. There was a bag of months-old trash on the kitchen floor, and Caroline's white comforter was stained. I balled the comforter up, stuffed it under the bed, and sank to the ground. The night before, I had been on a date with an older man. He bought me a few drinks and took me back to his place in Bay Ridge, where he called me a whore and hit and choked me in bed. That morning, on the way to Caroline's, he texted me, "I hope your chest isn't still sticky." It was only the second time I'd had sex, and all I wanted was to figure out how to make it an anecdote to laugh about, an experience that would make me interesting. I wanted to be a cool Brooklyn girl about it, but I kept thinking about how, on Caroline's first day at Cambridge, she met a handsome Swede who filled her room with flowers and was entirely devoted to her. If I were more like Caroline, I thought, more beautiful and fun, if I radiated girlishness, then men would view me as someone worthy of care. I would have my own midnight adventures with Italian gentlemen, my life so enviable that my only job would be living it to its fullest. Instead, that morning I had to chew my egg sandwich on the side of my mouth that hadn't been hit, and now I was cleaning an apartment I'd never live in, belonging to a girl I could never be.
"Caroline, I don't want to be your maid," I told her the next day over Skype. "I'm sorry I can't help you out, but can you ask someone else?"
"Oh no, Natalie, I would," she said, her new boyfriend sitting supportively next to her. "It's just, you're the only one of my friends who needs the money badly enough to take the job."
As a recent graduate and without a place to live, I moved back in with my parents. "That Caroline girl is bad news," my mom kept telling me, echoing what all my friends had been saying since I came back from Sicily. "Yeah, no shit," I'd reply. It wasn't as if I didn't know Caroline would always let me down; after all, no one knew her better than I did.
While I struggled to find another job and stewed over how I'd been treated by Caroline, she continued to post daily from Cambridge without my help, growing her fan base internationally and making new, posh friends. I submitted captions we wrote together as work samples to corporate social-media positions but never heard back; I placed #Adventuregrams at the top of my résumé, describing myself as an editor, or if the listing called for it, the personal assistant to Ms. Calloway. I eventually put my B.F.A. to good use, finding work painting apartments, editing college essays, and packaging Urban Outfitters jewelry in a Chinatown warehouse between a funeral home and fish market. A couple friends and I found a Sunset Park apartment filled with natural light and German cockroaches, and I settled into a postgrad existence that I hoped was more than just making rent, but somehow added up to a writer's life.
In the spring of 2015, I began receiving texts from friends and family along the lines of "Have you seen this Caroline story?" and "Is your Instagram friend like actually famous now?" Apparently, she was on a press tour, written about in the Daily Mail and Mic. She had an agent, Byrd Leavell (who also represented the Fat Jew, Cat Marnell, and we didn't know it at the time but the author of Crippled America, Donald Trump). It was my greatest fear: Caroline was leaving me behind. It had been ages since we last spoke, and even longer since I'd written with her, but I reached back out.
"You must be so happy, what with 90,000 followers and counting … I feel strange being an excited onlooker," I emailed her with no response.
"Wanna bounce ideas off me? Let me know! I'm here for you!"
"YO get back to me, girl. I just wanna check in and be your ally and do some planning!"
That September, I finally got the call. Caroline was back in New York, her book proposal was due after the weekend, and she needed my help. I grabbed my toothbrush and headed up to her apartment to get to work.
We fit right back into our roles: the protagonist and the punch-up writer. We wrote giddily through the night, our laptops burning into our thighs. We banged out dozens of pages — Caroline's New York–Sweden love triangle, befriending European noblemen at midnight at the Piazza San Marco. We were high off our asses on working together again and being 23, and also Adderall, which Caroline paid cash for from a doctor near Washington Square Park whose waiting room was exclusively homeless men and NYU girls in Lululemon. By sunrise, cracked-open pill capsules rolled across the coffee table and we smoked joints to be hungry enough to eat the burritos we ordered. Around hour 35, Caroline turned to me and officially asked me to come on as a paid editor. I was so tired I was hallucinating the tools I had used at my landscaping job the Friday we began. A chainsaw and garden spade floated above Caroline's head as she asked me what a fair percentage was, and I blearily suggested 35. She agreed.
I woke up next to Caroline in her big fluffy bed. Nothing we wrote that night was usable, and the life-changing deal Caroline and I had struck was legally nothing more than a stoned handshake. But it was still real to us, and I got right to work. She'd blown her first deadline, but we decided to keep working until it was done. For the next two months, I'd wake up at 6 a.m. in Sunset Park and write for 90 minutes, usually working off raw notes Caroline sent over for the chapter we were on. I'd craft it into a legible narrative and then rush to my landscaping job where, from 8 a.m. to 4 p.m., I'd install tasteful fences and patios for the gentrifiers of Bed-Stuy and Prospect Heights, while Caroline filled in the details. On nights and weekends, we'd meet, always at Caroline's (my apartment made her too sad, she told me). Caroline loved to read our pages aloud, and I loved to listen. What all the think pieces this year missed was the power of her voice, syrupy and sincere, persuasive to the point that when she read our drafts, I couldn't trust my ability to know what was great and what just sounded that way coming out of her mouth. But when we finally finished the 103-page proposal, I was sure it was good. The Caroline character we created together was a fantastic YA protagonist; she loved and was loved, looked good crying, stomped around an idealized New York in her "I-deserve-to-be-here boots." "The talent you show in this proposal, both in the writing and the photos from the entire story is this rare, remarkable thing," Byrd emailed. It was a proposal for a memoir of a life that wasn't mine, adapted from Instagram captions, but I was proud.
The proposal was originally called School Girl (my suggestion) but Caroline deemed that too pornographic, so went with her first choice — And We Were Like — as in the way girls begin to tell stories. The first week of November, Caroline and Byrd took the proposal out to publishing houses while I waited for updates. The good news rolled in — the executives loved the writing, loved Caroline. My involvement was uncredited, as the entire selling point of Caroline was that she was an ingénue, and ingénues don't have sleep-deprived collaborators living in deep Brooklyn. I knew my job was to be present but invisible, but it still hurt to hear secondhand about the high-powered meetings, the gushing over pages I half-wrote. But how could I complain? In the end, Flatiron agreed to pay $375,000 for the book, a substantial percentage of which, according to a collaboration agreement Caroline had offered me, would be mine.
Caroline and I kept our promise and celebrated at the Waverly Inn. We ordered the New York strip and truffle mac and cheese, got drunk off Manhattans and a bottle of Champagne. A table of Wall Street guys sent over tequila shots, and at the end of the meal, I excused myself and went over. "Hey, so which one of you sent over the drink?" I asked. They all wore Oxford shirts with those Gordon Gekko white collars and cuffs. None of them said anything. "Well, here's my number, for whoever it was." I passed over a piece of notebook paper with my cell, and when I turned around, they broke into laughter. I went back to our table, but Caroline was gone. I waited, but she didn't return. I checked the bathroom and wandered the restaurant holding our glasses of Champagne. Finally she answered her cell phone. She had gone to meet up with Byrd, she said, and I should come. I passed the table of Wall Street guys to get her genuine-leopard-skin coat she'd forgotten, and then I walked unsteadily into the night, trying to keep up.
In January 2016, an artist friend I connected Caroline with to help with the book layout forwarded me an email from Caroline that read, "Since getting back to Cambridge I've been having a really tough time and I'm not sure if I'm going to be able to finish the book at all." I didn't know why Caroline didn't tell me this, but I called her immediately. "Don't panic," I said. "I'll see you soon."
When I walked into Caroline's room in Cambridge, I saw a trash can full of daffodils beside a trash can full of prosecco corks. She had ripped up the wall-to-wall carpet and shoved the squares into her closet because she had always wanted exposed wood floors, but you couldn't even step out of bed without getting splinters. I spent my first couple of days adjusting from jet lag and pulling shards of wood from my feet with nail clippers. But Caroline was so happy to see me I was almost taken aback. She had been so down, like everything was falling apart, she told me, but now that I was here, she felt rejuvenated and she wanted to show me everything.
Caroline lived in King's College, whose alumni include eight Nobel laureates and the inventor of the flush toilet. Students lived and went to class in stone Gothic buildings, which loomed over a great lawn that was brighter than I thought grass could be. My goal was to finish a draft in the two-to-three months I planned to visit, but the longer I was there, the more I saw the gap widening between the story we told and the situation on the ground. She rarely went to class, didn't hang out with friends, and hadn't started the dissertation she needed to graduate. She asked me to read the angry-professor emails she couldn't bear to and just give her the gist. One night, I went to sleep on my air mattress while Caroline stayed at her desk buying homegoods, and when I woke up the next morning, she was still hunched over eBay in her fur coat, having purchased $6,000 worth of furniture. I went to the communal bathroom and sat on the stone floor with my knees to my chest. I told myself that everyone needed furniture, and it wasn't my problem. But Caroline's problems weren't just my problems; they were my whole world, and so while I was a supporting character in the book, I cast myself as the hero in her life. I reached out to Cambridge about therapy, spoke with her mom about her prescription-pill use. When she wore the same lace gown for two and a half days, even sleeping in it, I forced her into the shower. When she arranged a loose pile of sleeping pills on her nightstand before bed, I swept them into my palm when she wasn't looking. I pulled open her desk drawer to find a pen, and empty Adderall capsules skittered around like cockroaches exposed to light.  The manuscript was due in six months, and my notes were just lists of funny British foods (Scotch eggs, juicy bits). I began to worry.
It was around this time that Caroline revealed to me that for all these years, she had been lying about her origin story. She hadn't, in fact, gotten famous from a picture of macarons on Instagram's favorites page. The real story, she told me, is she took a series of meetings with literary professionals who informed her that no one would buy a memoir from a girl with no claim to fame and no fan base. And so Caroline made one online, taking out ads designed to look like posts to promote her account and buying tens of thousands of followers. (Caroline says this was before the Federal Trade Commission published guides for influencers.) This could ruin everything, I thought. We had sold the proposal based off a false number; wouldn't there be consequences? If the bedrock of Caroline's Instagram account wasn't true, then was any of it? But to Caroline the ploy was a statement of intent: She was a self-made woman exploiting a new form of media. "Women spend too much time apologizing for promoting their work," she told me.
Even knowing that Caroline was the ultimate unreliable narrator, I still trusted her. After all, she was constantly calling me her best friend and work wife, telling me she loved me. I thought we were in this together. That began to change the weekend we went to Amsterdam.
The trip was ostensibly to view van Gogh's Almond Blossoms for Caroline's dissertation, but we ended up going out, having a few drinks, and flirting with a bartender at a tavern known for its beef stew and apple pie. When he went to refill our glasses, Caroline told me that in order to attract men, I had to allow myself to be chased, like she did with her boyfriend.
"Well, men treat you very differently than they treat me," I told her. "Look at you, look at me." I was in scuffed Timberlands and leggings under my jeans while Caroline wore a lacy baby-doll dress with knee-high suede boots. Being the foil to a hot girl was taking its toll, and writing someone else's love story was even harder. Ghostwriting for Caroline was like writing in a new tense — first person beautiful — the rules of time and inevitability were just different for her. I mean, she met a long-term boyfriend at fucking Equinox. Her very first day at Cambridge, her next-door neighbor took her on a tour of campus, pointed out a weeping willow, and told her, "That's where I kissed this American girl I know. Just not yet." (At least that's how we wrote it.) Meanwhile, I was being treated with cruelty or indifference by the men I dated. I didn't know how to make it better, so I made it a joke I told at my own expense to my friends over drinks and even in Caroline's book. She never asked me to, but I used my own assault as a punchline to make her West Village boyfriend seem all the more perfect — "You're dating Ted Bundy," [Natalie said,] "The apple picking comes right before the strangling. And I should know, as I myself was just sexually strangled in Bay Ridge." 
But the bar in Amsterdam was warm and the wine quickly became complementary. Caroline had a way of drawing the world into her. The bartender kept sliding drinks our way, and I thought, Why not try being coy and optimistic for once? Why not try being like Caroline?
As the bartender counted the till, I told Caroline I was staying behind to have an adventure. "He's so cute!" she whispered, and told me she would take the Airbnb key and get to work on a paper for class. We hugged good-bye, and she pulled on her fur, positioned herself on the back of a stranger's bike, and was whisked away.
"Where'd your friend in the dress go?" the bartender finally said.
I told him she had a boyfriend in the Swedish military, but I didn't.
He told me his apartment was too far away, but we could go to the bathroom.
The bathroom, I knew, was a single stall in an unfinished basement. There was wet toilet paper on the ground and mold on the walls. I sighed and asked him to take me home.
Ten minutes later, I was deposited outside the apartment Caroline had rented. So I had been sexually rejected by a bartender — not the first time, wouldn't be the last. I buzzed the door, but Caroline didn't answer. I called her cell, which rang, and left Facebook messages that showed up as delivered but unread. It was two in the morning, but one of the worst nights of my life was just beginning. Whether I huddled on the stoop, walked with my head down, or camped out in a train station, men always found me. I was harassed by a group of drunk Irish teenagers, Dutch crust punks, and a DJ who told me he wrote poetry about murdering Natalie Portman. An old man grabbed my hand and kissed it, and a chef with braces found me hiding in a stairwell and tried to take me home with him via ferry. As the sun rose, a Starbucks barista told me I looked terrible and let me wash my face in the industrial sink, and as the city opened, I tried to get some sleep in the bathroom stall at the Fotografiemuseum, but the automatic toilet kept flushing. Throughout the ordeal, I kept attempting to contact Caroline. I became convinced something terrible had happened when we parted ways. Soon I'd have to identify her body, I thought, rehearsing what I'd say to her boyfriend.
But then at noon, she finally answered the door. Yawning, she asked me how my adventure went.
I pushed past her, shedding my filthy clothes in the hallway. "You have no idea what I went through last night," I remember shrieking. "Why didn't you answer your phone?"
She told me she assumed I was home with the bartender.
"This is what I tried to tell you," I said, and for the first time I broke down. I stood in front of her in just my leggings and a bra, sobbing stupidly. "Men treat me differently than they treat you. Everyone does." I collapsed into the rented bed. Caroline hovered over me, weeping too. "And the really messed up thing is that whole night I thought something terrible had happened to you," I said. "But you forgot I existed."
"I'll never leave you alone with a man again," she said.
"That's not the point, Caroline. I need to know you're on my team!"
As I fell asleep she stroked my hair, and I could hear her saying over and over, "You're so precious to me, you're so precious to me." I believed she meant it, but that didn't matter anymore.
After Amsterdam, I stayed for a couple weeks and kept working but simmered with hurt and rage until I returned to Brooklyn. It was spring — Caroline graduated, I got a day job harvesting lettuce on top of the Gowanus Whole Foods, and I stopped returning her messages. I'd always known she couldn't arrive at the airport at the suggested time, be bothered with classwork, take care of the King Charles spaniels she impulse bought, but I had held on to the fantasy that she didn't care about that small stuff because she was busy with the grand plans that would change my life. I had built my whole career around my commitment to her persona — crafting it, caring for it, and trying my hardest to copy it, spinning out onto the streets of a strange European city as if the world existed to take care of me. But in Cambridge I didn't see someone I wanted to be but a girl living with one fork, no friends, and multiple copies of Prozac Nation. Now I saw Caroline for what she was — a person in need of help that I didn't know how to give.
And yet, even after I moved to L.A. in the fall of 2016, we still had a deadline and kept trying to write the book together, this time via Skype. We'd stare into each other's pixelated faces as I attempted to coax the sentences out of her. Caroline looked like she was in pain as she wrote, gritting her teeth and turning away from the screen like she was reaching through a blizzard to type. The last time we saw each other in person that winter in New York, I was introducing her to the man I'd one day marry; as an early birthday gift, she gave me already-used Glossier makeup and a check that bounced. She offhandedly promised me all the film-TV rights to the book. The book that she still couldn't write. Back in L.A., I bought us time with the publishers by writing a quarter of the manuscript by myself, but Caroline hated it so much that she threatened suicide if I wrote anymore. (Caroline clarified to a New York fact-checker that she wasn't suicidal because she disliked my writing, but because of her addiction and because she sold a memoir she couldn't write.) After she said that, I pulled away and watched in real time on Instagram as she counted down the days until she missed the final deadline for her book contract. Caroline claimed her failure to write the manuscript was an intentional stand against the patriarchy and a publishing industry that insisted her life story be defined by the men she dated. Anyway. Her publisher asked her to return over $100,000. (Caroline says she's continuing to work on a resolution with the publisher.)
We had fights both stupid and serious. "Why does your self-actualization have to come at the expense of people close to you?" is something I said to her. Caroline's response: "It's important to me to make the things I feel are important to make without anyone telling me what to do … If you feel that it's harming you emotionally or professionally, I think you should examine those feelings in yourself." I got work at a pencil store and told her via email that we were through.
Since then, Caroline has become for me something to explain during job interviews, a party anecdote. People ask me if she's a female Billy McFarland, both characters from Ingrid Goes West, Anna Delvey with an art-history degree, but I push back. If it was just money and fame she was after, all she had to do was be quiet and let me do the work. She could have been paid hundreds of thousands of dollars, gone on the tour she always wanted, and recorded the audiobook in that beguiling voice of hers. But she had to be the one to tell her own life story, even if she couldn't. Caroline was caught between who she was and who she believed herself to be, which in the end may have been the most relatable thing about her. This is why, when people ask me if Caroline is a scammer, I try to explain that if she is, her first mark is always herself.
Caroline and I hadn't spoken in two years until I reached out to tell her I was publishing this essay. I wrote too many versions of that email, some drafts still furious at her, another calling myself the fox in the henhouse of her life. I still couldn't help apologizing to her even as I tried to explain that after five years of losing myself in our friendship, I needed to be something more than a supporting character in her life. In her response, she told me she loved me, this essay will make her life so much harder, I'm the best writer she knows, she's off Adderall now, trolls will tell her to kill herself, she still wants to be friends. And there I was, once again knocked flat by the force of her praise, her self-mythologizing and raw sentimentality. Part of me longed to keep talking to her, once again warmed by the glow of her attention. Most of all, though, I wanted to ask her what she was still doing on Instagram. When our eyes locked across that workshop table seven years ago, the world felt bigger than a square of light on our phones, and for a while, internet writing was only a means to an end, a way to launch a book that would be as real as we believed our friendship to be. But I suspected if I sent Caroline that email, she would just screenshot it and post it to her feed like she did my first message, turning a  moment between us into just another chapter in the story she can't stop telling.