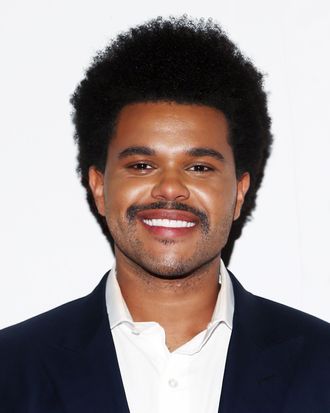 Photo: Tommaso Boddi/WireImage/Getty Images
Who is this? According to Getty Images, it's the Weeknd attending "the Uncut Gems premiere during the 2019 Toronto International Film Festival at Princess of Wales Theatre on September 9, 2019 in Toronto, Canada." The internet would also like to throw "Lionel Richie," "el fin de semana," "the Monday," "a Key & Peele character," a DeBarge, and "my pops in the '80s" into the pool of guesses.
It's probably the Weeknd (who is also Abel Tesfaye), but he just looks different because we haven't seen him in a while, since his second breakup with Bella Hadid last month. A source said the two resplit because "they are in different places right now, physically and mentally," which continues to be true: The Weeknd is physically in Toronto with zero beard, finally baring his jawline, chin, and upper neck to the world, while Hadid is physically in New York, the blondest we've seen her, temporarily changing her appearance multiple times a day in the name of Fashion Week.
Famous people handle their famous breakups in all sorts of ways, from wearing a $520 cashmere bra as a top, to making out with someone less famous who also recently broke up with someone not as famous. If this is the Weeknd and this is a breakup makeover, I applaud him for taking the accessible route many of us normals take: Simply removing a good chunk of hair.
Though, if this is the Weeknd, this could also have nothing to do with a breakup and he's simply sending signals that he's finally ready to drop a new album, which everyone thought he was going to do way back in June when he deleted his Instagram. Sadly, like the third "e" we're all accustomed to typing when referencing the two days at the end of the week, the Weeknd's beard is no longer with us, so we'll probably never know the true reason behind its departure. Gone, but never forgotten.