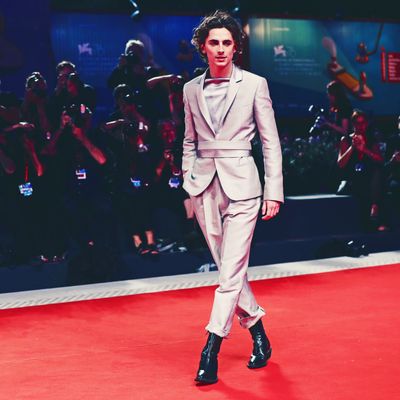 Photo: Vittorio Zunino Celotto/Getty Images
On Monday, Timothée "Lil Tim Timmy" Chalamet attended the Venice Film Festival premiere of his upcoming film, The King, wearing a very special suit.
No, it didn't involve a harness. Or a bib, whatever you want to call it. (It's a harness.) Chalamet wore a custom liquid silver suit by designer Haider Ackermann, who lovingly refers to the actor as "Timo Bro" or "the Handsome Dude" and has become Chalamet's go-to guy for jackets with flair. Ackermann is also known for outfitting Tilda Swinton in sumptuous, androgynous suits, which explains why Lil Tim Timmy here looks so advanced. Clearly, he's trying to fill a Swinton-sized hole in the red carpet, meaning he wants to go above and beyond what's traditional, or the best and worst list, or really, what anyone on this earth has ever worn. Regardless of whether or not you think he succeeded, we're glad he gave it a whirl because now we can spend the morning arguing about fashion!
So, let's take a closer look, starting from the top: Chalamet's unfortunate King Henry V bowl cut has grown out since filming, and thank God because that means his tumbling locks are back. They cascade nicely into a loose silk top, which he wears underneath his jacket instead of a sharp button-up shirt. Its collar is folded over, with a smooth edge, and cuts across horizontally, creating a lovely feminine neckline. In the film, Chalamet's character wears a silver chest plate to battle, so perhaps Ackermann wanted to create a softer, more elegant version of his armor for the red carpet. The same goes for the double belt at his waist, which gives our lanky boy king some supple curves. What happened with the cuffs of his pants, though, we cannot say … Unfortunately, things got a little too loose down there.
The thing you have to remember about kings is that they didn't wear suits. They were flamboyant dressers, kicking out their high heels in a contrapposto pose. They wore makeup and wigs and ruffles. In my opinion, Ackermann successfully channeled what a modern boy king of Hollywood can and should dress like in 2019. It's commanding and casual, strapping and gorgeous, all at the same time. It refuses to be one thing, which is so boring. What do you think? Would you kiss the ring that wears this look?