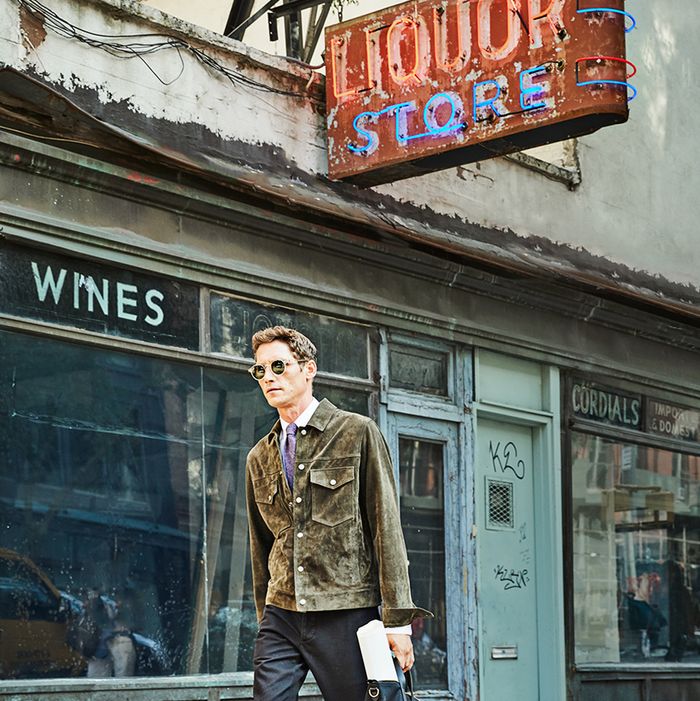 Photo: Courtesy of Todd Snyder
When Todd Snyder heard that there was a "FOR SALE" sign in the window of J.Crew's Liquor Store outpost on the corner of West Broadway and White Street in Tribeca, he immediately picked up the phone and called its owner. Snyder worked for J.Crew when the brand first rented the space in 2008, and watched it become a gathering place for menswear enthusiasts from around the world.
"This place is special to me, and to menswear in general," the fashion designer told the Cut before his store's opening this week. It was a place for discovery, for like-minded people to gather and geek out over clothes — not to mention an architectural gem. When Snyder eventually decided to leave J.Crew in 2009 and launch his own label, the store's success had a lot to do with it. "I wanted a chance to have my own crack at it," he said.
The "FOR SALE" sign seemed to say that his chance had arrived. So he went straight to its owner — a third-generation New Yorker who still lives part-time above the space. He told her his plans to "keep it alive." He wanted to preserve the integrity of the architecture, but also give the shop a new life. She approved. "For me, it's always been about paying homage to something that's original, but then upgrading it," Snyder said of his aesthetic.
The building was originally built in the early 1800s, eventually becoming a liquor store in the back and a barber shop in front. (Way ahead of its time.) It's now a New York City landmark building, which means the facade is basically frozen in time. "We can't even touch the door handles," said interior designer James Mills. Even the new gold "Todd Snyder" lettering in the window had to be painted by hand, just like the original.
Mills said that Snyder — who studied architecture before switching to fashion design — made a master Pinterest board for decorating the space. He wanted it to look like an old men's club in London, but "mixed in a New York way." The main upgrades include reclaimed French oak floors, coffered ceilings, and and a coat of "military olive" paint (the brand's signature color) throughout. It's got a distinctly downtown feel in comparison to the Madison Avenue flagship — a little more "moody," as Snyder describes it.
There are also items exclusive to the space, including a custom-embroidered bowling shirt and a Champion sweatshirt with a chain stitch "Liquor Store" logo on it. Customers will also be able to experience made-to-measure bespoke tailoring, just like the good old days.
And of course, there will be booze. "As soon as you come in, the first question is: What would you like to drink?" Synder said. But within reason. This is 2019, after all. And Snyder is a good neighbor.