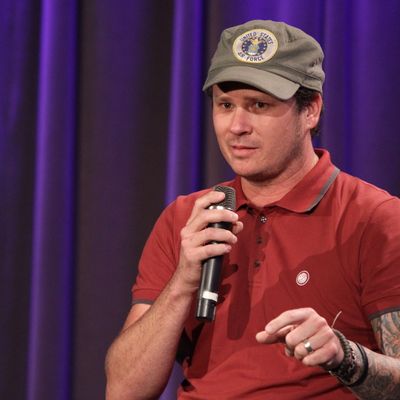 Photo: Rebecca Sapp/WireImage
In recent years, former Blink-182 guitarist Tom DeLonge has become known as an impassioned ufologist, or, in his words, "crazy UFO guy." In 2017, he co-founded the UFO research organization To the Stars Academy of Arts & Science and has executive-produced the docuseries Unidentified: Inside America's U.F.O. Investigation.
Since the launch of DeLonge's organization, it has released footage of possible UFOs, with the New York Times reporting on one video in December 2017. The footage, which was recorded by Navy pilots in 2004, shows a mysterious object flying and rotating in the sky. As Vice's Motherboard reports, this video, along with two others, has officially been acknowledged by the U.S. Navy as "unidentified aerial phenomena," which is basically the sexy, updated term for UFO.
Joseph Gradisher, the official spokesperson for the deputy chief of Naval Operations for Information Warfare, told Motherboard that "the Navy considers the phenomena contained/depicted in those 3 videos as unidentified." However, they did not comment further on what these videos exactly mean, or whether or not dem aliens are flying around in these objects. "The Navy has not publicly released characterizations or descriptions, nor released any hypothesis or conclusions, in regard to the objects contained in the referenced videos," Gradisher told the website the Black Vault, which originally reported the news.
Still, it is interesting, especially since the Navy did not acknowledge the footage previously. And also because of the specific terminology the Navy is using for its commentary. "I very much expected that when the U.S. military addressed the videos, they would coincide with language we see on official documents that have now been released, and they would label them as 'drones' or 'balloons,'" John Greenwald, who runs the Black Vault, told Motherboard. "However, they did not. They went on the record stating the 'phenomena' depicted in those videos, is 'unidentified.' That really made me surprised, intrigued, excited and motivated to push harder for the truth."
Is the Navy's use of the terms "unidentified" and "phenomena" a little wink letting us know that dem aliens are real? The truth is out there … somewhere.