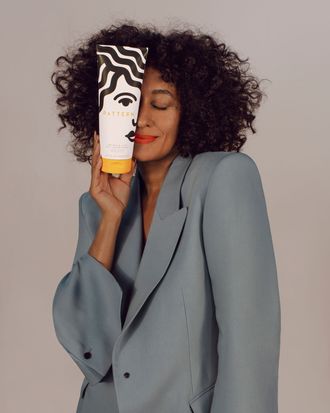 Some things you don't see coming. Like bowl cuts and more bowl cuts. Other things seem inevitable, like actress and curly-hair champion Tracee Ellis Ross finally launching the ultimate hair-care line.
After 20 years in the making, Ross (daughter of that Ross) has created Pattern, an accessibly priced line for textured, curly hair (specifically for those with curl patterns ranging from 3b to 4c). Using her experience with her own hair, she designed the products to better serve those curl-blessed like her. The range is more conditioner-focused than shampoo, with three different types and extra-large sizing (because "a quarter size amount of product" is cute, but not functional). Microfiber towels, rubber shower brushes, and hair clips will also be part of the lineup.
As for the brand's mission, Ross told WWD, "I believe everyone should have access to their most beautiful selves in the bathroom." Just in time to catch the end of summer humidity, the line will launch September 9. You can also buy it later this month at Ulta.