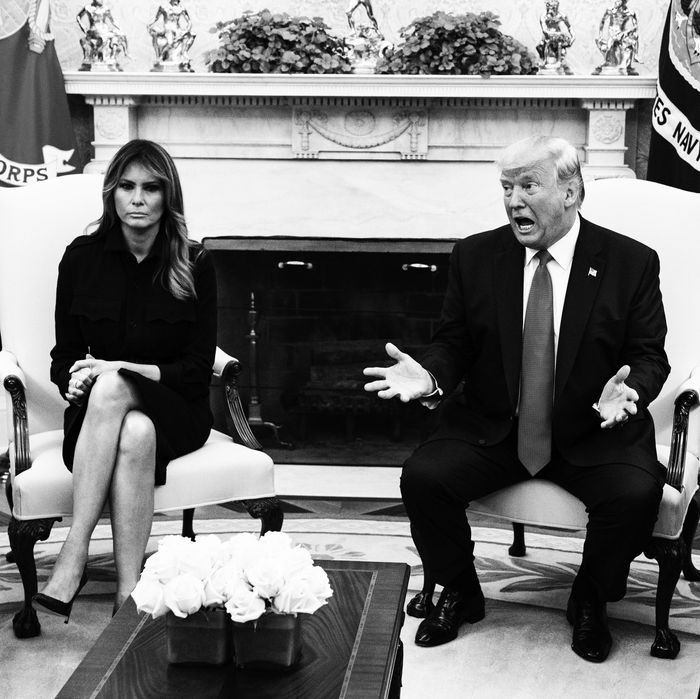 Melania Trump and Donald Trump.
Photo: Sarah Silbiger/Bloomberg via Getty Images
Does Trump know — and I mean, really know — how many kids he has? Right now, it's unclear.
This cynical question presented itself on Wednesday, when Trump announced during a press gathering at the White House that his administration is planning to ban the sale of all flavored e-cigarettes in an effort to curb the growing teen-vaping epidemic — an issue that's especially important to Melania Trump. In fact, Trump even credited Melania as someone who helped to bring the issue to his attention, saying during the gathering, "We can't have our youth be so affected, and I'm hearing it, and that's how the First Lady got involved."
And then came his, uh, odd choice of syntax when speaking about Barron, as in, the biological son that he and Melania have spent the past 13 years raising together: "She's got a son, together, that's a beautiful young man, and she feels very, very strongly about it."
Once more, emphasis mine: "She's got a son, together."
What exactly transpired behind the scenes in Trump's brain when he delivered this bizarre assertion is not totally clear. Maybe he just fumbled his words in an incredibly awkward way, or perhaps he momentarily forgot that Barron is his son? (If the latter is true, then yikes!)
Instead of focusing on a distressing, unanswerable question, though, let us instead turn our attention toward a much more intriguing one: Does this mean that Barron got caught vaping???