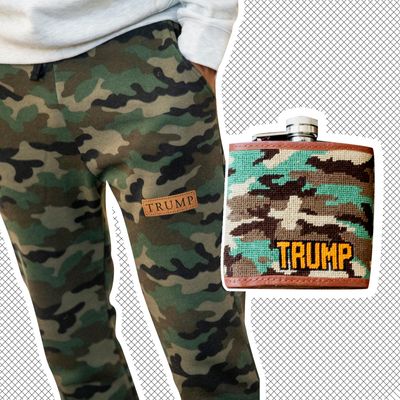 On Monday, the Trump Organization — the business empire founded by Donald Trump's father, which the president led from 1971 until his inauguration in 2017 — announced in a tweet that it had launched a new, limited-edition camo-print line of merchandise for the fall. But, oh no … can you see it?
The four attached pictures all seem to be of lush forest landscapes. In one, First Boy and noted camo fan Donald Trump Jr.'s head floats above the treeline with a facial expression that says, "I'm recently divorced and active on Tinder." But is there any merch in the shots? If there is, it's simply too well-camouflaged for my untrained eyes to see.
Such effectively hidden goods are not cheap. According to the the Trump Store website, which invites you to "EXPERIENCE THE WORLD OF TRUMP," the collection includes a "Zippered Camo Clutch" for $128, a "Trump RealTree Camo Hat" for $36, a "Camo Pattern Belt" for $165, and "Trump Camo Socks" for $32. There is also a dog collar ($38), even though Trump hates dogs. While the items may be expensive, the website does offer free shipping on orders above $99.
Currently, the Trump Organization is managed by Donald Trump Jr. and his brother Eric, though, as the New York Times reported earlier this year, the president continues to profit from the business.
Anyway, congrats to the Big Boss Boys on another successful business venture.