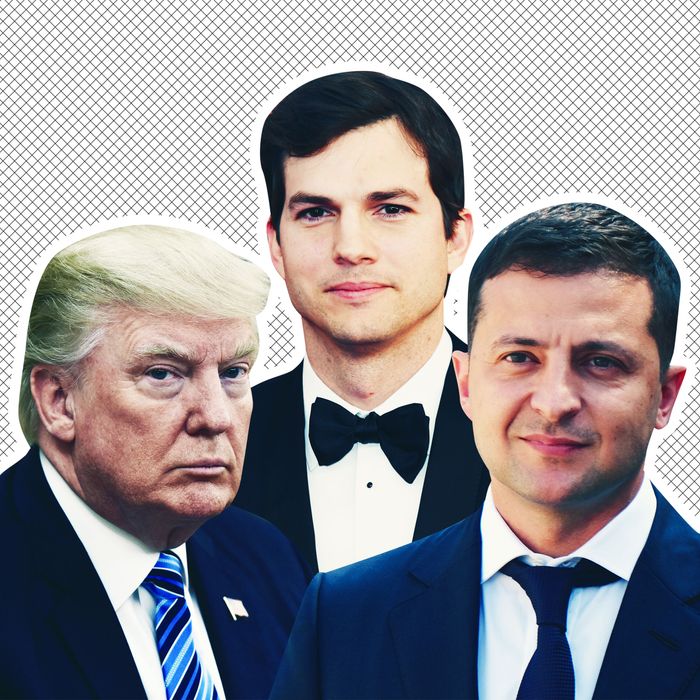 Donald Trump, Ashton Kutcher, and Volodymyr Zelensky.
Photo: Getty Images
This week, House Speaker Nancy Pelosi announced a formal impeachment inquiry into President Donald Trump. The decision came after days of news reports about a complaint from an anonymous whistle-blower, who claimed that, in a phone call on July 25, President Trump tried to pressure Ukrainian president Volodymyr Zelensky to investigate former vice-president and current Democratic presidential candidate Joe Biden, and his son, Hunter. The saga is expansive, complex. Also involved? Two and a Half Men star Ashton Kutcher.
According to the website TooFab.com, Kutcher and his wife Mila Kunis (who was born in the Ukrainian SSR) met with president Zelensky this month, and afterward, the actor concluded that President Trump should be impeached.
"Mila and I met with President Zelenski [sic] and his wife a little over a week ago," Kutcher wrote to his followers on the website Community.com. "My gut: He is committed to eliminating corruption in Ukraine. He's also committed to ending the war and grateful for the US financial commitment because they needed it."
He added, "If our president used that financial aid to leverage president Zelensky to investigate Biden he should be impeached. If our president did not use it as leverage and simply encouraged president Zelensky to investigate Biden without cause he should be impeached."
To learn more, the Cut texted Kutcher, who regularly encourages his fans and followers on Twitter to text him instead.
I was intrigued, in particular, by this tweet, which was probably a reference to all of the stories that have been coming out about Demi Moore, Kutcher's ex-wife, and her new memoir, Inside Out, in which she accuses Kutcher of cheating on her after pushing her to do threesomes together. But maybe Kutcher had some truth to share about Ukraine, or the impeachment proceedings — who knows.
"Hi Ashton, I'm Madeleine Aggeler, a writer for New York Magazine's the Cut," I wrote. "I saw on Twitter that you were inviting people to text you 'for truth.' Could you tell me what that truth is? Thanks!"
I immediately got a reply — an automatic text encouraging me to join Community.com so Kutcher could reply to me. Which I did. I sent the same text again. For a couple of hours, nothing happened. Then, my phone buzzed. Kutcher had answered. "Things are getting spicy," he (or rather, his bot) said, with a link to a video.
Wow, a video of him talking to the Ukrainian president, perhaps? A recording of Trump's call with Zelensky?
Actually, it was this video of him eating hot wings.
Hopefully this clears up any confusion about the current impeachment proceedings for you.