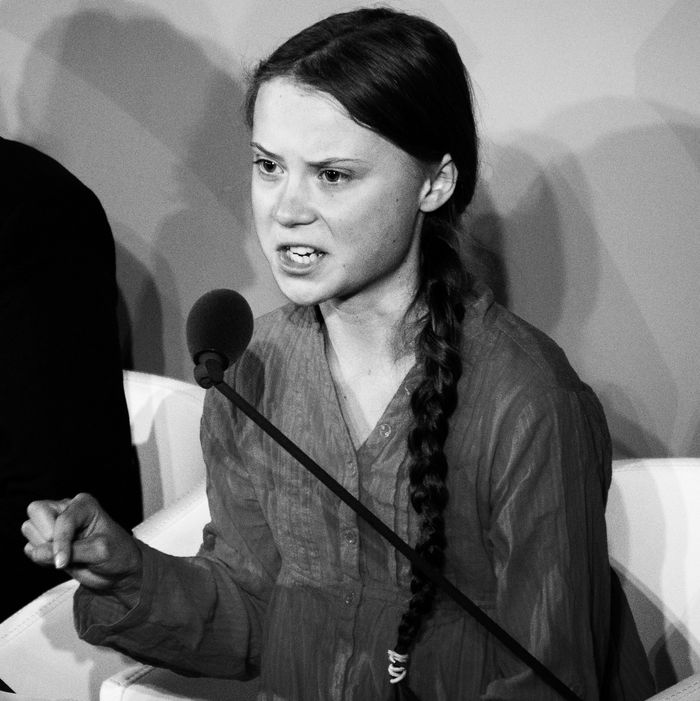 Photo: picture alliance/dpa/picture alliance via Getty Images
Greta Thunberg just gave the best speech of her very young life at today's U.N. Climate Action Summit in New York.
It isn't just because 16-year-old Thunberg has proved herself uniquely able to articulate the terror of being a young person on a warming planet, as evidenced by her ability to turn a personal school strike for climate awareness into a global event with over 4 million participants in the course of one year.
What Thunberg also deploys effectively is shame, which she unleashed this morning on the dignitaries gathered in front of her. Even as their invited guest, she refused to let world leaders, who are responsible for much of the international community's inaction on climate change over the past several decades, off the hook. The resulting raw emotion, despair, and unvarnished anger visible in her face and audible in her voice made her words more powerful than they have ever been.
During her address, Thunberg seemed to be feeling the weight of a week of her highest-profile appearances to date, at a congressional hearing, in protests at the Capitol, and at New York's Youth Climate Strike on Friday. More than that, she seemed to be feeling the weight of hours of speaking politely to adults who have known about what is happening to the world — and why — for longer than she has even been alive, and who have made her their champion instead of really doing something about it.
When it was her turn to speak to the crowd, which included representatives of over 110 U.N. member states, Thunberg used the refrain "how dare you" to immediately turn the attention on her back onto the powerful people in the crowd. "This is all wrong," she began. "I shouldn't be standing here. I should be back in school on the other side of the ocean. Yet you all come to me for hope? How dare you. You have stolen my dreams and my childhood with your empty words."
She narrowed her eyes, gestured pointedly, and strained while she read certain parts of her address. "People are dying," she said. "Entire ecosystems are collapsing. We are in the beginning of a mass extinction. And all you can talk about is money, and fairy tales of eternal economic growth. How dare you?" (Her voice broke at this last part as she seemed to be on the verge of tears.)
Thunberg's critics on the right — the climate deniers and conservative pundits who made fun of her sailing trip and who have posted disturbing, violent messages about her — have been widely condemned. But today proved that Thunberg is needed far more urgently among her own supposed allies, who say they believe climate change is real but who have failed to live up to their own promises made at the Paris Climate Accords.
"For more than 30 years, the science has been crystal clear. How dare you look away?" she asked the delegates at the U.N. "You say you 'hear' us and that you understand the urgency. But no matter how sad and angry I am, I don't want to believe that. Because if you fully understood the situation and still kept on failing to act, then you would be evil. And I refuse to believe that."