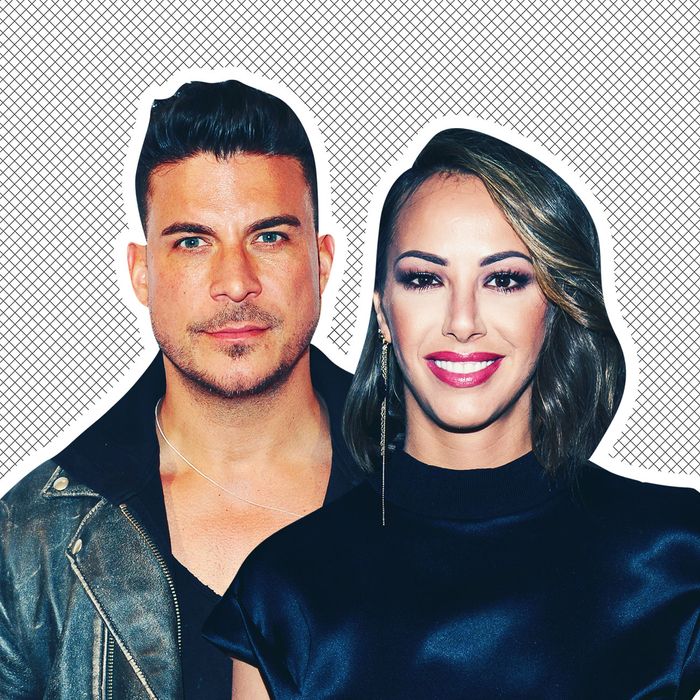 It's so hard to keep track of our friends, the cast of Vanderpump Rules. They're always on vacation somewhere, or pushing some new line of alcohol, or lip gloss, or the thing Tom Schwartz is peddling now which seems to be a line of clothing that says "Chilling" on it. And when they're not doing that, they're riding around on little motorized coolers without their wedding rings, sparking divorce rumors. Ugh. You can be forgiven, then, for not being adequately up-to-date on the Instagram-based drama currently surrounding Jax Taylor and, well, a bunch of the cast, but, mainly — and of course — Kristen Doute.
Let's get right into it.
When did the drama begin? 
E! News reported on August 20 that, following the wrap of Vanderpump Rules' eighth season, Jax unfollowed several of his co-stars on Instagram — Tom Sandoval, Ariana Madix, Kristen Doute, and Scheana Shay. (He did not unfollow his wife Brittany Cartwright, Stassi Schroeder, her fiancé Beau Clark, Lala Kent, Lala Kent's man, Katie Maloney, or Tom Schwartz.) Quelle horreur! The reason behind the unfollowing was unknown, but E! noted at the time that Stassi had spoken about the eighth season's tenseness on her podcast, Straight Up With Stassi.
"The drama is killing me," Stassi reportedly said. "I can't anymore. I can't talk about this shit anymore … I'm literally dead inside." Beau Clark was a guest on the episode, and he agreed, saying, "My emotions are shot." He noted that season seven was much more fun to film than season eight, which — just saying — some predicted would be the case.
Something else to note is that Kristen did not make an appearance at Stassi and Beau's engagement party in July, or Katie and Schwartz's July sort-of do-over wedding in Vegas (they never signed a marriage license), and she was absent when Stassi went wedding-dress shopping at the end of August. When asked about Kristen's absence — again, on Instagram — Stassi's mom Dayna confirmed the feud, saying, "Yes, quite sad. But I didn't really know all the particulars. So I was out of the loop for awhile. Don't you worry, it's like Lion King and the circle of life … each one of these girls will grow, change and come back to their original strong friendship bond that they've always had. Some things just take time." Hm!
Has Kristen responded to the drama? 
She has responded to the Jax-related drama, yes. In response to the reporting about Jax's mass unfollowing, she tweeted, "I know @enews has been saying that Jax unfollowed some of us because of something regarding his wedding. Let me clear the air: Jax did not unfollow me, Jax blocked me. Why? NO CLUE. But I promise you it has nothing to do with beautiful Britt or their wedding."
Us Weekly reported that Kristen seemingly responded to the drama involving Stassi and Katie, too, with an Instagram story depicting a caterpillar and butterfly, shared around the filming of the Vanderpump Rules finale. From Us:
"You've changed," a caterpillar tells a butterfly in Kristen's post.




"We're supposed to," the butterfly answers.
Heh.
But wait — why is Jax mad at Sandoval and Arianna? Oh, and Scheana?
It is unclear. According to an E! News source, "[Jax] had a huge blowout fight with Tom and Ariana in June." The source claims the drama is about the decision to have Lance Bass officiate their wedding, after the pastor they initially hired turned out to be wildly homophobic. Allegedly, Sandoval and Ariana were upset that Lance Bass was the replacement, because they — allegedly — believe this choice was only made because he is a celebrity. This explanation is odd to me, however, because I'm not sure why anyone would care about who officiated another person's wedding, particularly if they were brought in to replace a homophobe. Though I suppose it could be that Sandoval wanted Jax to have him officiate. That sounds like Sandoval.
(It is perhaps worth noting that, again on Instagram, Ariana was spotted at Jax and Brittany's Labor Day pool party. Sandoval was not.)
I do not know why he unfollowed Scheana. Maybe he just didn't like her posts?
What's happening now? 
It's seems like at least Jax and Kristen have made up. On Monday, September 2, Kristen posted a photo of herself and Jax on Instagram, captioning it: "He loves me, he loves me not… HE LOVES ME 🌼 @mrjaxtaylor."
Ariana commented, "what is even happening lol 😍😂." Kristen responded, "@ariana252525 our shit is so intense to me and somehow people need to make it more & fake in order to make it their level of intense." Then Kristen said, "@ariana252525 I'm on my period #feelings." And Ariana said, "@kristendoute lol i love your mess."
Notably, Ariana also stood up for Jax's marriage in the comments, responding to a commenter: "he's not having marriage trouble, just gonna go ahead and nip that one lol." Hm. What does it mean?
Kristen also tweeted about their resolution:
Okay great. When does the show come back? 
They haven't announced a premiere date for season eight yet, but probably toward the end of 2019.