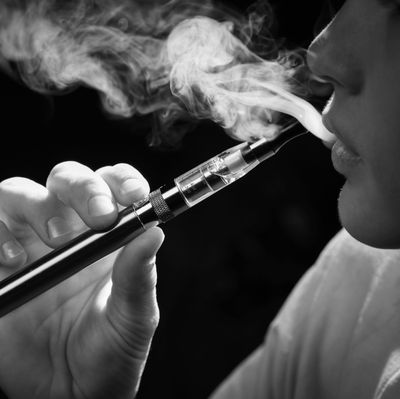 Photo: 6okean/Getty Images/iStockphoto
Over the past few months, an increasing number of people have been hospitalized for severe respiratory problems that appear to be caused by vaping. Many of them have been teens; according to the Centers for Disease Control and Prevention, one in five high schoolers uses e-cigarettes. The cases have stumped doctors and public-health officials, who were already struggling to get young people to stop vaping.
Here's what we know about the recent outbreak of vaping-related illnesses.
How many cases have been reported?
Today, the CDC reported that it's found 450 cases of vaping-related illnesses in 33 states, up from 354 cases reported last week. According to The Atlantic, the majority of patients are under the age 30 and otherwise healthy.
How severe are the symptoms?
Many patients report difficulty breathing, as well as chest pain, fatigue, dizziness, and nausea. According to the New York Times, in the most serious cases, patients have had extensive lung damage that required admission to an intensive care unit and days on a ventilator.
Today, federal health officials announced that three people have died from vaping-related illnesses in Illinois, Oregon, and Indiana. The CDC is currently investigating a fourth death.
What's causing the illnesses?
According to officials, the link between vaping and respiratory illness still isn't fully understood. CDC officials said today that they have not yet identified a single "device, product, or substance" responsible for the outbreak.
Many patients have reported using products that contained THC, the psychoactive chemical in marijuana, leading some to suspect that cannabis oil may be to blame. Ray Niaura, a professor of public health at NYU, told USA Today that he doubted the recent outbreak is linked to e-cigarettes that have been on the market for a long time. More likely, "people are vaping a lot of other things besides nicotine, such as synthetic cannabis or contaminated THC that is making an appearance and leading to these bad consequences," Niaura said.
Others have suggested that counterfeit vapes, or commercial nicotine pods that have been emptied and filled with THC oil, flavors, or other substances may be linked to the mysterious illnesses. A study published today in the New England Journal of Medicine, which examined 53 cases in Wisconsin and Illinois, found that patients reported using a range of products and devices. The majority had vaped THC as well as a nicotine-based product.
Writing in New England Journal, Dr. David Christiani reiterated that it is not yet clear which substances are causing the illness, noting that e-cigarette fluids contain "at least six groups of potentially toxic compounds."
What's being done to prevent further outbreaks?
An editorial published in the New England Journal of Medicine today called on doctors to discourage patients from vaping. The CDC echoed that advice. "While this investigation is ongoing, people should consider not using e-cigarette products," Dr. Dana Meaney-Delman, who is leading the CDC's investigation into the illness, said in a briefing.
Last week, after 16 people in Wisconsin were hospitalized with chemical pneumonia from vaping, the City of Milwaukee urged residents to stop using vapes, e-cigarettes, and liquid THC products immediately. The California branch of the National Organization to Reform Marijuana Laws has warned consumers not to buy THC vape products from unlicensed retailers.
Dixie Harris, a pulmonologist in Salt Lake City, told USA Today that she advises people to avoid vaping THC products and other oils. "If somebody is going to insist on vaping, use the products that are from a reputable place and don't add extra material," she said.