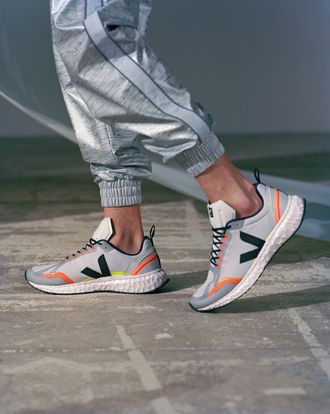 If you're anything like the New York Magazine staff, you are already familiar with Vejas. They're simple, wearable, recognizable sneakers that populate our offices and Brooklyn-bound subway cars. Even Meghan Markle has them! They're lifestyle shoes, and while I have worn them hiking, I wouldn't necessarily recommend it. And because Veja prides itself on being on the forefront of ethics and sustainability, they couldn't branch out into running shoes without finding a sustainable way to do it. After four years of development, the brand has introduced the Condor, made with 53 percent bio-based and recycled material.
Fifty-three percent after four years of development may not seem like a lot, but it's hard to make a running shoe that doesn't include plastic — who wants to run in leather? And technical shoes include a lot of different kinds of plastic. There's the insole, the sole, the mesh, the plastic thing at the end of the shoelaces … you get the picture.
Ideally, Veja wants to move beyond petroleum-based products for its shoes. The list of materials in the Condor includes recycled plastic (made from water bottles, of course), ricinus oil, banana oil, sugar cane, rice husk, and wild rubber from the Amazon. They're made in Brazilian factories, and Veja discusses the conditions in those factories on its site.
Other brands have been on a quest to find the most sustainable athletic shoe, but the Condor (which is recommended for running up to a half-marathon) uses the least petroleum of any other running shoe currently on the market. In April, Everlane and Adidas both unveiled their takes on sustainable shoes with different approaches. Everlane's TREAD is made primarily of leather and recycled plastic. Adidas's Futurecraft Loop is a 100 percent recyclable shoe, yet to be released. All that research and development on Veja's side didn't drive up the price, either — the Condor is available now in six colors for $150.
Shop the Story
If you buy something through our links, New York may earn an affiliate commission.