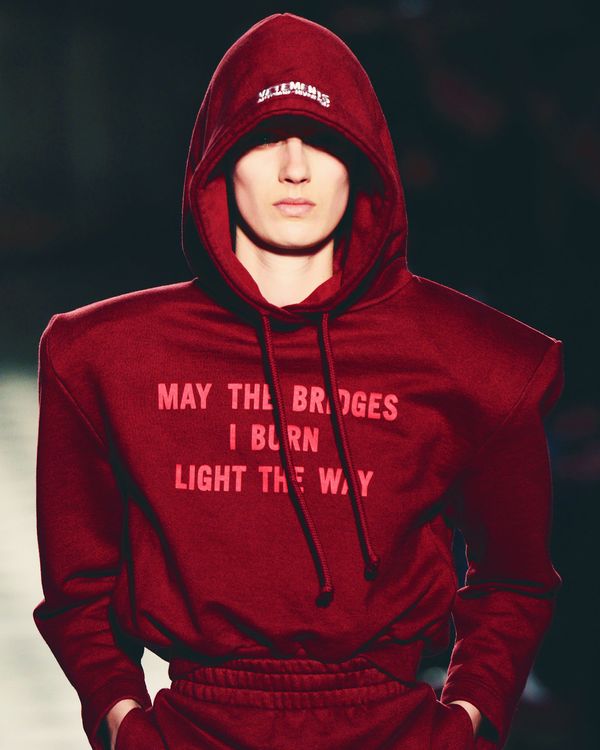 Photo: Bertrand Guay/AFP/Getty Images
On Monday morning, fashion designer Demna Gvasalia announced that he will step down from Vetements, the brand he founded in 2014 that popularized giant hoodies and DHL logos and turned fashion inside out, upside down, and oversized. He will remain in his role as the creative director of Balenciaga, although a release shared with WWD over the weekend hinted at "new ventures" as well.
"I started Vetements because I was bored of fashion," Gvasalia wrote in the release. He meant it seriously, but his arch tone represents the generally ironic attitude of the brand, which named itself with the French word for "clothing" and has been known to charge $980 for a T-shirt that says "YOU FUCK'N ASSHOLE."
The Georgian-born designer staged his fall 2015 show in the basement of a gay sex club in Paris with Kanye West looking on. His final show in June took place outside a McDonald's on the Champs-Élysées. He made headlines with trolls like jeans that show off your entire bare butt, sweatshirts reading "I survived Swine Flu and now I'm vegan," odes to Justin Bieber, shoes with lighter heels, and baseball caps that say "CAP." All of them were street-style catnip. Celine Dion, in on the joke, wore the brand's Titanic hoodie to Fashion Week. Kim Kardashian wore Vetements pants to the White House. Rapper Sheck Wes wrote a single called "Vetements Socks."
It was Gvasalia's craftsmanship that impressed critics, however. He is credited with elevating streetwear to the level of couture and bringing brands like Juicy Couture and Carhartt along for the ride. "The look isn't polished. But it is, in its own way, refined," wrote Vogue in an early review. Cathy Horyn noted his "complicated approach" to such basic garments as a hoodie while maintaining its "integrity as a practical garment." He certainly didn't invent streetwear (and it's worth noting that his "non-model" runways notably lacked diversity), but, for better or worse, he did have a hand in shifting the way the industry thought about it.
"Against all odds, fashion did change once and forever since Vetements appeared," Gvasalia humbly added in the release. "And it also opened a new door for so many." He concluded by saying that he "accomplished [his] mission of a conceptualist and design innovator." And as for the future of the brand, he wrote: "Vetements has matured into a company that can evolve its creative heritage into a new chapter on its own."
So, everyone is moving on, it seems. Even at Balenciaga, Gvasalia has noticeably moved away from Triple S sneakers and bold logos and toward refined tailoring over the last few seasons. Does his exit mark the closing of a door on the streetwear craze in general? Last winter, there were rumors that the brand wasn't doing so hot. (Vetements called it "fake news.")
"This moment signifies a new era for Vetements," Demna's brother Guram Gvasalia, who is the co-founder and chief executive officer of Vetements, told WWD. "New projects and surprise collaborations are to be revealed in the very near future," he added.
The Cut has reached out to Vetements for comment, but apparently the brand's mailbox is full.