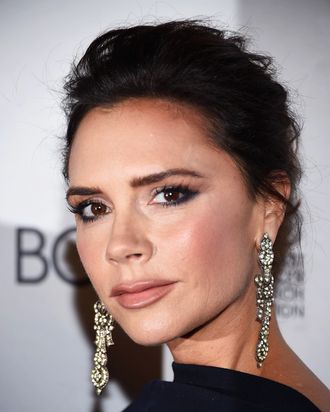 Victoria Beckham Beauty can get you this time-transcending smoky eye.
Photo: Dimitrios Kambouris/Getty Images
Earlier this year, it was announced that the world was expecting a Victoria Beckham beauty line with a fall due date. Well, it's September, London Fashion Week is in full swing, and Victoria Beckham Beauty is finally here.
The "digital-first" line launched on Saturday, allowing ample time for it to walk the runway at Beckham's Spring 2020 show Sunday and for us to discuss it now.
First things first: VBB is more than a collection or a line. It's "a clean and cruelty-free beauty movement that delivers inspiring, sophisticated, and streamlined essentials across makeup, skincare, fragrance, and wellness that fuel your life," according to a release. Together with co-founder and CEO Sarah Creal, Beckham designed the movement under the ethos of "Luxury performance, clean beauty."
Though the clean ingredients can't be felt through the screen, the messaging is already singing through the packaging. It features sleek compacts and pencils befitting a Spice of the Posh variety, but it's all done in sustainable ways: with minimal plastic; 100 percent postconsumer, recyclable, or biodegradable packaging and shipping materials; and orders delivered in reusable canvas pouches.
You can dip your toe into VBB with the brand's first launch: Victoria's Smoky Eye Wardrobe, which outfits you in everything you need to create VB's signature smoky eyes. This includes four curated shadow palettes called Smoky Eye Bricks ($54 each); four shimmery, crystal-infused Lid Lustres "inspired by the healing and protective power of crystals" Victoria surrounds herself with ($36 each); and three creamy Satin Kajal Liners ($26 each), one of which Victoria likes to line her waterline with (it's the bronze one).
"Victoria's signature smoky eye transcends time and occasion," a release reminds us, and with these tools crafted by the master herself, yours hopefully can and will, too. Stay tuned for the skin-care, fragrance, and wellness drops.
If you buy something through our links, New York may earn an affiliate commission.