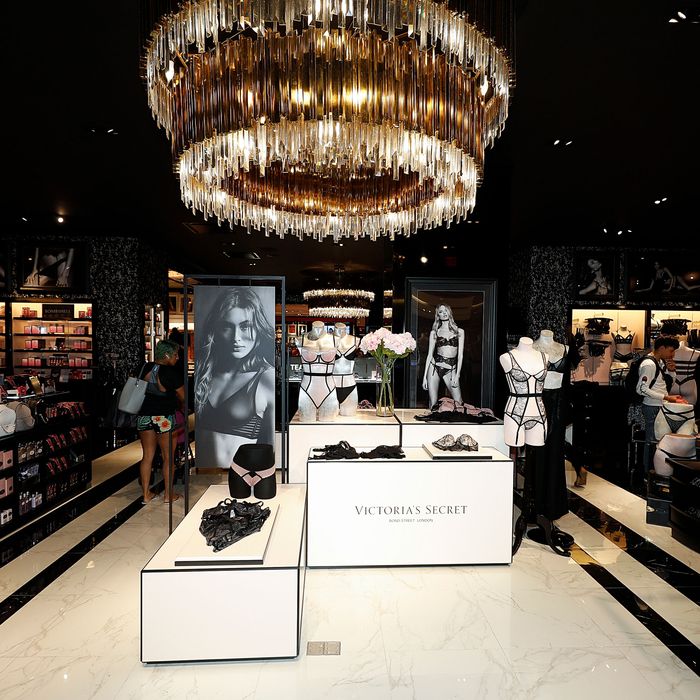 Photo: Bob Levey/Getty Images for Victoria's Secret
Victoria's Secret, the women's lingerie brand primarily known for selling male fantasies to men through the intermediary of female bodies, continues to evolve its messaging toward something hopefully less sexist.
The Wall Street Journal reported that at a Tuesday meeting, company executives showed investors a new video concept for Victoria's Secret and teen brand Pink, which included "a more diverse set of women than the company had used in the past, including curvier models." Pink chief executive Amy Hauk reportedly referred to the women in the video as "real girls," adding, "I love the diversity."
Victoria's Secret's new Lingerie CEO, John Mehas, said at the meeting that he'd been tinkering with the brand's next chapter in marketing for a few weeks. The new campaign is meant to respond to the #MeToo movement, with copy like "by her, for her."
Traditionally, Victoria's Secret has not been a brand for any women, really, despite its conspicuous practice of hiring models who conform to traditional Western beauty standards. This worked for a long time. The company, founded in 1977, was extremely successful for decades, but recently a spate of bad publicity and possibly related dips in sales has prompted some soul-searching, I suppose.
Recent blunders include former marketing chief Edward Razek (he resigned last month after a 30-year tenure at the chain) saying in an interview with Vogue last year that he didn't think transgender models should walk in Victoria's Secret fashion shows, which are meant to present "a fantasy." Over the summer it was revealed that the CEO of the lingerie brand's parent company, Leslie Wexner, had close ties with the wealthy pedophile and abuser Jeffrey Epstein. Wexner hired Epstein as his financial adviser in 1997. A New York Times article from 1996 described Epstein as Wexner's "protégé." Epstein allegedly used his relationship with Wexner to pose as a model recruiter — a fraudulent role he very likely exploited.
Last month, Pink hired Valentina Sampaio, the company's first transgender model. That same week a group of more than 100 models signed an open letter petitioning Victoria's Secret to take steps to protect models from sexual misconduct.