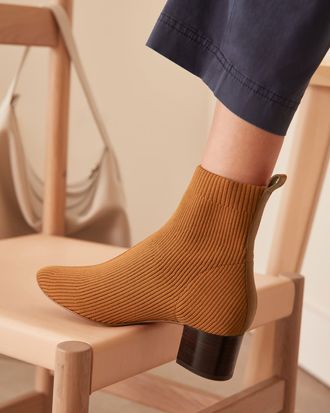 A friend of mine recently pointed out how often Everlane — the sustainable, unavoidable-in-Brooklyn, fashion-basics brand — uses the word "flattering" to describe its new releases. Most recently, and perplexingly, the brand called its Glove Boot the "most flattering" boot for fall. What does "flattering" even mean, in the context of a boot? Why is this shoe described, by one of its Instagram ads, as having a "holds-you-in fit"? What is being held in?
I happen to think this boot, like so many of Everlane's latest releases, is downright ugly, but that's not my (main) point. Everlane uses flattering so frequently, almost indiscriminately, that I'm beginning to wonder what it thinks the word means. Well, sort of — obviously, it means "something that makes you look smaller" and/or more in line with conventional beauty standards, which is what makes it such a strange and loaded term to use as often as Everlane does.
Everlane brands itself as conscientious and progressive, which aren't necessarily at odds with wanting to look and feel good in one's clothing. But flattering doesn't just mean looking good, or feeling comfortable — it means looking thinner, which we are all presumed to want. That Everlane has used this word to describe everything from bodysuits to denim skirts to wide-legged jeans to poplin wrap tops, also suggests that, to Everlane, flattering doesn't mean much except "buy this." (I assume it's working.) This tic also seems characteristic of the brand's tenuous relationship with size inclusivity.
Everlane recently opened a brick-and-mortar store in Brooklyn, which Instagram commenters were quick to point out lacked any extended sizing. Nicolette Mason, a popular fashion writer and influencer, posted a Story to her 179,000 followers, calling out the brand for not stocking any denim sizes above 31 inches (equivalent to a size 12), though the site includes sizes up to 35 inches. Mason says a sales associate told her they wouldn't be stocking extended sizes because they wanted to focus on their "best-selling" sizes. Mason, of course, pointed out that more customers might buy more sizes if they were available in store.
Soon after posting her original videos, Mason added an update, writing that Everlane had been in touch to let her know it'd be integrating its full range of sizes in the coming weeks. Whether it'll respond equally quickly to my pedantic complaint about its overuse of an adjective remains to be seen.