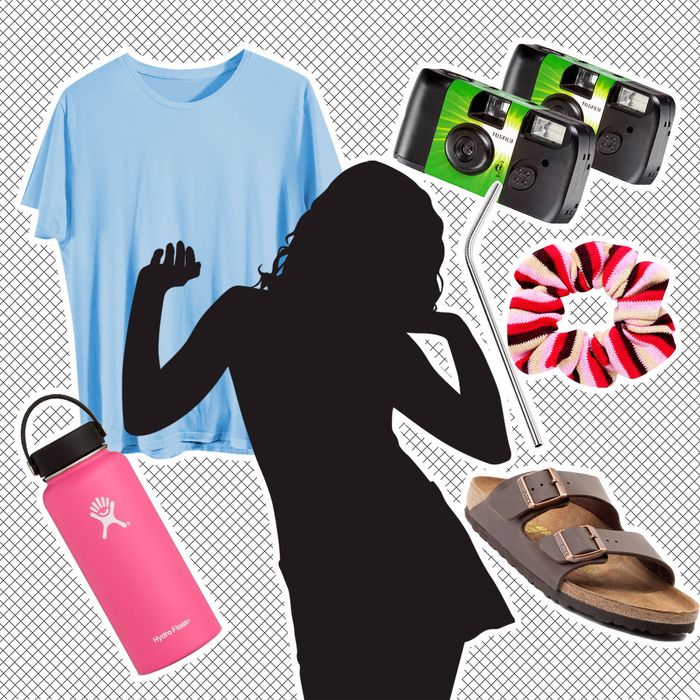 Hallmarks of a VSCO girl.
Photo: Amazon, Getty Images
Gun to my head, if I had to sum up what a "VSCO girl" is in one word, it would be "basic." But gun to my head, I would probably use my last breath to say that I am 24 years old and I should not feel this ancient because of an internet trend.
In recent months, the VSCO girl has become inescapable in certain corners of the internet — mainly those that teens flock to, like YouTube and TikTok — and made its way into established outlets like the New York Times and BuzzFeed News. I'd sum it up as "manic pixie ecowarrior," though a teen I know described the archetype more bluntly — as "annoying, white hopeless romantics."
The VSCO girl is both a person and a meme, blandly aspirational to many, but also the subject of pointed parody. It has a hyperspecific set of associations and aesthetics. The name comes from VSCO, a popular photo-editing app, known for its dreamy "is that a film camera?" filters. And the VSCO girl has a set uniform as well: Brandy Melville crop tops and oversize tees that eclipse one's jean shorts, scrunchies, a perpetually dewy face courtesy of Mario Badescu facial sprays, Pura Vida puka-shell bracelets, a Fjällräven backpack, and a sticker-covered Hydro Flask water bottle. They love taking photos in nature and engage with sustainability in ways that match their aesthetic — they use reusable metal straws, but also disposable cameras (the OG VSCO filter).
There's also a signature VSCO-girl vernacular. As parodied in a TikTok that recently went viral, a stereotypical VSCO girl can't go more than five breaths without saying "and I oop" — a reference to a video of the drag queen Jasmine Masters, used to express surprise — or "sksksksksk," which is meant to represent excitement, sort of like "OMG," and pronounced, well, phonetically: like "ski" without the "i."
Because VSCO allows users to upload to a social media feed without likes or comments, it functions as a more low-pressure Instagram, essentially, where many VSCO girls will post things that may not get good engagement on their Instagram grid: inspirational quotes, GIFs of themselves dancing while driving in a convertible, and carefully filtered photos of their Hydro Flasks. (On Instagram, they'll post bikini pics and selfies.)
But the concept of a VSCO girl extends far beyond its eponymous app; it's so popular on TikTok that the app has a dedicated VSCO-girl filter, which includes a water bottle decorated with stickers and a side ponytail tied with several scrunchies. This was added on August 30, three days after #sksksk first started trending (it's still trending). On YouTube, thousands of videos are dedicated to "VSCO-girl transformation," wherein a teen girl gives herself a VSCO makeover, donning Crocs or Birkenstocks and wrist scrunchies. These aren't portrayed as parodies or a time of self-reflection. They're consistently framed as this is something I am not. But as I was watching them, I was thinking, Wait, aren't these chicks VSCO girls? 
Sydney Serena, a teen vlogger with over a million subscribers on YouTube and 515,000 on Instagram, uses and promotes her VSCO, and fits the VSCO aesthetic to a T. However, she also posted two videos about undergoing a VSCO-girl transformation. They were both situated as "I am going to do VSCO stuff for this video, which is not what I usually do." So … is she a VSCO girl or not?
"I honestly don't take the term 'VSCO girl' too seriously, and I don't like to put labels on myself," she told me over email. "I just like being creative and taking fun photos." However, she does "love VSCO girl–themed things."
Marla Fay is another vlogger with over 64,400 Instagram followers whose aesthetic is similar to Sydney Serena's and the VSCO archetype. She uses the app in addition to YouTube and Instagram, but likes that it doesn't track engagement like Instagram. "[People] turn to VSCO because it's a safe place to be creative and expressive," she said.
So is Fay as VSCO girl? Yes and no, according to her. "Do I like scrunchies, big sweatshirts, Pura Vida bracelets, reusable straws, and Hydro Flasks like most girls in this generation? Yeah. If that is what they say about VSCO girls, what it actually means is that these girls are looking for comfort and companies that give back to the environment and that is a great thing." But like Serena, she would rather not limit herself to one definition.
If anything, the VSCO aesthetic feels more like a relic, a callback to when everyone was carefully choosing whether to use Kelvin or Hudson on their Instagram photos and taking photos of latte art, when all that was expected was a cute, filtered photo, as opposed to the trying-not-to-seem-like-I'm-trying aesthetic that dominates Instagram today. It's such a random grouping of products and interests that vaguely links back to being free-spirited and ecofriendly that if you looked deep inside yourself, you'd probably find a VSCO quality. You'd probably find a basic one too.