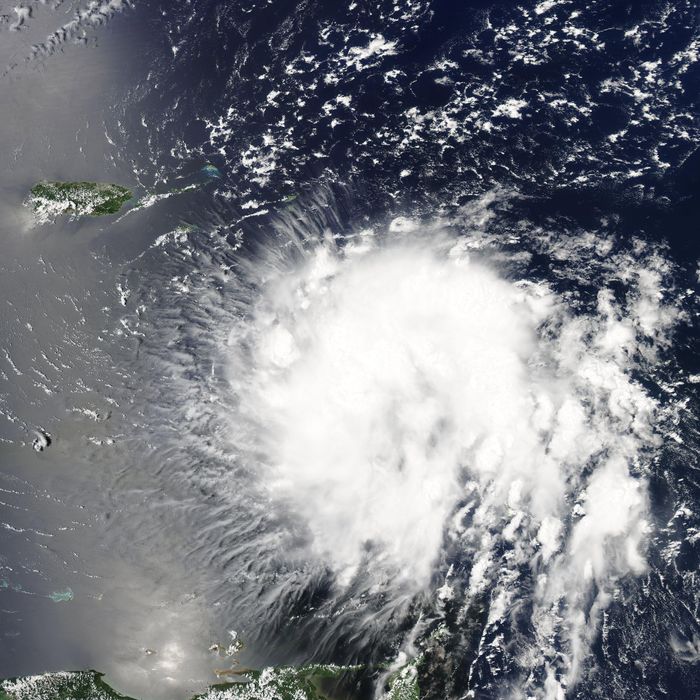 Hurricane Dorian spared Puerto Rico the worst of its gale-force winds and rain, but is expected to become a Category 4 hurricane by the time it makes landfall in the mainland U.S. It is expected to arrive in Florida at the tail end of Labor Day weekend, and it could be the worst hurricane the state has seen since 1992.
Here's what to know about Hurricane Dorian's projected damage:
What is Hurricane Dorian?
Dorian started as a Category 1 tropical storm in the Caribbean Sea on Tuesday, with winds of around 60 miles per hour. By Wednesday morning, Dorian made landfall in the U.S. Virgin Islands (for which a state of emergency was approved) with winds at around 70 mph. (74 mph qualifies as hurricane wind speeds.) Dorian was then forecasted to travel to Puerto Rico, and eventually to Florida, gaining strength.
How badly did Hurricane Dorian hit Puerto Rico?
Reports initially said that Puerto Rico could see up to ten inches of rain. Governor Wanda Vazquez urged residents — some are still living under "blue roofs," a.k.a. "tarps," after Hurricane Maria devastated the island in 2018 — to take precaution.
Donald Trump, of course, took the opportunity to insult San Juan mayor Carmen Yulín Cruz (again) as he attempted to seem on top of the storm.
As Dorian passed Puerto Rico, the eye of the storm moved quickly north and it remained a Category 1 hurricane.
How strong is Hurricane Dorian now?
Hurricane Dorian is now a Category 4 storm. As of 6 p.m. Monday, Dorian had maximum sustained winds of 145 mph and is currently devastating the Bahamas. On Sunday night, the storm made landfall on Grand Bahama Island as a Category 5 hurricane, but weakened to a Category 4. The storm caused catastrophic harm, ripping roofs off buildings and severely damaging as many as 13,000 homes on the island. An 8-year-old boy from the Abaco Islands has reportedly drowned. Now, the storm is moving at a slow pace, meaning the island could remain in its eye for as long as nine hours, per CNN.
When is Hurricane Dorian going to hit Florida?
Governor Ron DeSantis has declared a state of emergency for the residents of the counties in Dorian's projected path, from Jacksonville to Miami. Currently, meteorologists are predicting Dorian will move "dangerously close" to Florida, Monday night through Wednesday, then toward the coasts of Georgia and South Carolina Wednesday night and Thursday.
How strong will Hurricane Dorian be when it hits Florida?
Originally expected to make landfall on the east coast of Florida or Georgia as a possible Category 3 hurricane, weather reports are now saying it will likely be as strong as a Category 4. That means winds of 140 miles per hour, and possible deadly storm surges. According to the National Hurricane Center, hurricanes classified as such can result in "catastrophic damage," leaving areas uninhabitable for months.
On Friday, Dorian had slowed down even further in speed — which means dangerous amounts of damage are even more possible, though residents had more time to prepare. "Floridians need to be prepared," DeSantis said.
"At 140 mph," the Orlando Sentinel reports, Dorian "would be the strongest storm to hit Florida's east coast since Hurricane Andrew tore through South Florida in August 1992, which caused more than $25 billion in damages and was blamed for 44 deaths."
This post will be updated with more information as it becomes available.