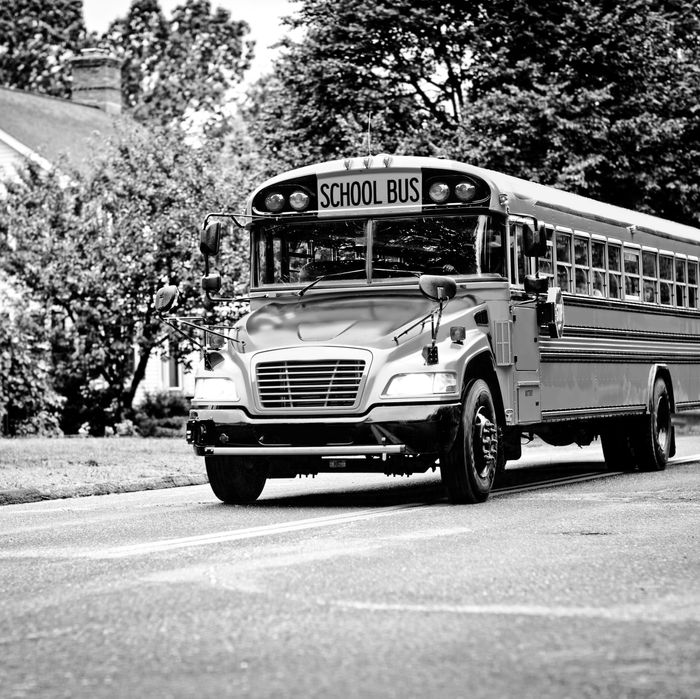 Two young girls are facing criminal charges over the vicious assault of a 10-year-old black girl on a school bus, in what upstate New York authorities are treating as a hate crime.
Both of the alleged attackers are white, according to the New York Times. Per a police complaint filed by the victim's mother in mid-September, they subjected her child to "racially motivated language" and physically assaulted on the bus, leaving her with a blackened eye, lost hair, and a bruised knee. The complaint sparked a two-week investigation, and on Monday, Gouverneur police chief Laurina M. Greenhill announced that police had arrested the girls, ages 10 and 11, and charged them with one count of second-degree aggravated harassment. The older girl was hit with an additional charge of third-degree assault as a hate crime.
A bus aide, who police say stood idly by and chose not to intervene, was also charged with three counts of endangering the welfare of a child. She has been placed on administrative leave pending the outcome of the investigation.
Following the police's announcement on Monday, district superintendent Lauren French told 7 News that the assault was "probably the most professionally devastating event since [she] started working at Gouverneur in 1984" — a sentiment that she reiterated in interview with the Times.
"The loss of civility in this world is being played out in the realm of 10- and 11-year-olds," she said. "There is no shade of gray in this."
The case has even drawn the attention of Governor Andrew Cuomo, who said in an impassioned statement on Wednesday, "I am appalled by the reports that of the horrendous, 20-minute racist assault on a 10-year-old African American girl in the town of Gouverneur. In the statement, he also announced that he had asked the Hate Crimes Task Force to assist Gouverneur police, and ordered the state Division of Human Rights to launch its own investigation.
Per 7 News, the alleged attackers' case will be handled in family court.