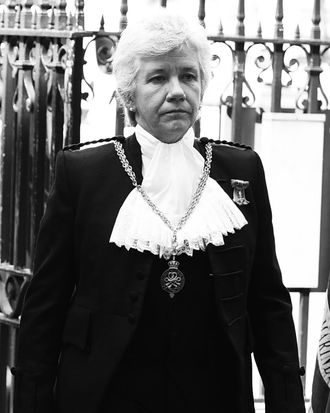 Photo: Kirsty O'Connor/PA Images via Getty Images
Late last night, amid a lengthy, chaotic, and ultimately successful attempt to suspend the U.K. Parliament, a woman entered the House of Commons. She had short gray hair. She was wearing black breeches (pants), a black military-style coat with a giant, fluffy, white neck piece, and a cool necklace. She was carrying a long stick. She worked for the Queen, she looked mad, and everyone had to listen to her — or else. Her name? Black Rod.
The whole chamber seemed to have been plunged into a fever dream: People yelled, sang songs in Welsh, and held up signs while Black Rod, carrying her stick, forced a man out of his chair and out of the room to go see the Queen. Is this just … how they do things in England? Yes, apparently it is. Here's some helpful information, in case you, too, watched the livestream and thought you were having some kind of episode:
What the hell is happening in U.K. Parliament right now?
Prime Minister Boris Johnson had decided to initiate "prorogation" of Parliament, which is a fancy word for suspending a session. His aim in doing so is to shut Parliament down for five weeks — a stark difference, the New York Times notes, from "the traditional period of several days." Critics say his goal is to stifle debate with the opposition over the impending October 31 Brexit deadline, when Britain will leave the European Union under circumstances called "no-deal" (which doesn't sound great, to be fair). Many, many MPs (members of Parliament) do not want this to occur, especially the ones who didn't vote for Brexit in the first place.
Johnson announced his intention to initiate prorogation at the end of August, to huge uproar. By Monday night — the final vote of the parliamentary session — opposition MPs had handed Johnson a series of defeats, passing a law to prevent the passage of a no-deal Brexit, and rejecting his bid to hold snap elections. As the session drew to a close, Black Rod entered the House of Commons to start the proceedings, as is custom. What happened next was not.
Wait, so who is Black Rod, and why is she so fancy?
Black Rod, dressed like a mix of Ruth Bader Ginsburg and Prince, is basically the Queen's emissary in the House of Lords, Parliament's upper chamber. This Black Rod, Sarah Clarke, is actually the first female black rod ever, so she is the first Lady Usher of the Black Rod (as opposed to Gentleman Usher). Her job is to, among other duties, control access to the House of Lords and to initiate official ceremonial events like prorogation. Before this, she was in charge of running Wimbledon, and she loves details.
So how did the ceremonial event go last night?
Black Rod entered the House of Commons to compel Speaker John Bercow, who heads the chamber, to rise. (Under parliamentary procedure, Parliament cannot be suspended unless the Speaker is standing.) Per the New York Times, "Opposition lawmakers threw themselves at the silk-canopied speaker's chair, trying in vain to keep him from getting to his feet and allowing Parliament to be suspended." Though Bercow did eventually get to his feet, he made his displeasure clear, proclaiming, "This is not a standard or normal prorogation." Additionally, when he was approached by a group of Conservative MPs trying to heckle him, he said, Britishly, "I could not give a flying flamingo what your view is!" With that, he sullenly followed Black Rod out the door.
The opposition lawmakers refused to follow, however, and chose to remain in the chamber, singing in protest and chanting, "Shame!" They also held up handmade signs that read "Silenced."
What does Black Rod think about all this?
I don't know, because Black Rod's whole thing is about ceremony and order, but she seemed to look pretty annoyed with everyone making a fuss. I do know that I would watch a show called Black Rod instead of Black Mirror, about a woman who makes men get out of their seats with her stick.
And what happens now?
In the House of Lords, the prorogation ceremony was officially completed. MPs won't return until mid-October, which gives them only a little more than two weeks before the Brexit deadline. If Johnson loses support in Parliament, Jeremy Corbyn's Labour Party could try and scramble to form an alternative government before the deadline — he could also try to get around them anyway and still pass a no-deal Brexit. Basically everything is deeply, deeply confusing.