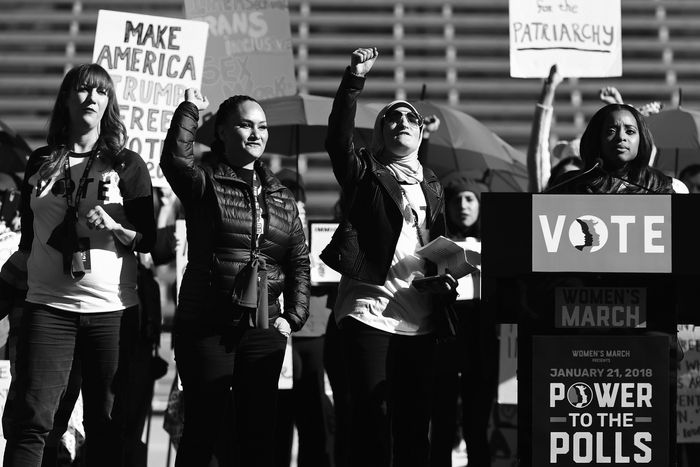 Photo: Ethan Miller/Getty Images
Three inaugural leaders of the Women's March whose tenure was dogged by controversy have reportedly parted ways with the organization.
On Monday morning, the Women's March announced in a celebratory statement that it had appointed 16 people "from all walks of life and experiences" to its board, including Lucy Flores, a Democratic politician who accused Joe Biden of inappropriate behavior earlier this year, and trans activist Isa Noyola. Tucked in the middle of press release, though, was some more pause-worthy news: that co-chairs Bob Bland, Tamika Mallory, and Linda Sarsour "will transition off of the Women's March Board and onto other projects focused on advocacy within their respective organizations." And this shakeup isn't exactly a recent development. According to the Washington Post, the women stepped down in mid-July.
While the Women's March has certainly seen success, it has been plagued by rumors of financial mismanagement and infighting among its co-chairs. The situation came to a head in December 2018, when Tablet reported that Mallory and co-chair Carmen Perez had made anti-Semitic statements on multiple occasions. This reporting shed a new light on Mallory's connection to Nation of Islam leader Louis Farrakhan, who has said that Jews are "the mother and father of Apartheid." (While Mallory disavowed anti-Semitism, she did not renounce Farrakhan.) Following the Tablet report, the Women's March did itself no favors by fumbling its response to the allegations, which led to calls for the co-chairs to resign. (As of now, Perez is still with the organization.)
Whether or not the split was amicable is unclear. In a statement to the Post, the Women's March organization thanked the departing co-chairs for their "groundbreaking work and sacrifices towards equal rights," and Sarsour told the publication that she's "grateful to the women who stepped up to shepherd the Women's March." But Bland and Mallory, the co-presidents who will be formally replaced this month, weren't as effusive: While the former told the Post that the turnover was planned, the latter did not respond to the Post's multiple requests for comment.