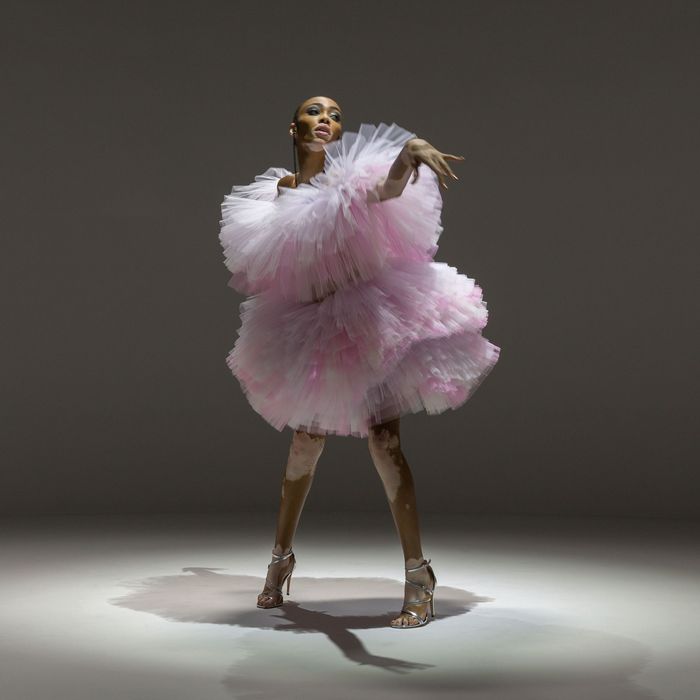 Photo: Steven Sebring/ Courtesy of Zac Posen
How do you give the immersive experience of a fashion show without actually staging one? If you're Zac Posen, you hire Steven Sebring to shoot 360-degree videos of Winnie Harlow modeling each look in the collection.
Harlow moves like a ballerina in every outfit, and the collection draws on Posen's archives (read: award-show-worthy gowns) as well as Asian art. The result is clothes that Posen describes as "soft armors" — structured and delicate, strong and gentle, all at the same time. In addition to tulle confectioneries like the one shown above and below, there are navy suits with handkerchief hems and leg slits, a red dress with a peplum that cascades out like petals on a flower, and plenty of the structured corsetry you come to Zac Posen to see. The collection notes ended with "The future is here." This isn't the first time this year that Posen has brought a techy edge to his work. For the Met Gala, he partnered with General Electric to make 3D-printed dresses for Jourdan Dunn, Katie Holmes, and more.
You can see each of the looks in 360 video on Posen's website, but just as a taste, enjoy look four below.