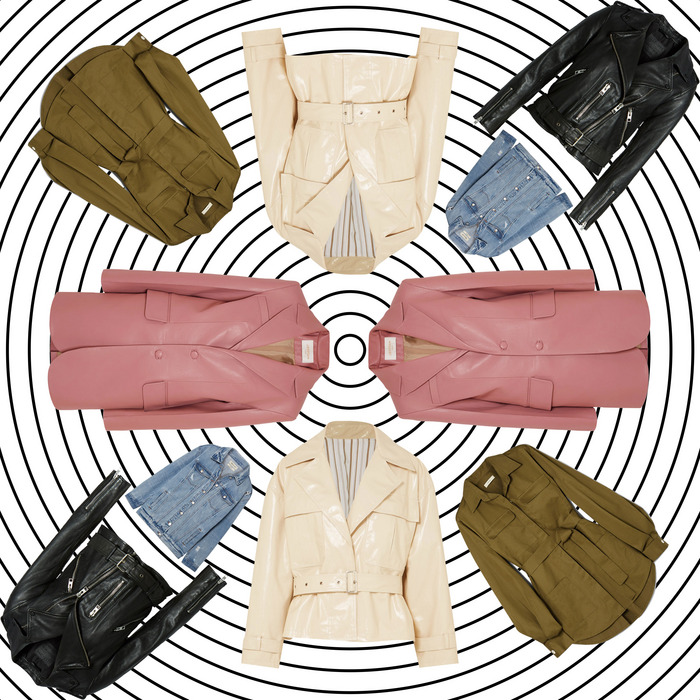 Photo: Courtesy of the Retailers
Every fall, stores begin hawking certain classic forms of outerwear: the leather biker, the denim jacket, the tailored blazer. But this season, there are some other, trendier variants, like the status fleece — a brightly colored jacket-sweatshirt hybrid that will make you look like a streetwear enthusiast, even though it feels like you're still in bed wrapped in your favorite blanket. Colored leather is also still going strong, and fashion girls are into the utilitarian look — a perennial fall favorite, though the new options are more chic than the typical field jacket. Below are 18 of our favorite fall jackets.
If You're Just Starting a Jacket Journey
If You Want an Under $50 Jacket
If You Want Something a Bit Edgier
Ganni Brushed-Twill Jacket
So if you want a khaki-colored jacket, but not a trench coat, Ganni's slightly remixed version is a more sculptural, edgy alternative.
Available in sizes 32-42.
If You Love Dressing Down
If You Love the Spotlight
Halogen x Atlantic-Pacific Fitted Blazer
A red blazer (or a red coat) is a statement, but not such a big statement that you'll feel weird about wearing it twice a week.
Available in sizes 18-24.
If You Want a Status Fleece
If You Do Want a Classic Biker Jacket
If You Are Anxiously Waiting for Gossip Girl's Revival
If You Want Something Colorful
Levi's Faux Fur Collar Corduroy Bomber Jacket
The mint color and shearling lapel give this a throwback '90s vibe.
Available in sizes XS-XL.
If You've Been Binge-Watching The Politician
Sandro Toms Plaid Blazer
This is definitely something Astrid Sloan would wear.
Available in sizes 0-10.
If You Want to Upgrade Your Leather Jacket
If You're Dedicated to Being Comfy
If You Love a Structured Jacket
If You're a Hippie at Heart
If You Ignore All Fashion Rules
If You Like the Utilitarian Look
If You Know You Love Biker Jackets
If You Love a Vintage Vibe
If You're an Elegant Lady
If you buy something through our links, New York may earn an affiliate commission.