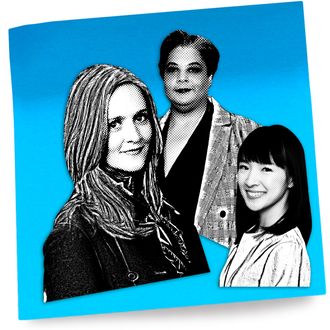 Samantha Bee, Roxane Gay, and Marie Kondo.
Photo-Illustration: by Stevie Remsberg; Photos: Getty
Doing the Most is a special series about ambition — how we define it, harness it, and conquer it.
Some say there are two types of people in the world: the ones who manage to reach the nirvana that is "inbox zero," and everybody else. Below, 25 famous women from Marie Kondo to Kim Kardashian, discuss their strategies, productivity hacks, and general approach to the onslaught of emails that they receive every day, whether it's color-coding each item or refusing to delete a single thing.
1. Marie Kondo
"The most important principle you should remember is one of the fundamental principles of my KonMari Method: Choose what you want to keep, not what you want to throw away. You'll never finish if you are deciding what to throw away; the process will go much more quickly and decisively if you focus instead on the mails, files, programs, or links you most appreciate … I would never suggest keeping a program or a file out of 'fear that I may need it someday.' Not only because it's most likely that day will never come — although it almost certainly won't — but because such a basis for keeping anything is grounded in a negative emotion (worry), and so it should not be the motivation for keeping anything in our lives. The more worry we surround ourselves with, the more interference we have between us and the things which truly spark joy in our lives." — Goodreads, January 2016
2. Shonda Rhimes
"I do not answer phone calls or emails after 7 p.m. I do not work on the weekends, which I have to tell you is incredibly difficult. I mean, I write, I just don't answer phone calls or emails. My email signature says, 'I do not answer calls or emails after 7 p.m. or on weekends, and if you work for me, may I suggest that you put down your phone.'" — Fast Company, December 2016/January 2017
3. Eva Chen
"Think about the emails you send in any given day. You're probably responding to the same ten topics. For example, someone will invite me to an event and I'll be out of town, so my response is, 'I'm sorry, I can't make it. I'm out of town.' Instead of typing that out, I have it saved as a signature. So basically I have ten signatures saved on my email like, 'Sorry I'm out of town I can't make it,' 'I'll be there,' 'CCing my admin to set up a meeting,' etc. It makes a big difference." — The Cut, December 2018
4. Audrey Gelman
"My assistant Penelope is in my inbox all day. We have a very elaborate color-coding system for my inbox with over 60 categories of emails. And then we have another category for action items that go at the top of my inbox so I know that I have to deal with them that day.
Penelope and I created these categories in order to triage and organize all the emails I get in a day. The colors make it easy to go back and find information in my inbox. I know it might sound crazy, but it's the best way I've figured out how to get people answers and responses most efficiently, and not bottleneck information or decisions in my inbox. The system also helps me spend less time on email during the day. When I have a break, even just ten minutes in a cab from a meeting to the office, I'll send a dozen emails." — The Cut, April 2019
5. Susan Wojcicki
"I just have all my email in one box. And I've never really deleted any email, ever. So it's this ginormous box, and then I can search on it. So if anyone's like, 'I sent you an email, like, three years ago.' I'll be like, 'Oh, let's look and see, when did you send it to me, what did you say?' So that's pretty useful … And then I'll star my to-do list and then I follow up on that. I tell people if I don't respond in a couple days, I'll never respond. It might take a while, right, because it's not on the top. Send it to me again. I try to get back to everybody. I try to clear that star list." — New Work Summit, March 2017
6. Barbara Corcoran
"I removed my business email from my phone and now everyone gets an automatic reply: Thank you for reaching out. I'll not be answering your email, but if you would please forward this to [my assistant] Emily, or if you need immediate attention, please call her at the office.
I have my personal email on my phone, so my assistants forward an email to me if it's important. I used to get about 700 to 800 emails a day. Yesterday I had three. Today, I've had none and it's the middle of the day.
You know what it's like? It's like returning to the days when I had 1,000 people working for me at the Corcoran Group, and I actually had a secretary who would vet what came across. With email, the whole world comes across at you, and it's terrible. I don't know why it took me so long to see the enemy as clearly as I did." — The Cut, April 2018
7. Katia Beauchamp
"I always try to get through my emails at night, because I don't like to be that person who's constantly tapping away at their phone during the day. It really makes any relationship you're building — whether it's with your team or an external contact — feel less special. So I've learnt to be disciplined about the time I spend on email." — Coco's Tea Party, March 2017
8. Padma Lakshmi
"When I get up in the morning, I reach for my phone and scroll through my emails for ones that are obvious and easy to get rid of. Then, after breakfast with my daughter, I try to clean my inbox out by 10 a.m. My biggest email weakness is not going back to the ones that require some thought rather than an immediate response. I tend to open everything and address nothing. To make this worse, I'm terrible at being able to ignore my inbox no matter what else I'm doing. I've had to often turn off my internet so I can write, undisturbed by the emails that come in." — Marie Claire, February 2015
9. Bobbi Brown
"I don't e-mail people. I call them because I want them to hear my voice … I just think people need to hear people's voices, and it takes a second. I don't want to have an e-mail relationship. I just think that something is lost." — The New York Times, January 2010
10. Ty Haney, CEO of Outdoor Voices
"I get to the office and try to spend at least the first half hour tackling as many emails as I can. I like to start the day with some quiet time to think about what we need to get done — it sets the tone for the rest of the day." — The Newsette, February 2018
11. Emily Weiss
"I would love to say the [first thing I read each morning is the] paper or a book, but it's my email … I'll respond to the most pressing emails before I even get dressed and then, on my way to work, I usually catch up on any texts/Slack messages/emails/Instagram DMs I received the day before. It's important to me that I check out any photos that our customers have tagged Glossier in. I try to 'like' every single one." — Violet Grey
12. Nina Garcia
"At first glance, I comb my inbox for any leftover mail from the day before and respond to anything urgent. At second glance, I start responding to the regular mail, scrap the junk, and archive all the handled work. My goal is to keep an empty inbox, so by noon I will bring my unread email count to zero and then to do the same by 6 p.m." — Marie Claire, February 2015
13. Tavi Gevinson
"Every day is pretty different for me. I don't really have a routine, because I'm in a show at night. If I'm in a good mood, I wake up and stretch and shower, and start right away. But I usually end up just reaching for my phone and checking emails! I have approximately 20,000 unread emails." — Harper's Bazaar, October 2014
14. Gucci Westman
"Sometimes [I deal with email] very efficiently, while other times I'm not as quick responding. I struggle with feeling slightly guilty when I'm not as responsive." — Thrive Global, March 2019
15. Arianna Huffington
"The last time my mother got angry with me was before she died, when she saw me reading my email and talking to my children at the same time. She was not a woman prone to anger, but she was definitely not happy with what she saw and let me know it. Since then, I have reevaluated my relationship with email, which includes no email for at least a half an hour before I go to sleep (instead, I have a hot bath and read real books), no rushing to my email as soon as I wake up (instead, I do my meditation and set my intention for the day), and no email while talking to my children (thanks, mom)." — Marie Claire, February 2015
16. Shan-Lyn Ma, CEO of Zola
"My Google calendar is my lifeline. Not only are all of my meetings and travel time scheduled, but I also block off time to respond to emails everyday and focus on big projects. It's just as important to set aside time for yourself as it is to set aside time to meet with other people … I've recently become much more conscious about making time for myself. It is so easy to get caught up in work 24/7. There's always a million emails to take care of, articles to read, and more, but I'm a much better worker and leader when I take care of myself." — Lifehacker, March 2018
17. Samantha Bee
"My inbox is a nightmare. I am such a horrible emailer, and I take responsibility for that, but I can tell you that my inbox has 38,000 emails in it — and I will never clear it out." — The Cut, August 2018
18. Jenny Fleiss, Co-Founder of Rent the Runway
"[At 6:45 a.m.] I scroll through the day's schedule and emails, handing off key to-dos and FYIs to the team, adding to my own to-do list, and tackling as many emails off my list as possible." — Parade, September 2019
19. Roxane Gay
"Nasty emails I delete. I read them, and of course it hurts. I'm human, and I allow myself to feel that hurt. But I also try to keep it in its proper place. This is not someone who deserves my time. They don't deserve my pain. I try to remember that." — Mother Jones, July 2014
20. Katrina Lake, Founder of Stitch Fix
"If I want to look at my email, I have to pull it down to refresh my email. I also have nothing pushed on my phone. That helps me be purposeful with my time." — Entrepreneur, July 2017
21. Melanie Whelan, CEO of SoulCycle
On the first thing she does when she wakes up
"[As soon as I wake up,] I make sure I go through my email, text, WhatsApp, news headlines and numbers that have come in overnight — and I schedule for the day. It's not healthy but, yes, I do that in bed … I don't answer a lot of emails but I at least know what's in there. I answer anything urgent but then I have between 6:15 a.m. and 7:20 a.m. to be with my kids." — Stylist, June 2019
22. Ananda Danielle Krettek, Founder of Google Empathy Lab
"In terms of my aesthetic vibe, I'm an inbox-zero person — I'm into Bauhaus, minimalist design — but I would be a crazy person if I tried to do that in reality. My practice with email is to not let it become the octopus that sucks out my brain and my will to be, because I hate it. It's so overwhelming. To manage the sheer weight of it, I label all the emails that come in with different colors. Things that are stressful to me, I put soothing colors on. Things that are exciting to me, I put hot colors on. So when I look at my email and see the gradient of emotion, I can recognize the feeling of my inbox without even having to read anything. That helps me be like, Well, I can handle this hot stuff right now. Or, Well, that's shit I don't want to do. I'll handle that when I have a little bit more time." — The Cut, September 2019
23. Charlotte Tilbury
"I try to keep my bedroom as a sanctuary from stress, so I try not to charge my phone by my bedside. But I would say the first things I read after I wake and while I'm eating my breakfast, are probably my emails and my agenda for the day. My bedside tables are packed with books [that range in topic] from icons, inspiration, science, psychology, and biographies — for when I have the time to read!" — Violet Grey
24. Kim Kardashian
"I multitask. I'm doing it right now. I'm doing this interview and answering so many emails at the same time. It's honestly gotten overwhelming, though, having to keep the inbox at zero. It's hard. You just can't let it bother you. I definitely delete as I go. But at the end of the night, I delete everything. If I feel like the conversation will continue, I will keep an email.  Sometimes because I delete, I can forget and I'll be like, 'What were we talking about again?' It's really rare I will keep a text message." — The Cut, November 2017
25. Susan Miller
"Email is difficult. It's the best thing ever invented and the worst thing ever invented. I get a lot of emails from people. Most people say, 'Did you read my email?' No, never. I don't read them until somebody calls me and makes me. Then I look at it, I scan it, but I still miss it sometimes, and then a year later I wake up thinking it was from this year. I don't want to use my hands for email." — The Cut, August 2019