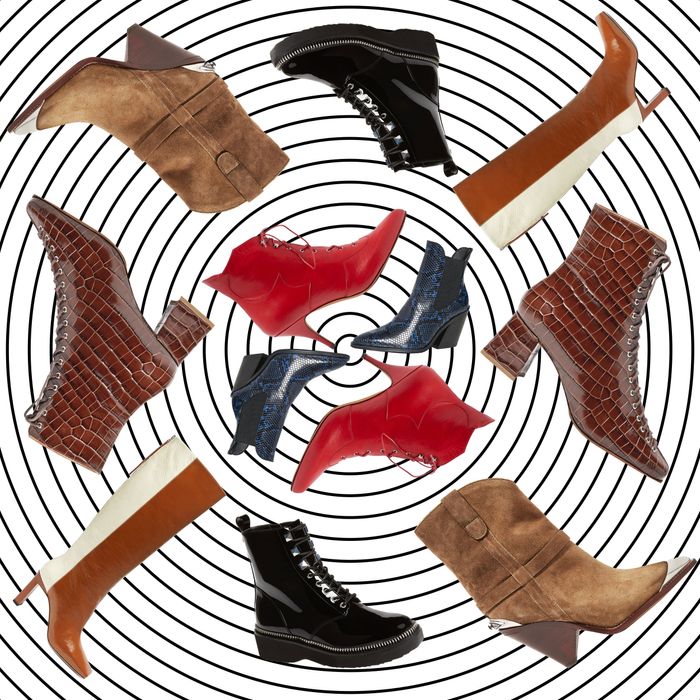 Photo: Courtesy of the Retailers
Some people call fall "sweater weather," but really it's "boot weather." Boots are much more exciting than sweaters and can make or break an outfit much more efficiently. The fall 2019 runway shows pointed us toward six key trends: combat, animal print, knee-high, cowboy, platform, and Victorian. If you're looking to get a new pair for this fall, here are five of each we've found. Tall or short, flat or sky high, there's a perfect fall boot waiting for you.
Combat Boots
It's not like combat boots are a new trend, but they've been having a moment recently. Prada put them on the runway paired with delicate, floral dresses, but they look equally good with jeans and a leather jacket — just as the punks intended them to be worn. Happy stomping.
Animal Print
Leopard print may still be king of the animal-print kingdom, but it's had some competition recently. Cow print shined this summer, as did snakeskin and croc-effect leather. Pick your warrior.
Below the Knee
And here we have the opposite of the combat boot. One of the top trends from fall 2019 was the revival of the bourgeois lady and her knee-high boots. Take styling cues from the new Celine and wear with a midi skirt (preferably pleated) and a tailored blazer.
Platform
If you're a maximalist who is not afraid of the spotlight (or of being very tall), platform boots are for you. The style is reminiscent of the 1970s and all of its pop icons — David Bowie, Bianca Jagger, Stevie Nicks, the list goes on. Designers like Simon Miller and Gucci have offered a modern spin for this fall.
Cowboy Boots
If you're balking (still?) at the idea of wearing cowboy boots, take a deep breath. There are modern versions that look more like something Lil Nas X or Kacey Musgraves would wear, rather than John Wayne.
Victorian
Victoriana can easily look costume-y. But Victorian-style lace-up boots are a perfect way to inject your wardrobe with the trend without looking like an extra in a period piece. Get them in a zippy color like red or a fun animal print, and you've got a boot that would look great with some frilly dresses.
If you buy something through our links, New York may earn an affiliate commission.