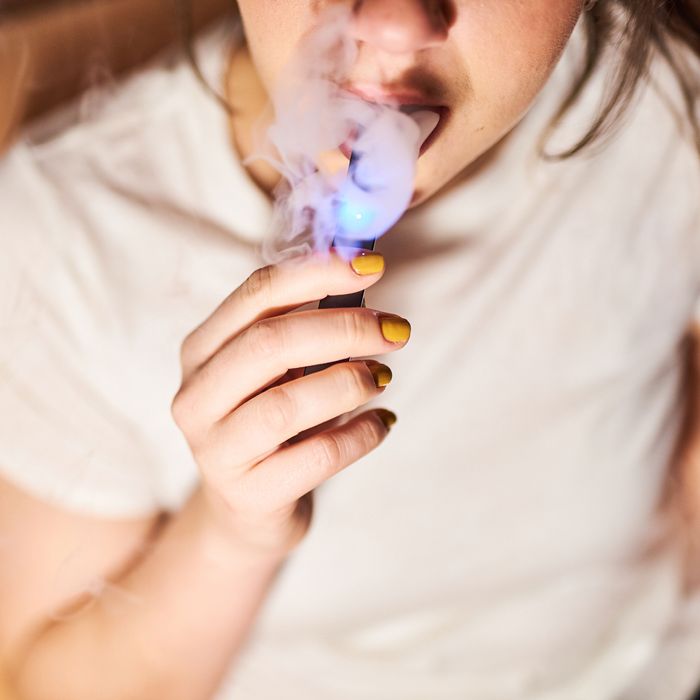 Photo: Bloomberg/Bloomberg via Getty Images
According to the CDC, vaping-related illness (now tentatively called EVALI) has killed 33 Americans, the youngest of which was 17 years old. Another 1,479 have gotten sick, including children as young as 13. Health experts worry that the impending flu season will exacerbate conditions, potentially causing deadly complications.
These figures are up from a week ago, when the CDC reported 26 deaths and 1,299 illnesses. CDC principal deputy director Anne Schuchat told House lawmakers earlier this week, "This is extremely complicated and difficult. It's fatal or potentially fatal with half of the cases requiring intensive care."
Almost all EVALI patients are hospitalized as a result of their symptoms, which may include shortness of breath, nausea, or vomiting. Dr. Brandon T. Larsen, a surgical pathologist, previously told the Times that lung biopsies of 17 victims showed "a pattern of injury in the lung that looks like a toxic chemical exposure, a toxic chemical fume exposure, or a chemical burn injury."
Experts still aren't sure exactly which products are to blame for EVALI cases, though most patients have reported vaping THC using black-market oil cartridges. Still, legislative and corporate responses have largely focused on nicotine products: The Trump administration is weighing a ban on e-cigarettes, and Juul has suspended sales of fruity flavors.
An earlier version of this story misstated the age of the youngest person to die from vaping illness. This story has been updated to correct the error.