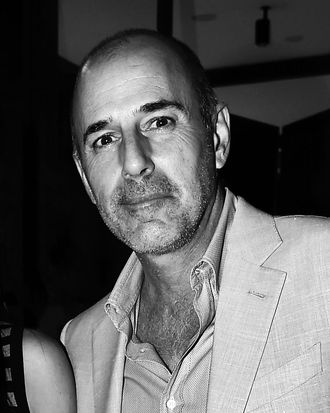 Matt Lauer.
Photo: Patrick McMullan/Patrick McMullan via Getty Image
Mediaite columnist John Ziegler thinks reporters have shown unfair bias against Matt Lauer, the former Today show anchor accused of multiple counts of sexual misconduct, including harassment, intimidation, and sexual assault. (Lauer has strongly denied any non-consensual behavior.) What grants him objectivity in the matter? Well, he has both flown to the Hamptons for a long, off-the-record interview with the disgraced TV personality, and he has two daughters. A truly balanced perspective.
Ziegler's main gripe is with Ronan Farrow, whose recently published book Catch and Kill resurfaced old allegations against Lauer and uncovered new ones — including an account from Brooke Nevils, a former NBC employee who says Lauer forced her to have anal sex against her will in a hotel room, on a work trip in 2014. (Lauer says the sex was consensual; both acknowledge that they went on to have a consensual relationship afterward.) Ziegler insists that Lauer — whom Farrow reached out to for comment, and who went on to write a lengthy rebuttal to the claims, which was published on Variety — was never afforded the opportunity to tell his side of the story "in a manner that allowed for rudimentary objectivity."
This is why Ziegler flew to Lauer's Hamptons home, had a drink with him, posed for casual photographs, and consented to an off-the-record, presumably un-fact-checked conversation with him (it happened yesterday). Although Lauer's alleged victims have not yet been given a chance to respond to whatever Lauer told Ziegler, since no one knows what that is, Ziegler nonetheless feels confident in finding it "extremely persuasive."
Ziegler offers nothing in the way of following his own "basic journalistic standards" — except that he implicitly trusts Matt Lauer more than Farrow, or the alleged victims, for that matter. And why should we trust him? Well, that's because of the aforementioned "father of two young daughters" line, which gives him the authority necessary to evaluate the standards Farrow uses "to evaluate female behavior." It is his expert opinion, as a father of two young daughters, that these are "infuriatingly misogynistic," because it is infantilizing to take women at their word.
Yes, the real misogynists here are those who believe Lauer's accusers, not the guy who uses paternalism — literally! — to call women liars (indirectly, of course). As a daughter of a father myself, may I just add: Nope.