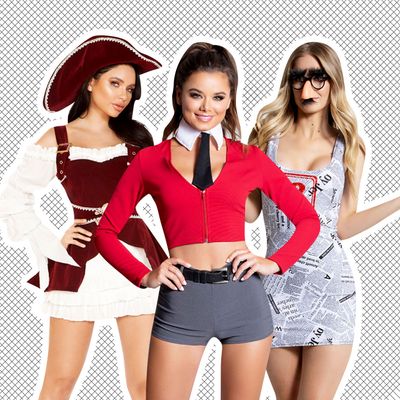 Halloween is around the corner, which means it's time to choose a costume that will show everyone that you are up-to-date on current events, but also extremely hot.
You could always turn to Yandy — our nation's foremost purveyor of tiny, rayon costumes — which offers over 1,000 groundbreaking designs. In addition to traditional Halloween sexy classics (sexy cat, sexy nurse, sexy pope), the online shop also offers a slew of topical options, like its Nicest Neighbor Costume (sexy Mister Rogers), College Scandal Costume (sexy college admissions scandal) and Hard Outlaw Costume (sexy White Claw).
Yandy is not only attuned to the very cutting edge of culture and politics; they are masters of skirting copyright law by coming up with semi-clunky, just-accurate-enough descriptions for their costumes.
In the spirit of this creativity, here are some other topical, sexy costume ideas with generic names that make just enough sense:
Naughty Ukraine Call Hottie
Second Naughty Ukraine Call Hottie
Scary Swine Seductress (for 30-50)
Provocative Progressive Democratic Presidential Candidate and Marine Friend
Controversial Comedy Clown Cutie
Hot Hot Take About Controversial Comedy Clown Cutie
Talk Show Host Babe and Cute War Criminal Friend
Sexy Sloppy Prime Minister (crotchless)
Buff Climate Daddy
Bootlegger Vape Babe
Blood Scam Vixen
Blue Hedgehog Hottie with Human Teeth Insert
Sexy Digital Fur Technology
Marxist Irish Writer Lass
Here's What You Need to Know Today Hottie
Vexing Anarchist Goose Vixen
Soccer Wife Social Sleuth
Towering Popstar Piggie
Any costume companies interested in producing these designs should feel free to Venmo us $1 million.