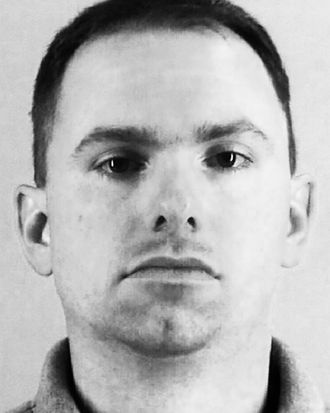 Ex-Fort Worth cop Aaron Dean.
Photo: Tarrant County Jail
Over the weekend, a Fort Worth cop shot and killed a black woman in her own home while she was playing video games with her 8-year-old nephew — a fatal use of excessive force that was met with widespread outcry. On Monday morning, the officer abruptly resigned after police say he failed to cooperate in their investigation of the murder. Now, he's facing charges.
On Monday evening, ex-cop Aaron Dean was arrested and charged with murder for the fatal shooting of 28-year-old Atatiana Jefferson, the Washington Post reports.
Around 2:30 a.m. on Saturday, a neighbor had called a non-emergency police number requesting a welfare check on Jefferson's residence after noticing that the doors to her house were open, according to Fort Worth police. This brought Dean to the scene, whose body camera captured the murder: In the footage, which the department released on Monday, Dean can be seen aiming his gun at one of Jefferson's windows and yelling, "put your hands up," without identifying that he was a police officer. Then, the footage shows him firing the fatal shot a mere two seconds later. Jefferson, who was watching over her nephew and the house because her mother had recently fallen ill, died on the scene.
In a press conference following Dean's arrest, Fort Worth police chief Ed Kraus apologized to Jefferson's family and the community, claiming that the department had intentions to fire Dean before he swiftly resigned.
"On behalf of the Fort Worth Police Department, I am so sorry for what occurred," Kraus said, adding that the department would continue its "administrative investigation" as though Dean's employment had not been terminated.
Jefferson's family is relieved that Dean is facing charges, but they emphasize that there's still a long way to go before justice is served. "We know this is a good step in the direction we want to go, but it's definitely not the end," Jefferson's brother, Adarius Carr, said on CNN on Monday night. "There's no way this is enough."
Just this month, ex-Dallas cop Amber Guyger was handed a lenient 10-year sentence for murdering Botham Jean in his own home — a case disturbingly reminiscent of Jefferson's fatal shooting, which took place a mere 30 miles away. As a result, the Dallas-Fort Worth community's trust in the police department is at an all-time low, and Jefferson's family is urging the Fort Worth department recuses themselves from the investigation, and to instead allows an outside agency to conduct the probe.
"We need to see this through to a vigorous prosecution & appropriate sentencing," Lee Merritt, a lawyer representing the family, tweeted on Monday evening. "The City of Fort Worth has much work to do to reform a brutal culture of policing."
According to CNN, Dean was released from the Tarrant County jail after posting a $200,000 bond on Monday night.