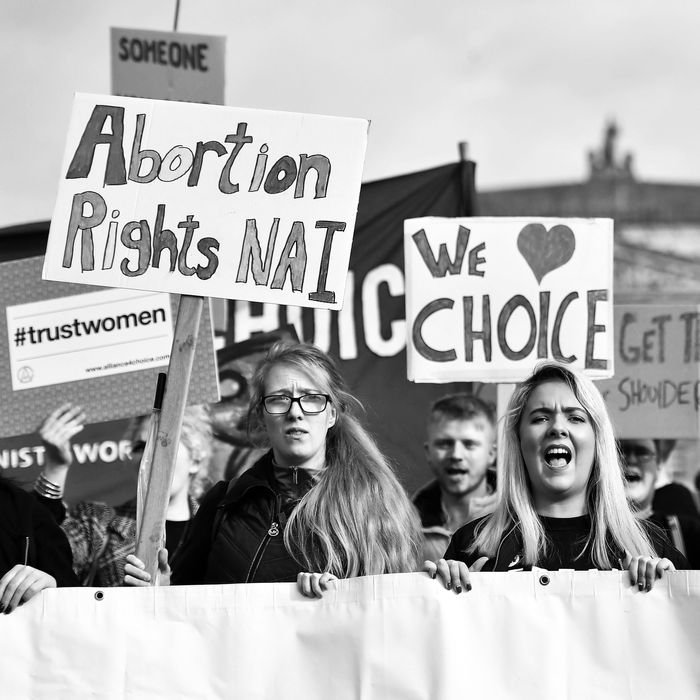 Photo: Charles McQuillan/Getty Images
At midnight on Monday night, activists in Northern Ireland celebrated the end of the country's harsh restrictions on same-sex marriage and abortion. It was previously illegal for a woman to seek an abortion in the country unless her life was at risk, or if there was a danger of permanent and serious damage to her physical or mental health; additionally, same-sex marriage was not legalized. Supporters gathered in bars and outside the Northern Irish parliament building in Stormont to count down together until it officially became October 21:
The October 21 deadline was set by U.K. lawmakers earlier this year. In July, Parliament voted that if the Northern Irish government was not restored by that time, it would introduce regulations that would require same-sex marriage to be legalized and abortion to be decriminalized from January 13, 2020 and March 31, 2020, respectively. Northern Ireland's government collapsed in January 2017, more than three years ago, after its power-sharing executive body failed to come to an agreement. The country has complex governing rules, established in the Northern Ireland peace process, which require nationalist Sinn Fein party and the Democratic Unionist Party to come together to elect ministers.
Abortion was legalized in the Republic of Ireland last year, but Northern Ireland has upheld the Offences Against the Person Act, a near-total abortion ban, since 1861. It is one of the most restrictive sets of abortion laws in the world, mandating a maximum sentence of life in prison for women who seek abortions, with no exceptions for rape, incest, and fatal fetal abnormality.
Earlier this month, Northern Ireland's highest court ruled that its abortion laws were in conflict with U.K. human-rights laws, after a challenge from a woman who was told her fetus would not survive outside the womb was still denied an abortion in 2013. She, like many other Northern Irish women, had been forced to travel to the U.K. for termination. Labour MPs in the U.K. recently voted to help provide funding for them.
While new abortion laws will not take effect until March, women will no longer be subject to criminalization after the October 21 deadline. The first same-sex marriages are expected to take place in February 2020.
"We are witnessing one of the most radical movements of contemporary feminism of this century," Anna Cafolla, a Northern Irish journalist, wrote in the Guardian after the clock struck midnight. "The cases for reproductive rights and bodily autonomy are inextricably linked to the fight for marriage equality and LGBTQ+ rights, a shared mission for freedom and choice."